It will be a cool start to the week in Winnipeg, but summer heat will quickly build back into the region this week.
Southern Manitoba will continue to see cooler weather today thanks to a broad vortex over Hudson Bay. It has brought a northerly flow the province and sent a pipeline of Arctic air southwards over the eastern Prairies. The seasonably cool temperatures will stick around today, supported by a northwest wind near 30 km/h. Winnipeg will likely start the day with some sunshine, but skies will become mixed through the morning. There will be a small chance of some midday showers today as the winds shift the Lake Manitoba streamers towards the city. Temperatures will reach a high near 17 °C. A few clouds will linger tonight as winds ease and temperatures drop to a low near 6 °C.
Seasonal temperatures will return to southern Manitoba on Tuesday an upper ridge pushes eastwards across the Prairies. A weak ridge will bring sunny skies to the Red River Valley with a high near 25 °C in Winnipeg. Winds will be light out of the southwest at 15–25 km/h. A warm front will push across southern Manitoba on Tuesday night, bringing a few clouds to Winnipeg with a mild low near 16 °C. Winds will strengthen out of the south overnight as well, increasing into the 30–40 km/h range by Wednesday morning.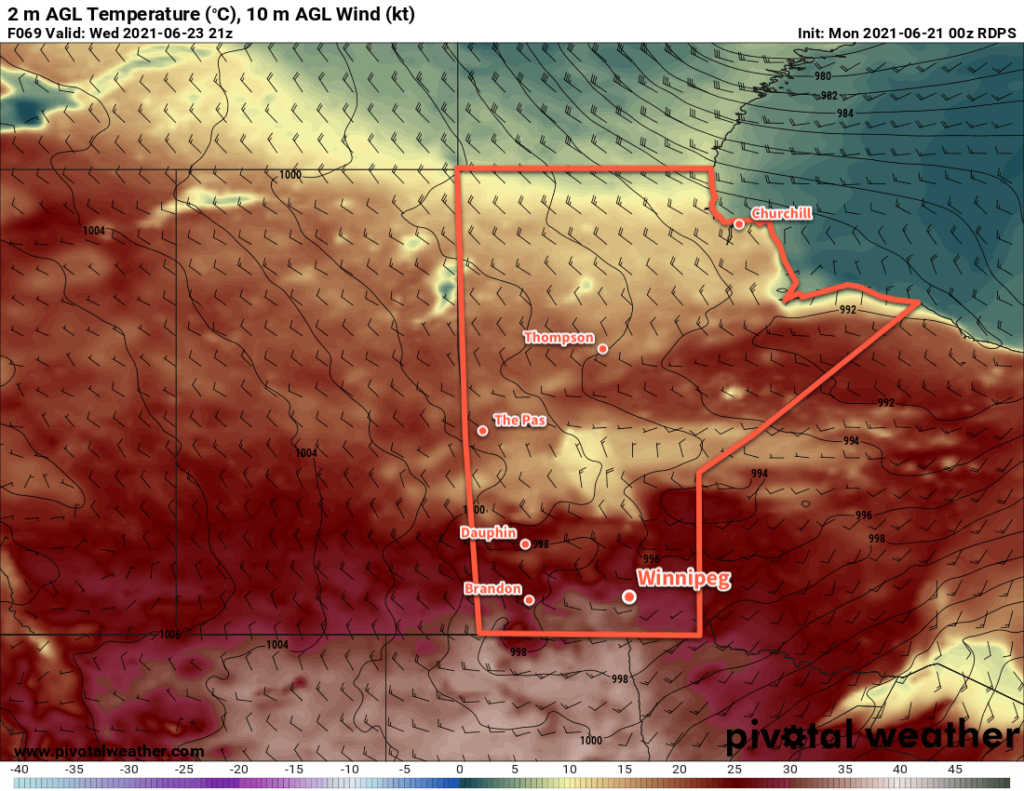 The heat will be back on Wednesday with temperatures climbing to a high near 31 °C. Those moderate southerly winds will ease midday as a trough of low pressure moves into the Red River Valley. Winds look to switch to westerly at 20–30 km/h for the afternoon with a few clouds. A cold front pushing into the region later in the day will bring a chance of showers or thunderstorms to Winnipeg. Any storms would have limited energy to work with, but the winds will be favourable to help organize any thunderstorms that develop. The forecasted environment would suggest that some scattered thunderstorms are possible with a risk of isolated marginally severe storms.
Everything will settle down on Wednesday night with a low near 15 °C under mixed skies.
Long Range Outlook
Winnipeg should see near-seasonal temperatures through the rest of the work week, followed by a return of hotter conditions for the weekend into next week. Forecasts show little precipitation ahead with mainly sunny conditions this weekend into next week.
Today's seasonal daytime high in Winnipeg is 24 °C while the seasonal overnight low is 12 °C.