Summer-like weather will persist through the end of the week, sending September 2021 off with beautiful conditions.
A potent upper-level ridge will bring another hot day to southern Manitoba today. Temperatures will climb up to the 30 °C mark again today with breezy southerly winds near 30 gusting 50 km/h. The region will see plenty of sunshine today despite a bit of cloud building in through the day.
It will be a mild night with a low near 15 °C as the winds ease. A cold front will gradually slide across the Red River Valley overnight, bringing a chance of showers or thunderstorms to the region with it. Most of the activity will likely stay over the western portion of the valley, but a few showers may push eastwards early Thursday. By Thursday morning, Winnipeg will see mostly cloudy skies with a light northwest wind.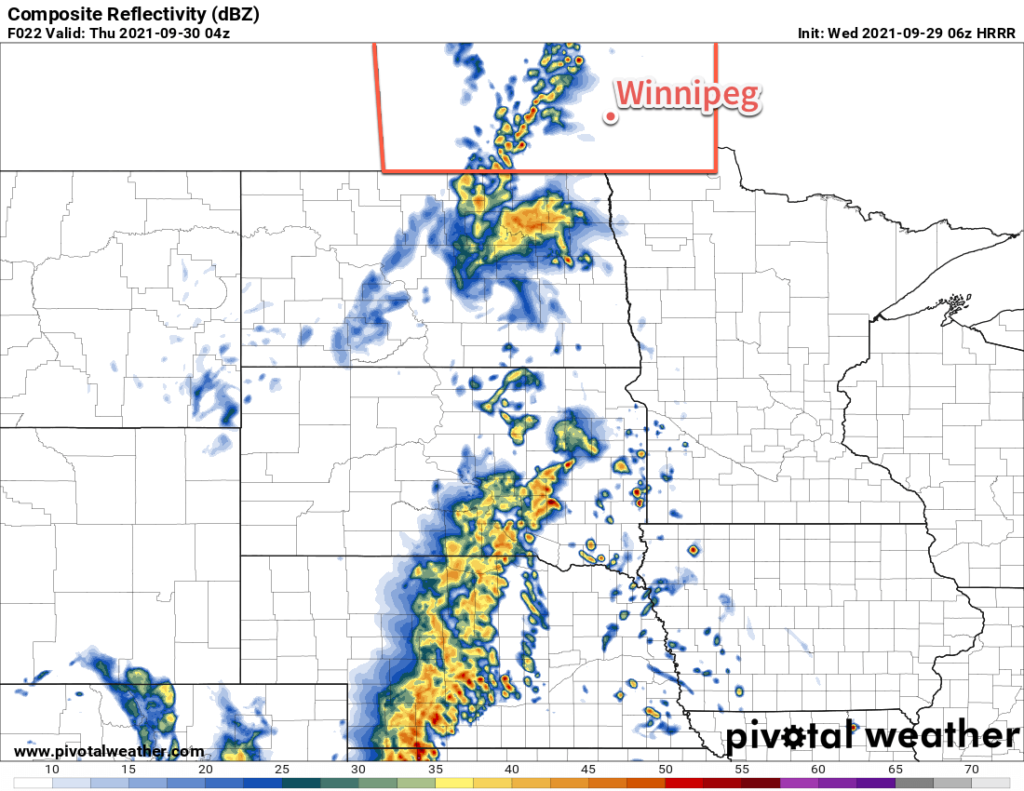 The system bringing the unsettled conditions will be tracking eastwards slowly on Thursday, bringing mainly cloudy skies to the region. There will be just a slight chance of an isolated shower or two through the day. Temperatures will be cooler but still well above seasonal averages with a high near 20 °C. The cloud cover should break up on Thursday night as temperatures head to a low near 8 °C.
A ridge of high pressure will bring sun back to the region on Friday. Winnipeg will see light northerly winds and a high near 22 °C. Temperatures will dip to a low near 6 °C on Friday night under mainly clear skies.
Long Range Outlook
The region will see beautiful weather this weekend with highs in the low 20s, partly cloudy skies, and light winds. Lows will sit in the upper single digits. The mild weather will continue into next week.
Today's seasonal daytime high in Winnipeg is 15 °C while the seasonal overnight low is 4 °C.