Southern Manitoba will see a very slow shift back towards more seasonal spring weather over the next week. Another storm system will impact the region this weekend, but its impact isn't quite clear yet.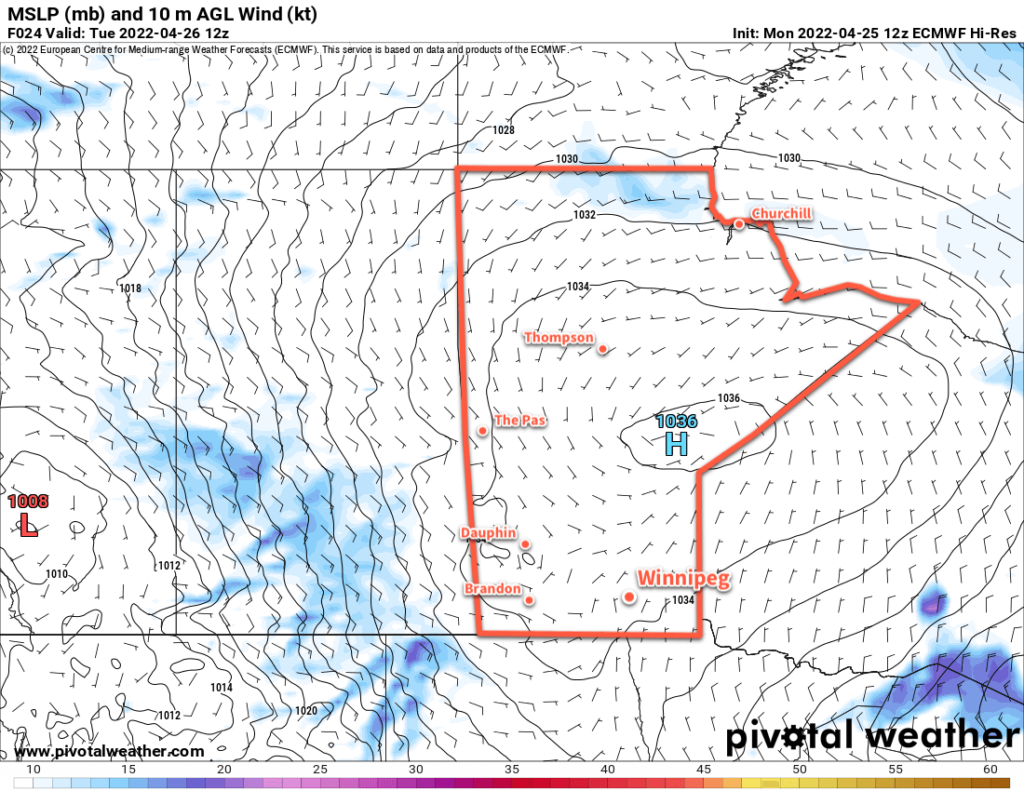 The weather over the next few days will be dominated by a stubborn Arctic high lingering over the region. It sits on top of the province today, then gradually shift into NW Ontario over the next 36 hours. Southern Manitoba will continue to see a ridge of high pressure hang back across the region. This ridging will stick around until a developing storm system in the United States finally weakens it at the end of the week.
Its presence will be a bit of a mixed bag. On one hand, it will keep temperatures cool over the region. On the other, it will help deflect some weaker lows over the western Prairies away. This will keep conditions dry through the rest of the work week; a welcome outcome considering the flooding in the wake of the weekend's storm.
For Winnipeg, this will mean that the city sees a fair amount of sunshine over the next couple days. Today's high will be a few degrees above freezing, then increasing into the 5–10 °C range on Wednesday.
Thursday will bring some cloud to the region as an upper frontal wave pulls away from a low over the northwestern Prairies. There could be a few showers that skirt the region later in the day, but amounts would likely be very light
Skies will continue to be cloudy on Friday, this time due to another significant storm system taking shape in the United States.
Daytime highs will likely hover close to 10 °C both Thursday and Friday. Overnight lows will increase from several degrees below zero tonight to the mid-single digits by Friday.
Long Range Outlook
Unfortunately, it looks like southern Manitoba could be in for more rain to end the week. This system — a sort of "Utah Low" — won't have quite as much energy as the weekend's Colorado Low. It will still be a substantial storm in its own right, though.
There is, unlike the previous two storms, significant uncertainty with this one. Forecast models have been flopping around, placing the precipitation right across southern Manitoba, keeping it almost entirely south of the border, or shifting it into SE Saskatchewan and southwestern Manitoba.
So at this point, it's still too early to say with much skill where the rain is going to show up. But there is pretty good agreement that this system will be capable of producing 25–50 mm of rain somewhere in the southeastern Prairies.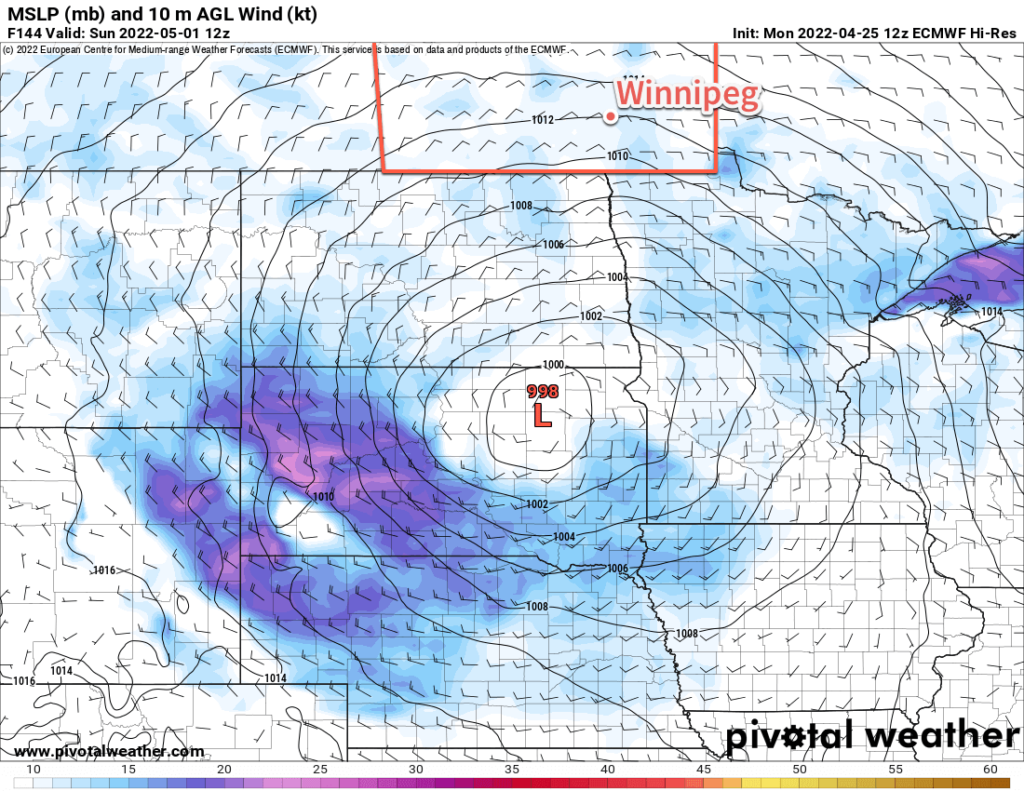 If that rain did fall over the Red River Valley, it would be a significant concern. Not only is the ground very saturated in most areas, it would also coincide with the second crest of the Red River travelling northwards.
Should the rain fall further west, that would also be a concern. It would likely impact many areas that have seen substantial snowfall amounts over the past two weekends. This would help accelerate the melt and could present flooding risks in some of those areas as well.
So probably not a welcome storm in any situation. We'll keep a close eye on it as it develops and have a full forecast later in the week.
If you have a property that experienced flooding issues this past weekend, it may be prudent to plan possible flood mitigation efforts in case this storm ends up impacting your area again.
Today's seasonal daytime high in Winnipeg is 14 °C while the seasonal overnight low is 1 °C.