The Red River Valley will finally escape from the grip of the last few weeks' weather. Dry, sunny, and warmer conditions will develop over the region this week.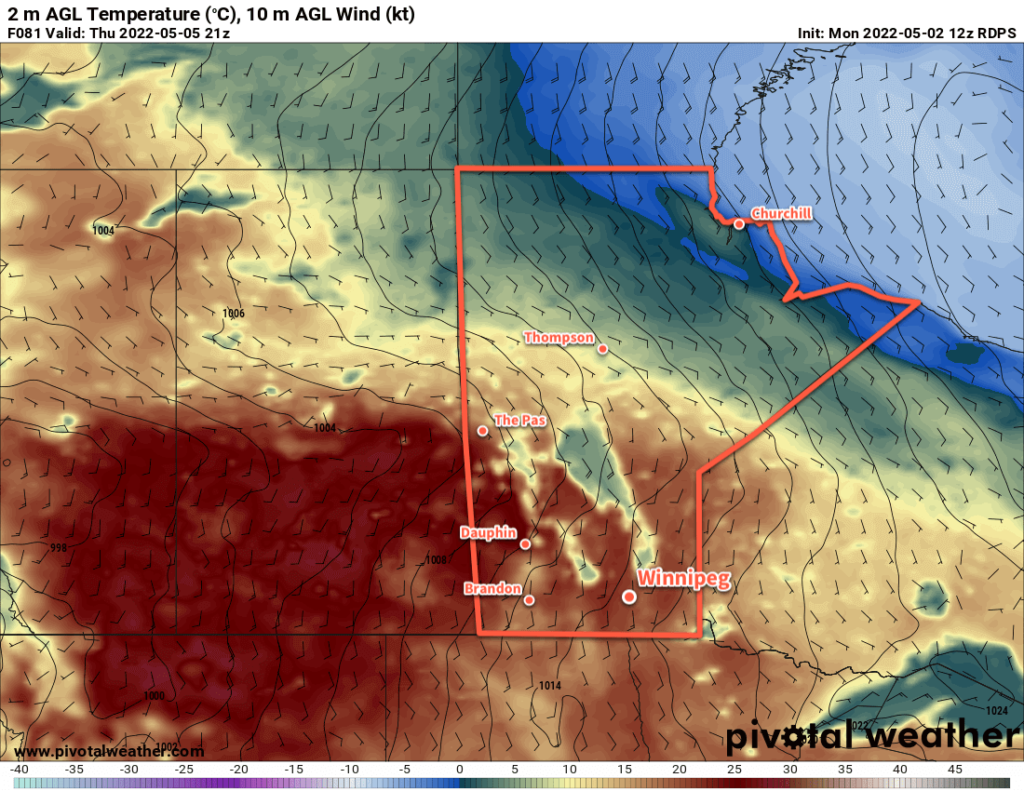 Southern Manitoba will see beautiful conditions over the next several days as spring finally arrives across the region. An upper ridge will build over the Prairies this week, bringing plenty of sunshine and dry weather to the area. Temperatures will finally head back towards seasonal values over the next several days as well. Highs will reach the low teens today in Winnipeg, then climb into the upper teens tomorrow, and close to the 20 °C mark for Thursday and Friday. Overnight lows will also climb through the week from close to freezing tonight to near 10 °C by Friday night.
Not only will it be dry, sunny, and warm, but winds will also be fairly light through the week. They'll pick up out of the south on Thursday into the 20–30 km/h range, ease overnight, then return near 30 km/h on Friday.
All in all, no complaints for the rest of the work week. Open your windows and enjoy the long-awaited arrival of spring!
Long Range Outlook
Unfortunately, it doesn't look like things will stay dry beyond that. Heading into the weekend, a deep upper trough will dig over western North America as an upper low builds into the Pacific Northwest. This will send a series of systems northwards through the eastern Prairies. Cloudier conditions will move in for the weekend, but for now, it looks like Saturday and Sunday will stay dry. Most models suggest the pattern change comes Sunday night.
The first of a series of convectively-driven systems is forecasted to move out of North Dakota into Manitoba on Sunday night. This system could bring 25–50 mm of rain to portions of southern Manitoba, but where exactly is unclear at this point. Some models have it as a slower moving system over the southwest corner of the province, others have it slightly more progressive over the Red River Valley.
A second system will follow that up just 24–36 hours later, but there's currently a lot of uncertainty with where it will track. Certainly something to keep an eye on as the weekend — and the flood crest — approaches the region.
Today's seasonal daytime high in Winnipeg is 17 °C while the seasonal overnight low is 3 °C.