A slow-moving upper-level disturbance will bring cooler temperatures and plenty of snow to parts of southern Manitoba this week.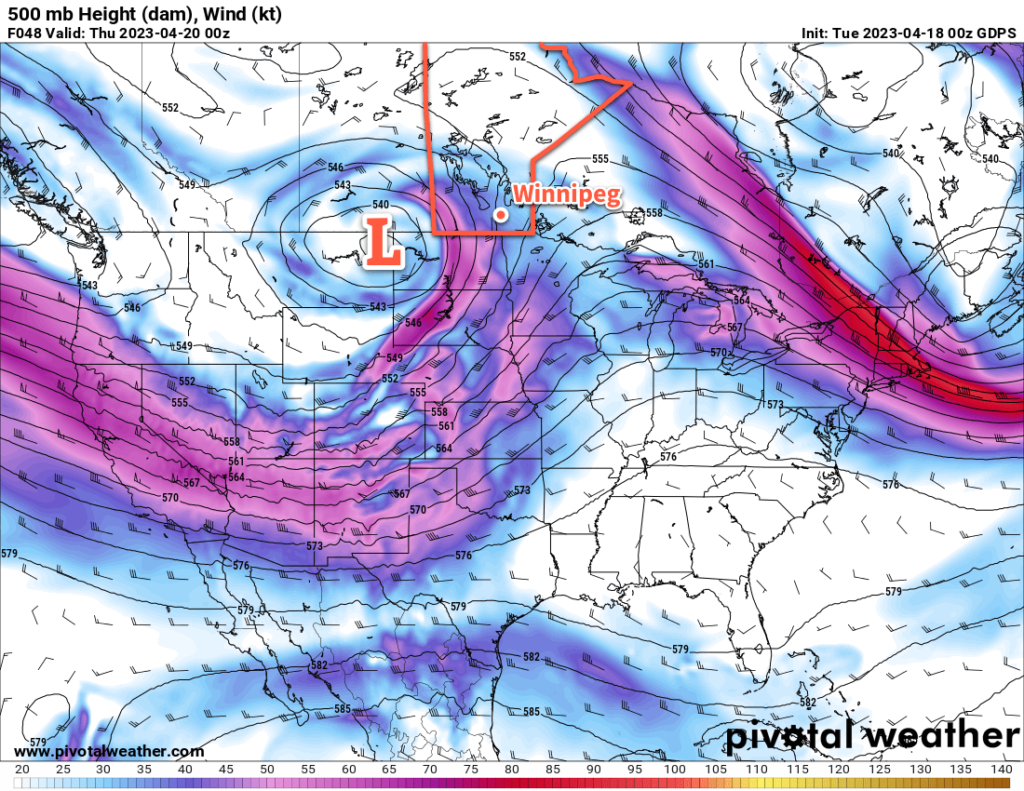 Winnipeg and area will see a relatively pleasant spring day today as a ridge of high pressure continues to sit over the region. Temperatures will climb up to around the 10 °C mark this afternoon with increasing easterly winds towards evening.
A large upper-level disturbance will begin working into the region tonight. It will spread precipitation through Saskatchewan today, reaching SW Manitoba by the evening. This system may start as a wintery mix in Saskatchewan today, but will trend towards primarily a snow-maker as it moves into Manitoba.
This system will produce significant amounts of snowfall over southeast Saskatchewan into parts of SW and Parkland Manitoba. By Wednesday morning, 5–10 cm of snow will have likely fallen across those regions with another 10–20 cm through the day Wednesday. On Wednesday night, another 5–10 cm will fall across those areas, with higher possible along the escarpment west of Lake Manitoba and Lake Winnipegosis. The snow will gradually come to an end in those areas on Thursday, with accumulations ranging from a couple centimetres to as much as another 5–10 cm.
Further east in Winnipeg and much of the Red River Valley, snow should push through the area in multiple waves. Some light snow or rain showers are possible later today, but copious amounts of dry air near the surface will likely evaporate much of that activity before it reaches the ground.
The first organized wave of snow will push into the region on Wednesday morning, moving northwards through the day. This will drop 2–5 cm across much of the Red River Valley on Wednesday, though amounts may increase quickly close to the western escarpment. Some periods of light snow are possible on Thursday, though much of the organized activity will likely remain to the west.
A more organized band of accumulating snow will push towards Winnipeg on Thursday evening as another wave of moisture wraps into the system impacting the area. This could bring Winnipeg's heaviest snowfall of the event with the potential of anywhere from 5 to 15 cm of snow.
Throughout this entire disturbance, moderate easterly winds will slowly shift northerly over the course of the week, and temperatures will struggle to climb only  at most to a few degrees above freezing. There is a slight chance that precipitation could briefly change over to rain, particularly for areas south of Winnipeg, if a bit of warmer air can wrap into this system at times.
Keep alert for updated watches or warnings from the Meteorological Service of Canada.
The last note for this system is that in many areas, snow will fall with temperatures close to 0 °C. As a result, some may melt and much of the snow will be relatively heavy and prone to compaction. This may make measurable snow on the ground at the end of the event less than what actually fell.
Long Range Outlook
This system will finally begin to clear out of the region on Friday, followed by a couple days of seasonably cool temperatures.
A return to seasonal warmth with highs in the low teens should build into the region early next week.
Today's seasonal daytime high in Winnipeg is 11 °C while the seasonal overnight low is -1 °C.