Winnipeg's temperatures will warm towards more seasonal values this week, but a few passing disturbances will bring cloudier conditions with a chance of rain.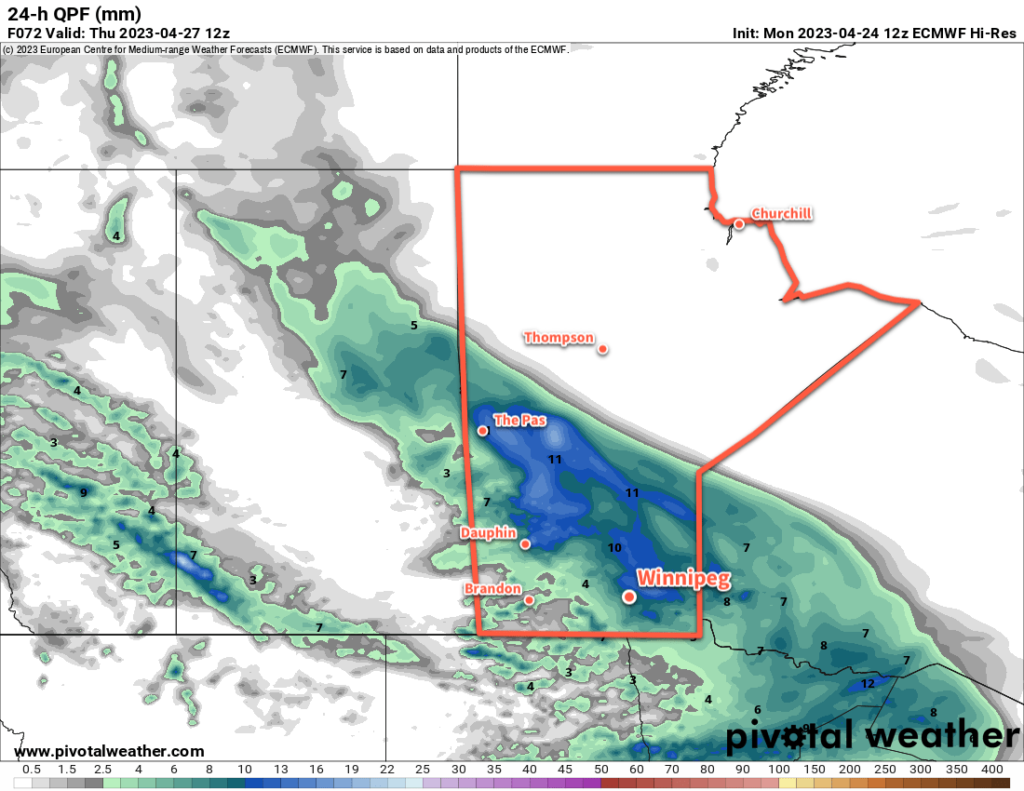 The weather will turn more spring-like in Winnipeg this week as the northerly flow in place over the region breaks ahead of approaching Pacific disturbances. Daytime highs will immediately respond to this change with highs climbing up into the low teens today. The return to warmer weather will occur under sunny skies and light winds.
The unsettled conditions will arrive mid-week. Skies will cloud over tonight ahead of an approaching low as temperatures dip into the low single digits. On Wednesday, breezy southerly winds will develop, followed by a band of rain that pushes across the Red River Valley. Driven by an occluding low pressure system, the region could see as much as 5 to 10 mm of rain as it moves through. Temperatures will climb to a high near 10°C before cooling off once the rain begins. The rain will taper off by evening, but lingering showers will be possible through the night. The winds will ease Wednesday evening followed by temperatures down into the low single digits.
Cloudier conditions will linger for Thursday as another disturbance drops through the Prairies, but the organized rain with that system will stay further west. Winnipeg and the Red River Valley will see a diminishing chance of showers as the day wears on. Temperatures will again climb to a high near 10 °C with a high north wind picking up through the day.
Long Range Outlook
Some sun will begin to poke out from behind the clouds on Friday with light north winds continuing. Another passing disturbance could bring some flurries late Friday night changing to rain showers on Saturday morning. Daytime highs will hover around 10 °C right through the weekend with lows in the 0 to 5 °C range.
Next week should bring sunnier skies and temperatures finally beginning to climb back to seasonal highs in the mid-teens.
Today's seasonal daytime high in Winnipeg is 14 °C while the seasonal overnight low is +1 °C.