A weak cold front passing through the region this morning will bring cooler weather to the Red River Valley for the second half of the work week, but it will be short lived as a widespread push of milder air develops through the weekend.
Today will bring near-seasonal temperatures to Winnipeg alongside some light snow as a cold front sweeps through this morning. Winds will pick up slightly out of the north behind the front as cooler air begins pushing southwards into the Red River Valley. Despite this, the high temperature should reach around -8°C; the bulk of the cold air will move in tonight as temperatures are set to slump to slightly below-normal -18°C.
This cold air will be in place through Thursday as temperatures struggle to climb to a high near just -13°C, which is well below-normal for this time of year. We should see a fair amount of sun, though, so as long as you haven't put away your mitts and toque, it will be a relatively nice day. Temperatures will dip down to around -18°C again on Thursday night under partly cloudy skies.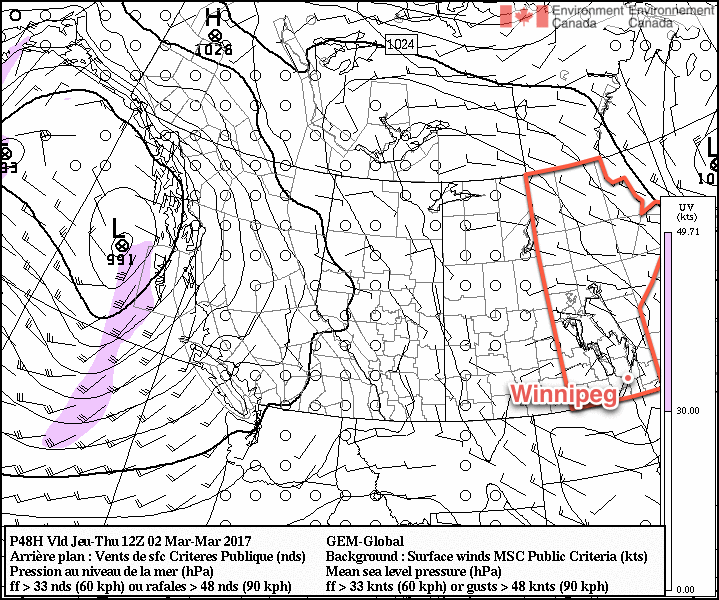 Friday will bring the big swing as the first of several Pacific-sourced systems tracks across the central Prairies. Warmer air will surge eastwards towards Manitoba, producing gusty southerly winds as is typical with transition days from colder to warmer weather in the Red River Valley. They'll probably strengthen to around 40 km/h with gusts up to 60 km/h, and persist into Saturday morning before tapering off Saturday afternoon. Temperatures will climb, though, eventually reaching a high temperature near -5°C. Along with the warmer weather will come more cloud, with skies clouding over by midday. While any accumulating snow is unlikely, there may be some light snow in the afternoon as the warm front pushes across the Red River Valley.
Skies should mix out a bit on Friday night as temperatures continue near -5°C or even rise slightly towards -3 or -2°C by Saturday morning.
Long Range
Mild weather will remain over southern Manitoba for the weekend, with daytime highs continuing to be above seasonal. By Sunday, the chance for snow will increase as a more significant low pressure system develops across the Northern Plains.
Winnipeg's seasonal daytime high is currently -5°C while the seasonal overnight low is -15°C.