After some more showers move through Winnipeg & the Red River Valley today, conditions will begin to settle as an upper-level ridge builds into the Prairies, bringing sunny skies and warmer temperatures.
A few more showers will move through the Winnipeg region this morning as a low pressure system slides through the region, but overall rainfall totals are expected to remain low. The rain will move off by mid-morning, and Winnipeg will be left with clearing skies and light northwesterly winds. Temperatures will climb up to a high near 16°C.
Skies will be partly cloudy tonight with a very slight chance of a shower overnight. The low temperature will drop to near 6°C.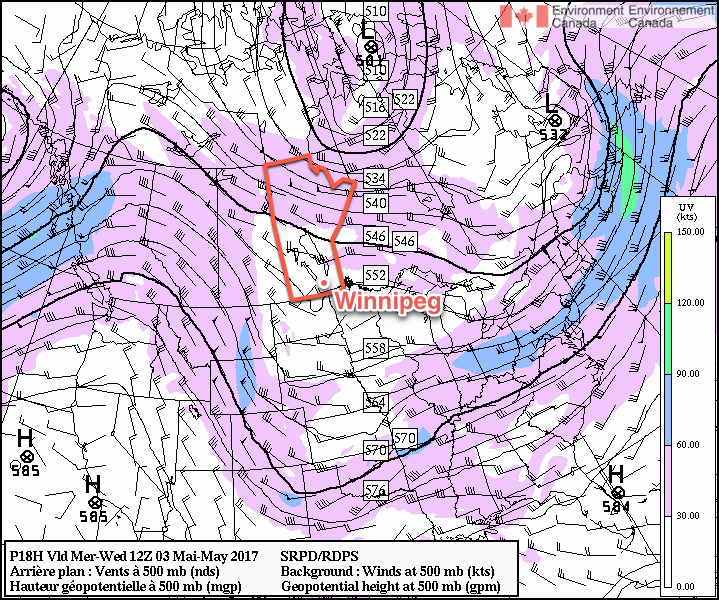 For Thursday, the weather will be dominated by an upper-level ridge building into the western Prairies. This type of weather pattern brings stabilizing conditions to the eastern Prairies. As a result, Winnipeg will see mainly sunny skies on Thursday with temperatures climbing up to around 19°C. Expect a few clouds on Thursday night with a low near 9°C.
Friday will be another beautiful day, although there may be a few more clouds about than Thursday. It will still be quite sunny, and temperatures will climb above 20°C for a high. Winds will increase to 15-20 km/h out of the north for the afternoon. Expect a low near 7°C on Friday night with mainly clear skies.
Long Range
The weekend continues to look great with plenty of sunshine and highs near 20°C. Winds will also continue to be relatively light as well.
The nice weather will continue into next week, although by mid-week there may be another chance for some showers throughout the region.
Winnipeg's seasonal daytime high is currently 17°C while the seasonal overnight low is 3°C.