A return to summer conditions is on tap for Winnipeg as an upper-level ridge builds in behind a low pressure system that will move through on Saturday.
After a distinctly fall-like morning on Thursday where temperatures dipped as low as 3.1°C at the Winnipeg Airport, many will be relieved to hear that summer is on the way back to the region as the ridge of high pressure that brought the cold weather pushes off to the east and warmer conditions being working in from the west.
The first push of warmer weather will begin working into the region today as a slow-moving trough moves eastwards across Saskatchewan. Skies will remain fairly sunny today, but winds will pick up out of the southeast to around 30 km/h as the temperature climbs to a high near 26°C. Clouds will begin working into the region on Friday evening as the winds ease and temperatures drop towards a low near 15°C.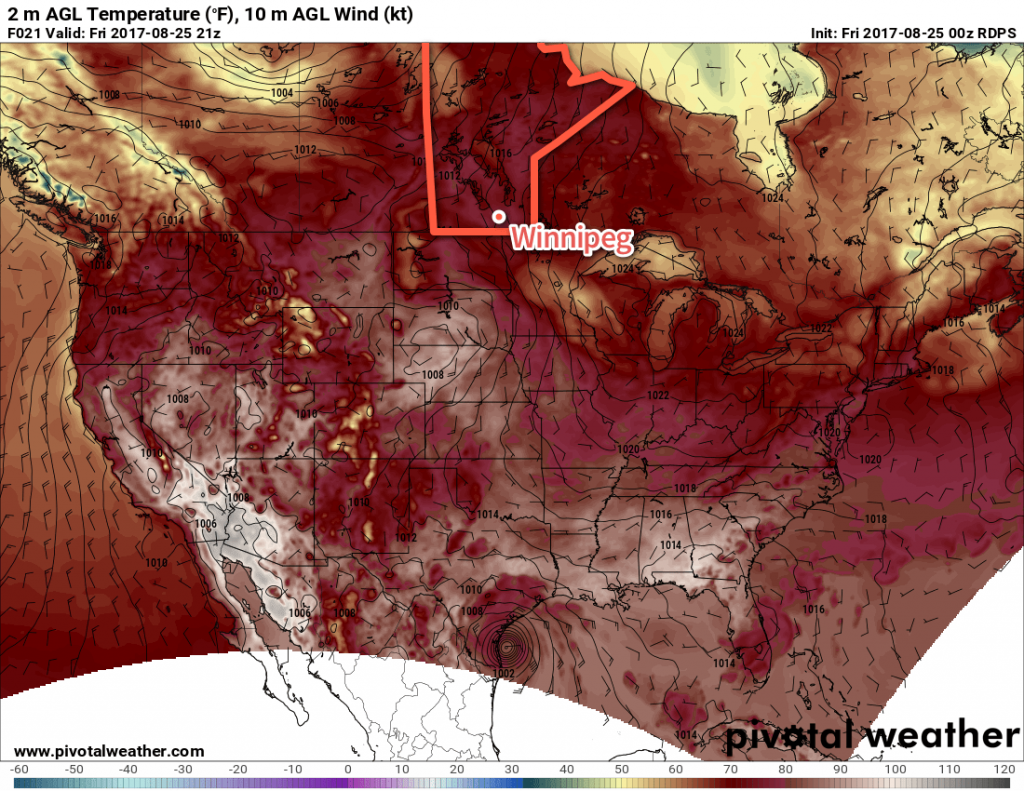 Saturday will bring mainly cloudy conditions to Winnipeg as the broad trough of low pressure moves through the region. At the moment it looks unlikely that Winnipeg will see much in the way of precipitation, but if there is going to be any rain it would likely be in the afternoon or evening as the trough line swings through. The odds seem low, though, as the main areas of support for rain will pass by to the north and south, leaving Winnipeg & the Red River Valley in a bit of a gap. The cloudy skies will keep temperatures slightly cooler than Friday with highs near 23°C. Skies will clear out on Saturday night with temperatures dipping to a low near 14°C.
Summer weather returns to Winnipeg for Sunday! There may be some low cloud or fog early in the morning, but that should burn off fairly quickly leaving the region with mainly sunny skies. Temperatures will be warm with highs reaching around the 28°C mark in the Red River Valley. Expect a low near 15°C on Sunday night.
Long Range
Next week will start off quite warm with highs in the upper 20's and then trend towards more seasonal temperatures midweek. Things look to turn slightly more unsettled near the end of the week with rain and thunderstorms possible.
Winnipeg's seasonal daytime high is currently 23°C while the seasonal overnight low is 10°C.