Unseasonably warm air will remain in place over Southern Manitoba for another day before a disturbance pushing eastwards across the Prairies brings a chance of rain and more seasonal temperatures for Tuesday. The "cool-down" will be short lived as above-seasonal temperatures are expected to return on Wednesday.
For the 42nd Canadian general election today, weather couldn't be nicer for late October in Winnipeg. Today will bring plenty of sunshine and light winds with a high near 15°C.1 Temperatures will be cool tonight at around 2°C under increasing cloudiness.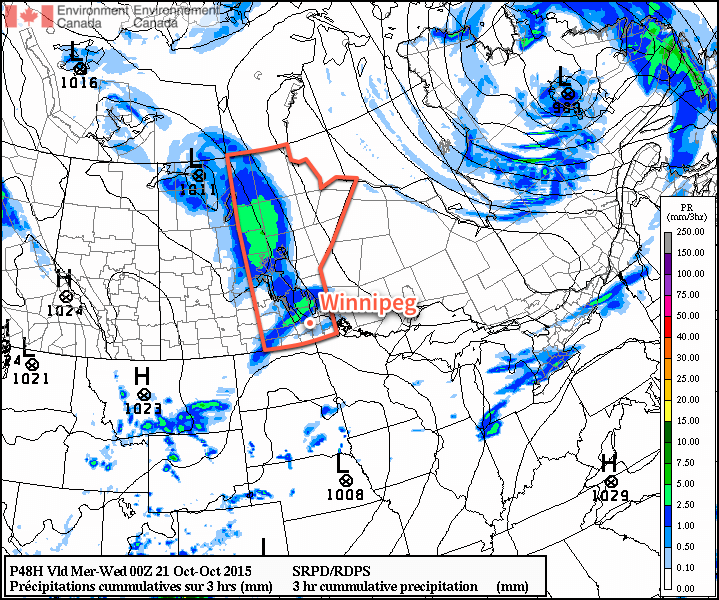 Tuesday will be a mainly cloudy day with a cool northeast wind limiting our high to a more seasonal 9°C or so. There will be a chance of some shower activity through the afternoon and overnight period as a trough of low pressure pushes across the region, however amounts from the precipitation are expected to be fairly minimal with just a couple mm likely at most. With cloudy skies overnight, the low temperature will be kept a bit warmer at around 4°C.
Wednesday will see a return of the warmer weather.  Skies will clear through the morning hours letting the sun work a little bit of it's late-season magic and bring us towards a high near 11°C with relatively light winds.  Expect a low near the freezing mark on Wednesday night under clear skies.
Long-Range Outlook
The second half of the work week looks quite pleasant with mainly sunny skies Wednesday & Thursday and warmer-than-seasonal daytime highs in the low teens.  Many weather models show a large low pressure system ejecting northeastwards out of Wyoming on Thursday night and pushing through Southern Manitoba on Friday, bringing a swath of rain across the region. There's still quite a bit of uncertainty associated with that system, though, so we'll keep eyes on it as the week goes on and take a closer look at it in our mid-week forecast!
---
This is 7°C above the seasonal high temperature of 8°C for this time of year.↩