December will start with a continuation of the mild weather the region has seen through much of the second half of November. With variable cloudiness in the days ahead, Winnipeg's highs will keep hovering close to 0 °C.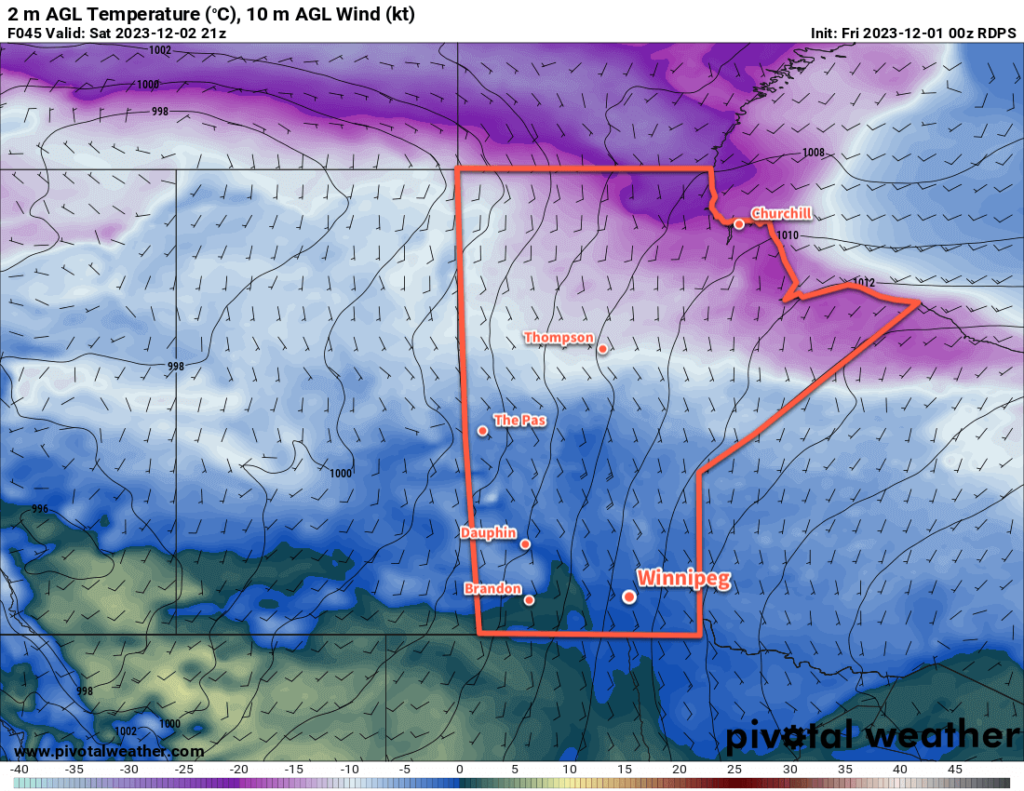 Today will start off with plenty of lingering cloud across the region; it's part of a band that stretches from southern Manitoba northwest through Saskatchewan and marks roughly the position of the Arctic front draped through the Prairies. Skies will clear a bit later today as the front lifts to the northeast, leaving behind sunshine and light southwesterly winds as temperatures climb to around 0 °C.
Over the next few days, the region can expect variable cloudiness as milder Pacific air gradually pushes through the region. Daytime highs will hover close to freezing, perhaps a degree or two above, and overnight lows will sit in the -5 to -10 °C range. It's unlikely that any snow or rain will fall in the city this weekend.
Saturday will be windier with southerlies up to around 30 km/h. Otherwise winds should stay light over the coming days.
Long Range Outlook
Next week will bring more mild weather as an upper ridge builds across the Prairies. Daytime highs in Winnipeg will vary from just below freezing to several degrees above. A sunnier start to the week will likely become cloudier as the warmer air moves into the region.
No notable precipitation is on the horizon. By the end of next week, the upper ridge should begin to collapse which could bring some snow to the Red River Valley to end the week.
Today's seasonal daytime high in Winnipeg is -7 °C while the seasonal overnight low is -15 °C.