Winnipeg will see several batches of light snow over the coming few days as temperatures slowly slide towards seasonal values.
Today will bring falling temperatures to Winnipeg as a cold front slumps south and brings another shot of light snow through the region. Not much snow will fall, perhaps 1 to 2 cm, and it should taper off by the afternoon. Winnipeg will see breezy northwesterly winds around 30 gusting to 50 km/h, but over the western Red River Valley they'll be a bit stronger and closer to 40 gusting 60 km/h. The winds will taper off through the afternoon across the region as temperatures fall to around -9°C. Skies will remain mostly cloudy tonight as temperatures remain steady near -10°C.
Thursday will bring more cloud to the region with a chance of some more light snow as another weak upper-level disturbance slides across the region. Temperatures will climb to a high near -7°C with light winds. Some clearing will work into the region on Thursday night as temperatures dip to a low near -16°C.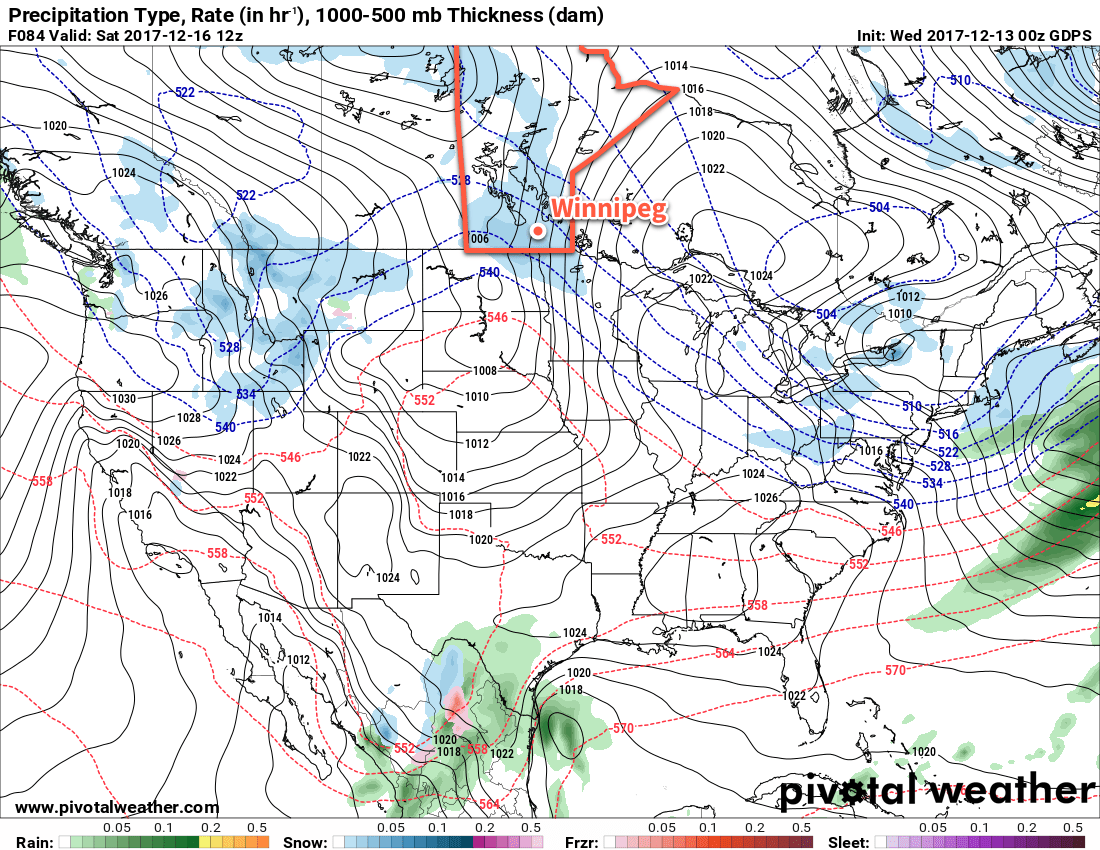 Friday will bring mixed skies to Winnipeg, but the cloud will push back into the region in the afternoon as another Mackenzie clipper begins dropping southeastwards out of the Northwest Territories. Temperatures will reach a high near -11°C before the cloud thickens up in the afternoon.
Models are wavering a bit on the location, but snow will likely push into southwestern Manitoba in the afternoon and then eastwards into the Red River Valley on Friday evening. Temperatures will hover around the -10°C mark on Friday night. Total snowfall amounts are a bit in the air at this point, but around 2 to 5 cm looks probable for Winnipeg.
Long Range Outlook
The weekend looks mild as warmer air pushes eastwards into the province, bringing daytime highs back to around -4°C. Saturday will still bring plenty of cloud, but the sun may make a return on Sunday. At this point, it looks like Monday may be the warmest day with temperatures possibly climbing above freezing before cooler air begins working back into the region with seasonal temperatures returning mid-week.
Winnipeg's seasonal daytime high is currently -10°C while the seasonal overnight low is -19°C.