Winnipeg will see a mixed bag over the next few days with showers tapering off early Friday morning, a pleasant Saturday, then followed by unsettled weather on Sunday.
Today will start cloudy with a chance of showers, but a ridge of high pressure building into the region will bring gradual clearing to Winnipeg through the afternoon. Temperatures will reach a high near 25°C, but the wind will be a breezy out of the north-northeast near 30 km/h. The wind will taper off early this evening, then skies will clear as temperatures head to a low near 14°C.
Saturday will be a beautiful day in Winnipeg & the Red River Valley. The ridge of high pressure will bring sunny skies and light winds to the region as highs climb to around 28°C. Humidity levels will be comfortable. A few clouds will move in overnight as winds pick up a bit out of the southeast. Winnipeg should see a low near 16°C on Saturday night.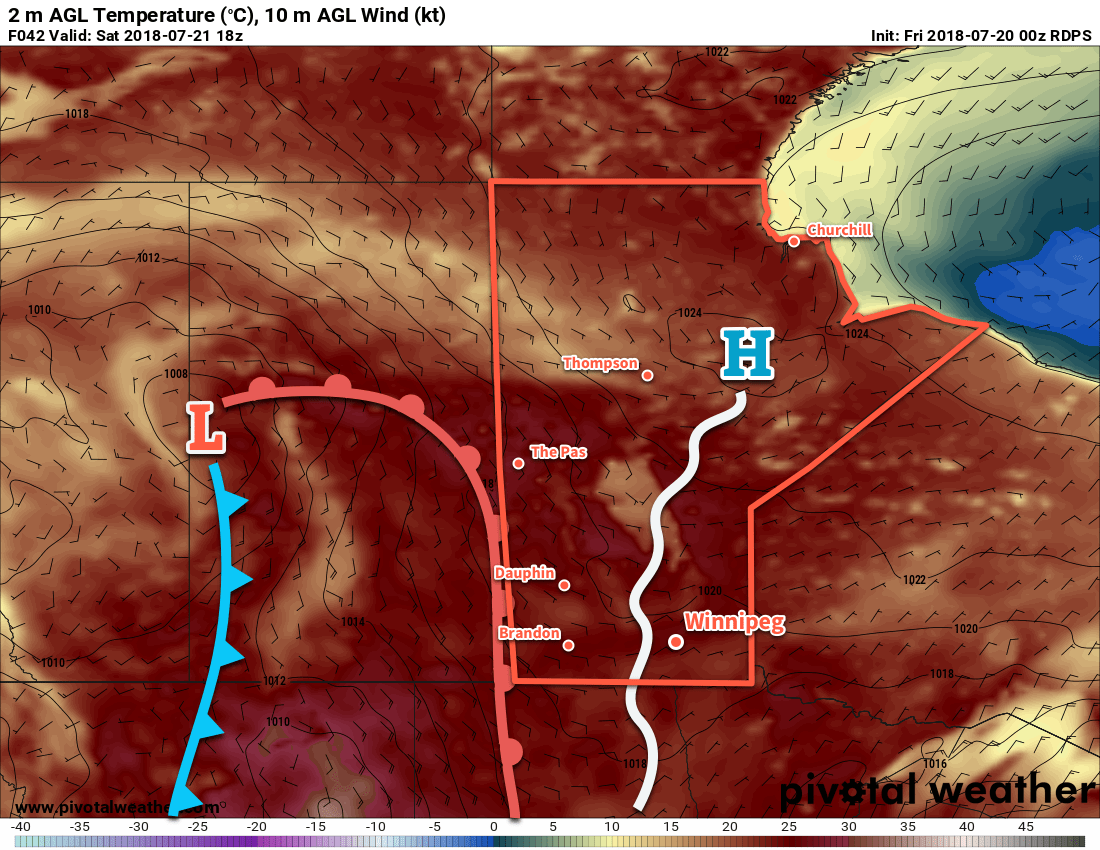 A warm front will push through early Sunday, bringing some cloud cover to the region. There's a small chance of a shower as overnight activity from Saskatchewan and southwestern Manitoba dies off. The remainder of the day will bring mixed skies alongside gradually increasing humidity. Winnipeg should see a high near 28°C. The threat for thunderstorms will return through the afternoon as a cold front pushes eastwards across the province.
Long Range Outlook
Next week looks to bring seasonal to slightly below-seasonal temperatures to the region and variable cloudiness. There are no major signals for precipitation, so expect generally dry weather and comfortable humidity through much of the week.
Winnipeg's seasonal daytime high is currently 26°C while the seasonal overnight low is 13°C.