An approaching Arctic ridge will send temperatures in Winnipeg plunging well below seasonal values once again.
Colder weather returns to Winnipeg today as an Arctic ridge begins building through the Prairies. Northwesterly winds near 30 km/h will keep temperatures much cooler than seasonal today; Winnipeg's high temperature will struggle to just -6°C. The colder air will continue to filter into the region tonight, sending temperatures down to a low near -15°C. Morning cloud will give way to breaks of sunshine this afternoon. Winnipeg will see a chance of flurries through the afternoon into the early evening. Skies will gradually continue to clear overnight with winds shifting to westerly at 10 to 20 km/h.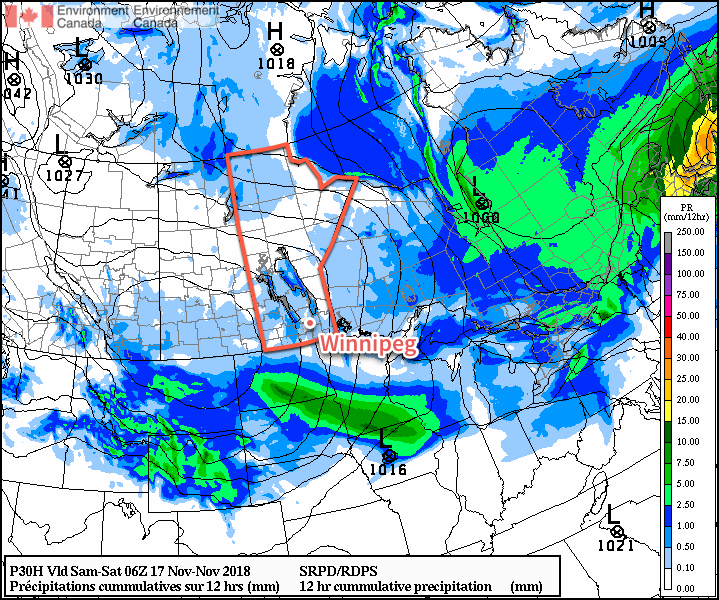 The Arctic ridge will move through the Red River Valley on Saturday, bringing cool temperatures and sunny skies. Winnipeg will see a high of just -9°C with west-southwest winds of 15 to 25 km/h. Temperatures will drop to a low near -13°C on Saturday night with increasing cloudiness.
Sunday will bring fairly cloudy skies to the region, although once again sunny breaks will be possible through the afternoon. It will be another cool day with a high near -8°C and winds should be light through the day. Skies will remain mixed to mostly cloudy on Sunday night as temperatures drop to a low near -14°C.
Long Range Outlook
Next week should bring a return to seasonal temperatures by mid-week with variable cloudiness. No significant precipitation is forecast.
Winnipeg's seasonal daytime high is currently -2°C while the seasonal overnight low is -10°C.