Temperatures will climb well above freezing today and challenge a daytime high record over 100 years old. The significant warmth will ease through the remainder of the weekend, but temperatures are still expected to remain above-normal into the beginning of next week.
Winnipeg will see a cloudy and mild start today with temperatures starting out near 0 or +1°C. Temperatures will climb through the day, reaching a high near +5°C as the sun starts breaking out from behind the clouds later this afternoon. This high will challenge the current daily record high for January 19th of 5.6°C, set first in 1900 and then tied again in 1908. Winds will be out of the southwest at 20 to 30 km/h, gusting at times to 40-50 km/h. Skies will remain partly cloudy for the evening, then cloud back up overnight as a cold front slowly slumps southwards out of the Interlake. Winnipeg will see a low near -8°C.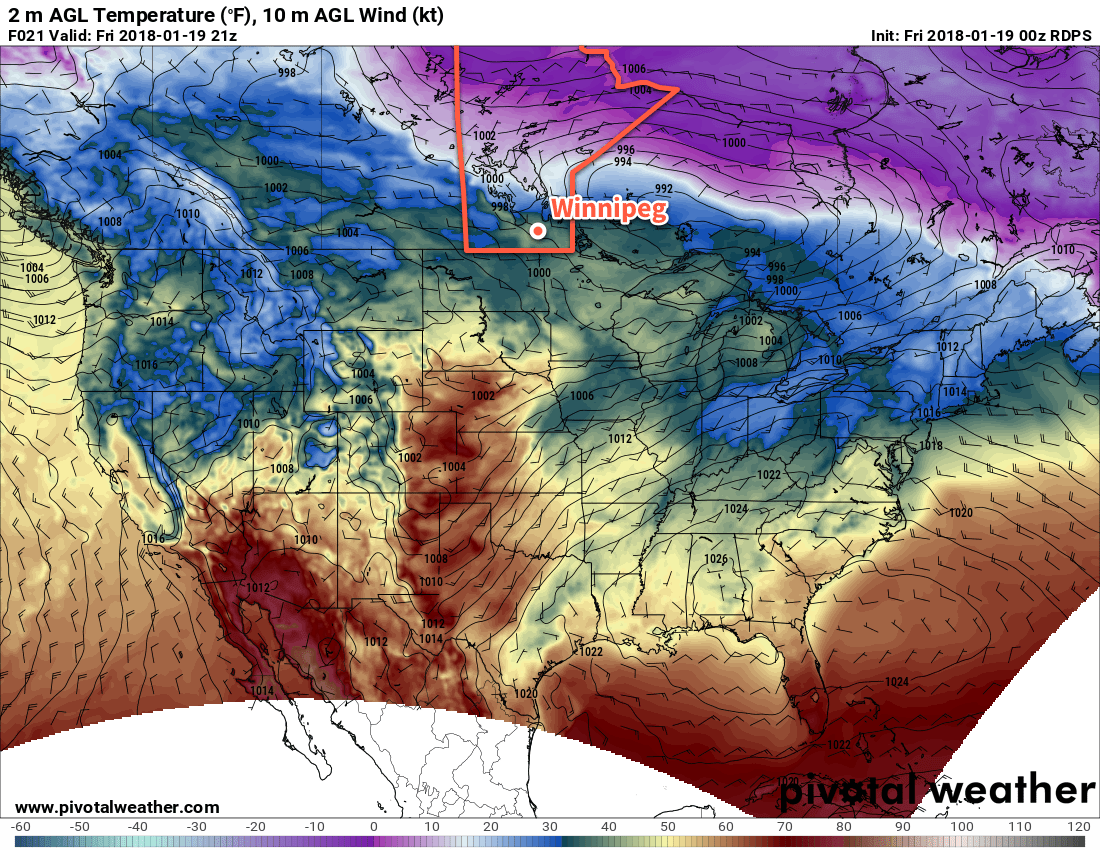 Saturday will bring mixed skies to the city – looking cloudier in the morning and a but sunnier in the afternoon – with a high near -2°C. It's quite a bit cooler than Friday, but still well above the seasonal high of -13°C. There isn't too much else to say! Saturday night will see mainly cloudy skies and a low near -8°C. Sunday will bring mixed to cloudy skies with a high near -5°C and a low near -10°C. Winds will remain light.
Long Range Outlook
The first half of next week will bring variable cloudiness to Winnipeg with temperatures continuing to trend towards seasonal values. No significant snow is on the horizon. All things considered, it'll be beautiful January weather!
Winnipeg's seasonal daytime high is currently -13°C while the seasonal overnight low is -23°C.