Winnipeg will see very little weather of note as temperatures slowly trend back towards seasonal values.
A low pressure system moving eastwards through northern Manitoba will bring just a few clouds to Winnipeg today as it drags a cold front across the southern Interlake. Fortunately, Winnipeg will remain on the warmer side of the front, and temperatures should climb to a high near -12°C with winds out of the west-southwest at 10 to 20 km/h. The city will see a few clouds tonight as temperatures dip to a low near -19°C with light winds.
Thursday will be a beautiful day in Winnipeg with sunny skies, light winds, and a high near -7°C. Skies will cloud over on Thursday night as outflow from a high pressure system in the United States meets warmer air advecting into the Prairies from the west. Winnipeg should see a low near -15°C.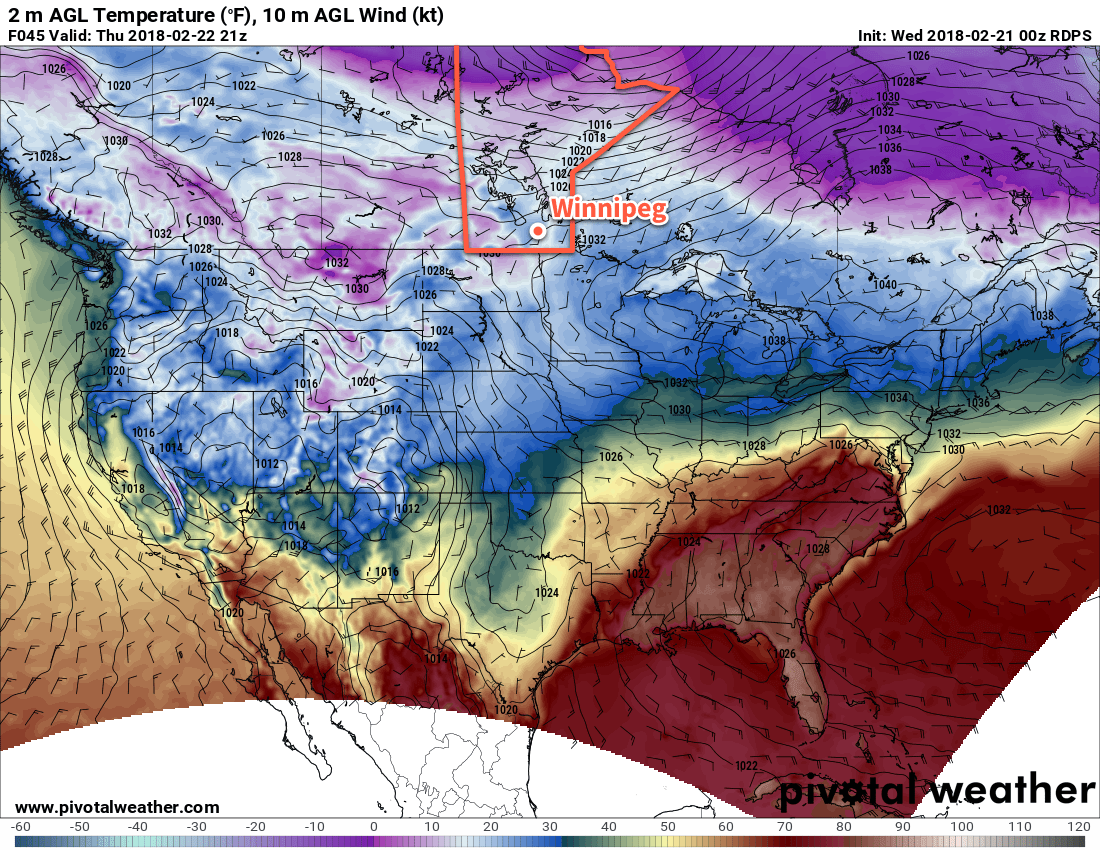 Friday will bring mostly cloudy skies to Winnipeg. The extensive cloud cover will keep temperatures cooler with the high for the day likely around -9°C. Winds will be light, and it doesn't appear that there will be any chance for snow, so the day may end up being a relatively pleasant one given how February has gone so far. Winnipeg will likely continue to see a fair amount of cloud on Friday night as temperatures head to a low near -16°C.
Long Range Outlook
The large-scale pattern over North America continues to shift, with the polar vortex now retreating back towards the North Pole and a secondary cold vortex that has been over Northern Manitoba/Nunavut also shifting off to the east. This change in pattern will allow milder air to build eastwards across the Prairies from the Pacific, finally getting southern Manitoba out of the "Arctic pipeline" that's been in place for so long now.
As a result, it looks like Winnipeg will actually be entering a stretch of near- to above-seasonal temperatures! With the warmer temperatures will come more variability in cloud cover, but that seems like a reasonable price to pay for some warmer weather at this point.
For those hoping for any precipitation, you'll have to continue waiting, though. Despite the milder air, snow remains elusive in the forecast, with the main storm tracks continuing to pass to the north and south of the Red River Valley. There are some indications that southern Manitoba may see a storm to kick off March – in like a lion, perhaps? – but there's plenty of time for that forecast to change. We'll be keeping an eye on it; in the meantime, enjoy the break from the cold!
Winnipeg's seasonal daytime high is currently -7°C while the seasonal overnight low is -17°C.