A large Arctic vortex over Hudson Bay will keep cooler air entrenched over Manitoba right through the weekend.
Today will be the sunniest, warmest day Winnipeg will likely see for a while. Cloud cover from the rain overnight will break up this morning, leaving Winnipeg with sunny to partly cloudy skies. Temperatures will remain below-seasonal with a high of 13°C after northerly winds taper off in the morning.
Two primary features will define the weather from Friday evening onwards through the weekend: a large Arctic high building southeastwards through the Prairies and a nearly stationary front over the northern United States. This front will have several upper-level disturbances slide along it, bringing cloudy and occasionally unsettled conditions to southern Manitoba.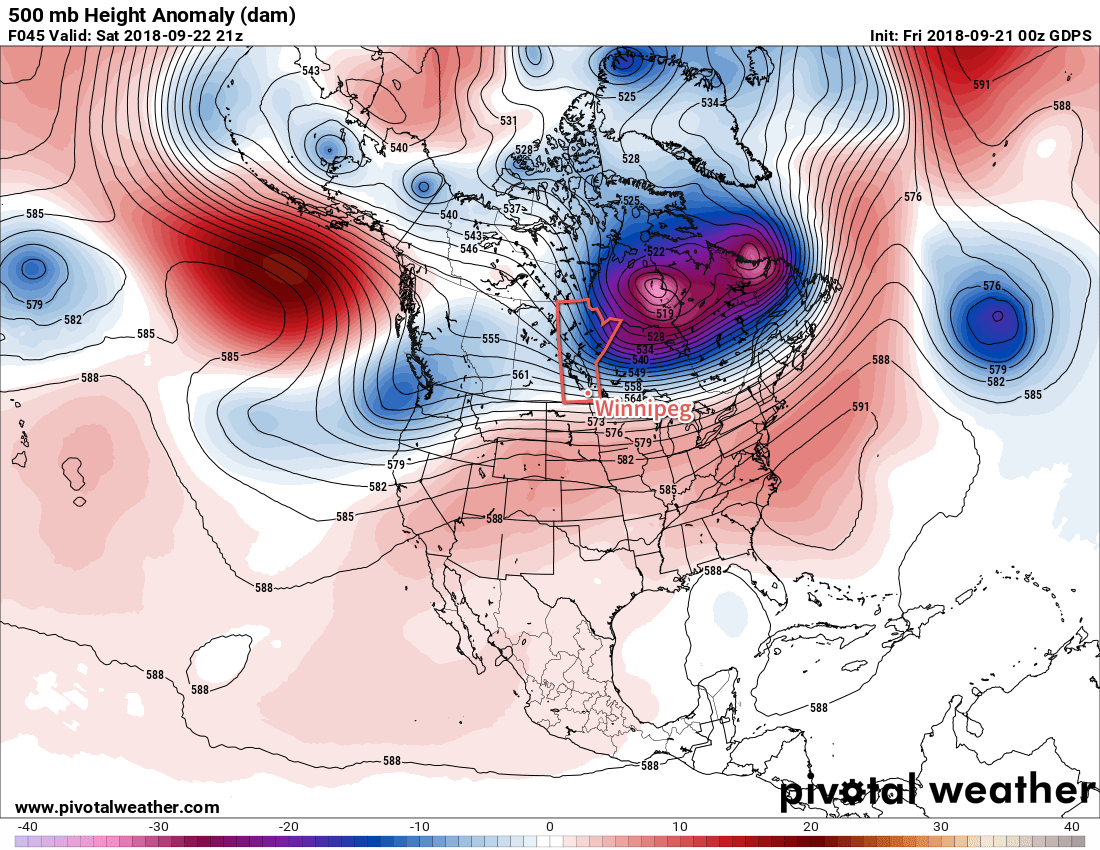 Friday night will see plenty of cloud cover build back into southern Mantioba. On the upside, this cloudy blanket will help prevent temperatures from dropping too much; Winnipeg should see a low near 6°C tonight. A clipper-like disturbance will speed across western Manitoba and the Interlake overnight, bringing a rain swath of 5-10 mm along its track. Further south in Winnipeg, a few showers are possible in the evening. Later in the evening, light rain with lesser accumulations may pass through the region, right through Saturday morning.
Speaking of Saturday it'll  be a lousy day. Winnipeg will see a well below-seasonal high near 7°C with moderate north-easterly winds near 30 gusting 50 km/h. Skies will remain mostly cloudy through the day.
Winnipeg will see mixed skies on Saturday night. The breaks in the cloud will allow temperatures to cool off. sending overnight lows down to a chilly +2°C. This is close enough to freezing that any areas that see any prolonged clearing through the night will see the risk of patchy frost.
The cloud thickens back up again on Sunday as the next disturbance approaches the region. Winnipeg and the Red River Valley will see the chance for some light, scattered showers through the day, followed by organized rain moving through on Monday night. Wind will be out of the east near 20 km/h as temperatures climb to a high near 7°C.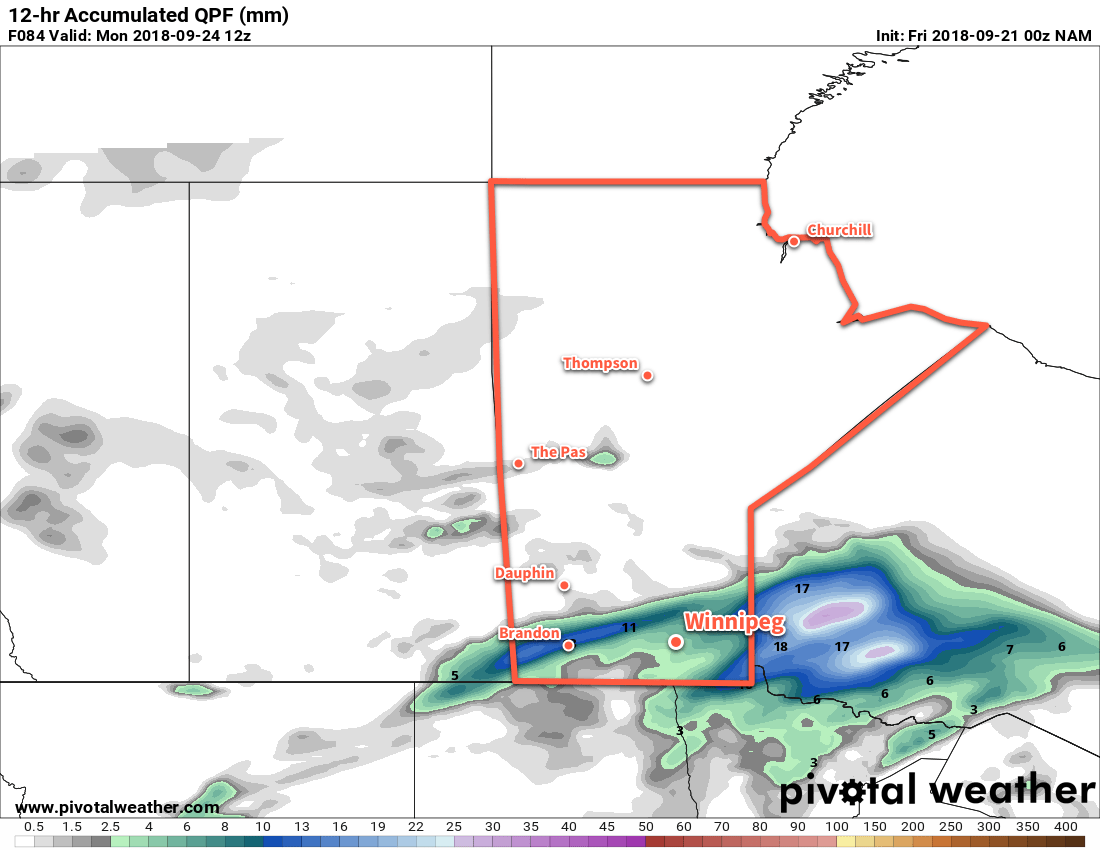 Rain is forecast to move through the Red River Valley on Sunday night with temperature remaining steady near 7°C.
Long Range Outlook
Unfortunately, next week won't start off much better. Plenty of cloud will remain in the region next week with daytime highs continuing well below seasonal values. Ensemble guidance has good confidence that Winnipeg will continue to see below-seasonal daytime highs right through the end of the month.
Winnipeg's seasonal daytime high is currently 17°C while the seasonal overnight low is 5°C.