The Winnipeg area will see mixed skies with some occasional light snow over the coming days as cooler weather slumps into the region.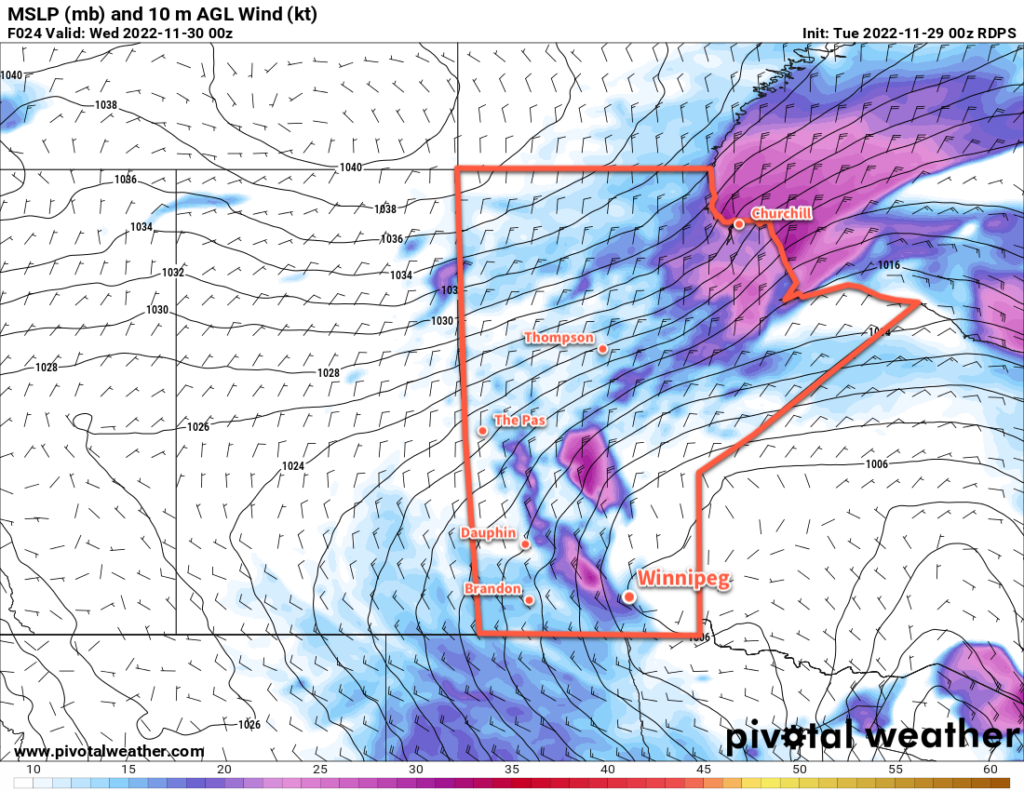 Cooler temperatures will filter southwards into Manitoba this week behind a departing low pressure system. This low will track from the Interlake eastwards into Ontario today with strengthening northerly winds developing in its wake. In Winnipeg, northwest winds will strengthen up to 40 gusting 60 km/h by the evening as skies cloud over. Once the cloud moves in, flurries will be likely across the region, and there may be some localized blowing snow in the area by evening. Temperatures will reach a high near -3 °C today, then dip down below -10 °C overnight tonight.
On Wednesday, the wind and flurries will taper off through the day, but the clouds might not break up until later in the afternoon. Temperatures will be much cooler with a high near -9 °C. With some clear breaks overnight, temperatures will fall into the mid-minus teens for a low overnight.
On Thursday, another low pressure system will begin approaching from the west, spreading more cloud cover into the region. Winds will pick up out of the south to around 30 km/h with highs a tad warmer, closer to -7 °C or so. With the thickening cloud cover, temperatures will stay a bit warmer on Thursday night, only dipping to around -10 °C. This approaching low will spread snow into southern Manitoba with the first flakes likely falling by early Friday morning.
Long Range Outlook
Snow will taper off later Friday with northerly winds picking up through the day. The region could see anywhere from 2–5 cm of snow, and temperatures will fall into the minus teens by the end of the day.
The cloud cover will break up on Friday night as a colder air mass moves into the region. Beginning on the weekend, daytime highs will dip below -10 °C while overnight lows head toward the -20s, bringing the first real shot of winter cold to southern Manitoba. While there will be some ups and downs, temperatures look like they'll continue to drop next week with daytime highs possibly falling into the low minus teens by midweek.
Today's seasonal daytime high in Winnipeg is -6 °C while the seasonal overnight low is -15 °C.