Get the air conditioners ready: hot and humid weather is on the way for Winnipeg.
Winnipeg will see the first true blast of summer heat as a muggy Gulf of Mexico air mass builds into the region tonight. While daytime highs will be similar to those seen over the past few days, dew points climbing into the upper teens will bring warm overnight lows and muggy conditions on Thursday afternoon with humidex values in the mid-30s.
However, with this hot and humid weather will come the first significant thunderstorm threat of the year. Winnipeg will see increasing cloudiness Wednesday evening and a slight chance of showers or thunderstorms overnight. There should then be a reprieve with mixed skies until Thursday afternoon when an upper-level disturbance begins working into the region. Most of the thunderstorm activity should hold off until later in the day, but it's likely that showers and thunderstorms develop in the evening.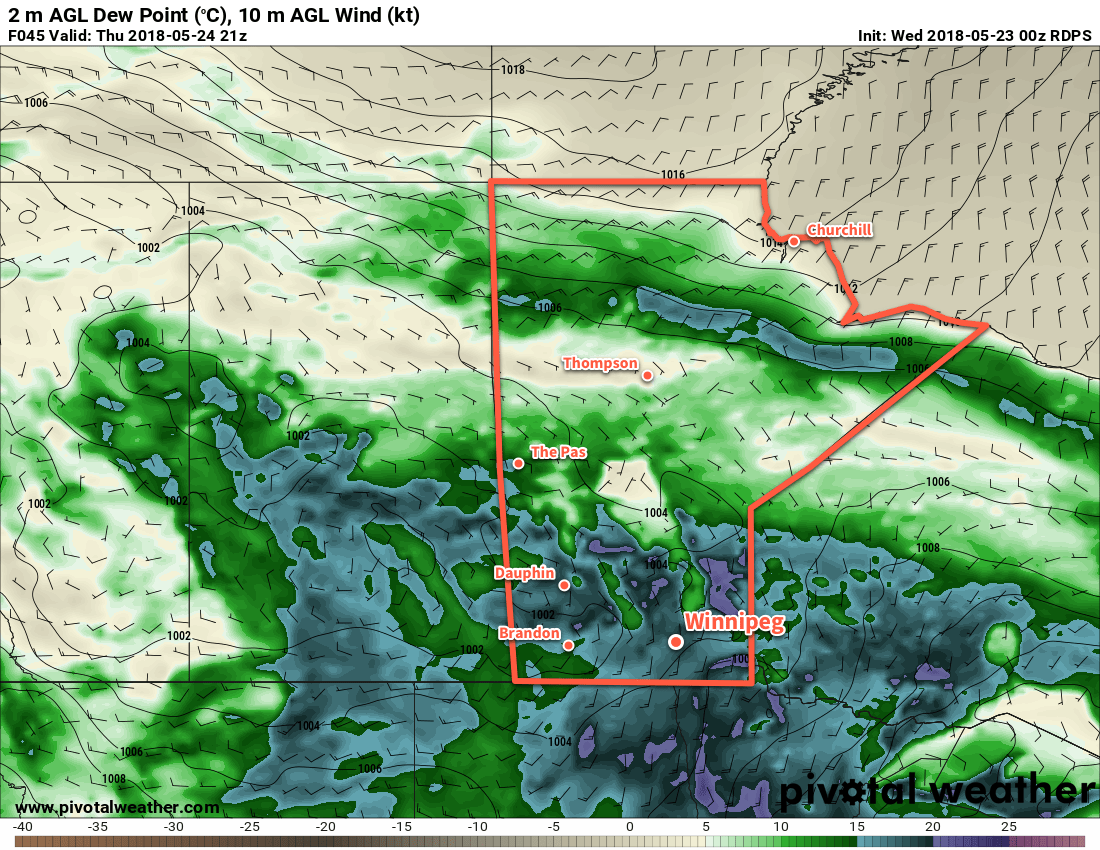 Looking at the MIST principles:
Moisture: Deep moisture with dew points in the upper teens will provide plenty of energy for the storms to work with.
Instability: Moderate with MLCAPE values near 3000 J/kg transitioning to around 2500 J/kg of MUCAPE as the evening progresses.
Shear: Will be low to moderate with roughly 20 to 25 kts of bulk shear.
Trigger: An incoming shortwave will provide mid-level destabilization to help initiate convection.
All this combines for a threat of severe thunderstorms with primary threats of large hail and wind gusts in excess of 90 km/h. The high dew points will also support heavy rain with localized amounts of 30 to 50 mm possible as the shortwave moves in on Thursday night.
Thursday afternoon will also bring some breezy conditions with winds out of the south near 30 km/h.
Friday will bring potentially unsettled conditions as an upper low moves through the region. With relatively humid conditions still in place, mixed skies are likely with scattered showers or thunderstorms moving through the region.
Long Range Outlook
A bit of relief from the heat will arrive for the weekend with daytime highs cooling slightly on Saturday and humidity levels dropping. The heat quickly builds back in on Sunday with highs near 30°C again.
Next week looks to kick off with an unsettled and warm trend. Daytime highs in the upper 20's look likely, along with mixed skies and several chances for showers or thunderstorms.
Winnipeg's seasonal daytime high is currently 21°C while the seasonal overnight low is 7°C.