Breezy conditions will develop over the Red River Valley this weekend as temperatures climb to above-seasonal values.
A low pressure system tracking through the northern Prairies will be the main driver for Winnipeg's weather over the next several days. As it develops in Alberta and moves eastwards, warmer temperatures will spread across the southern Prairies. Daytime highs will sit comfortably in the mid-teens today, then climb into the upper teens for both Saturday and Sunday. This weekend's mild temperatures will be matched by increasing winds out of the south to around 30 gusting 50 km/h by Saturday afternoon.
These warmer daytime highs will be matched by overnight lows climbing to above-seasonal values, particularly on Saturday night where southerly winds of 20 to 30 km/h will help produce a mild low near 6°C.
Of particular note, alongside the temperature, the dew point temperature will also be increasing. This value is a measure of how much water is in the air.  Not only is it important summer-focused weather such as thunderstorms, it also has major impact on the spring snow melt. Dew point temperatures will climb above 0°C on Saturday, combining with the mild temperatures to speed up the melting of any remaining snow in the Red River Valley.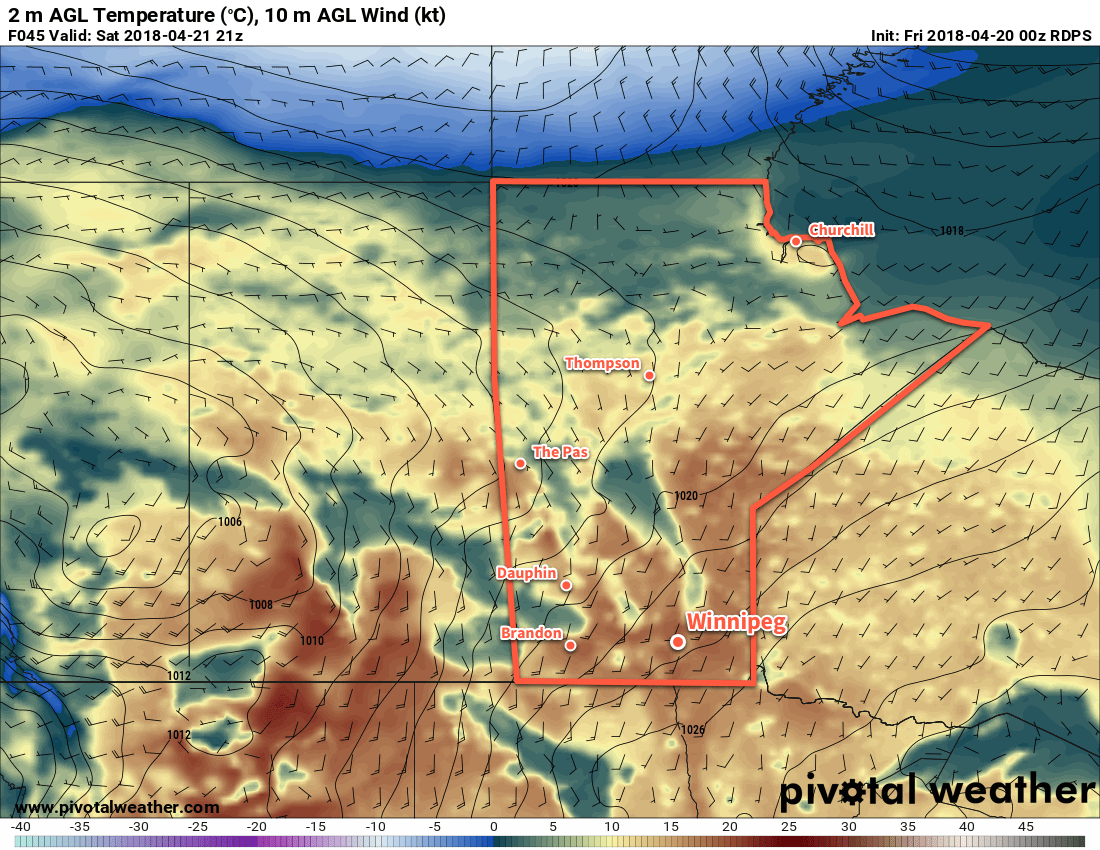 Skies will be variably cloudy over the next couple days. Winnipeg will see mixed today, but Saturday will bring more sun with just partly cloudy skies. Winnipeg should see sunshine Sunday morning change to mixed skies in the afternoon as a cold front moves through.
There is a chance of a passing shower as the cold front swings through on Sunday, otherwise conditions look dry.
Long Range Outlook
More of the same in the long range: seasonal to above-seasonal temperatures and variable cloudiness. No big rainfall events are on the horizon. With continuing mild temperatures drying out the ground, all should be aware of the increasing fire hazard heading into the end of the month.
Winnipeg's seasonal daytime high is currently 12°C while the seasonal overnight low is 0°C.