The weekend will bring a fair amount of warmth to Winnipeg and the Red River Valley, but alongside it will come some chances for isolated to scattered showers or thunderstorms.
Today will begin with an upper-level disturbance sliding out of southwestern Manitoba into North Dakota. As it moves eastwards, it will spread some cloud into the Red River Valley along with along with a low chance of isolated to scattered showers or thunderstorms further south in the valley towards the Morden-Winkler-Altona area. The partly cloudy to mixed skies will clear out through the morning and early afternoon, leaving sunny skies as temperatures climb to a high near 28°C. Winds will be relatively light out of the west to northwest at 10-20 km/h. Expect clear skies tonight with calm winds as temperatures head to a low near 15°C, kept relatively mild by a warm front that moves through in the evening and overnight hours.
Saturday will be a scorcher over southern Manitoba as we move into the warm sector of a low pressure system tracking across the northern Prairies. Temperatures will climb towards a high near 32°C under mainly sunny skies with winds becoming fairly breezy out of the south at close to 30 km/h for the afternoon. Fortunately, humidity shouldn't be too much of an issue. Late in the afternoon, a cold front will begin pushing across southwestern Manitoba into the Red River Valley, and that will bring with it a risk of thunderstorms. At this point, it looks like there will be a slight chance of strong to marginally severe thunderstorms moving from west to east through the Red River Valley from around 6-7PM until midnight. Temperatures will then head to a low near 15°C again with gusty northwesterly winds behind the cold front tapering off overnight.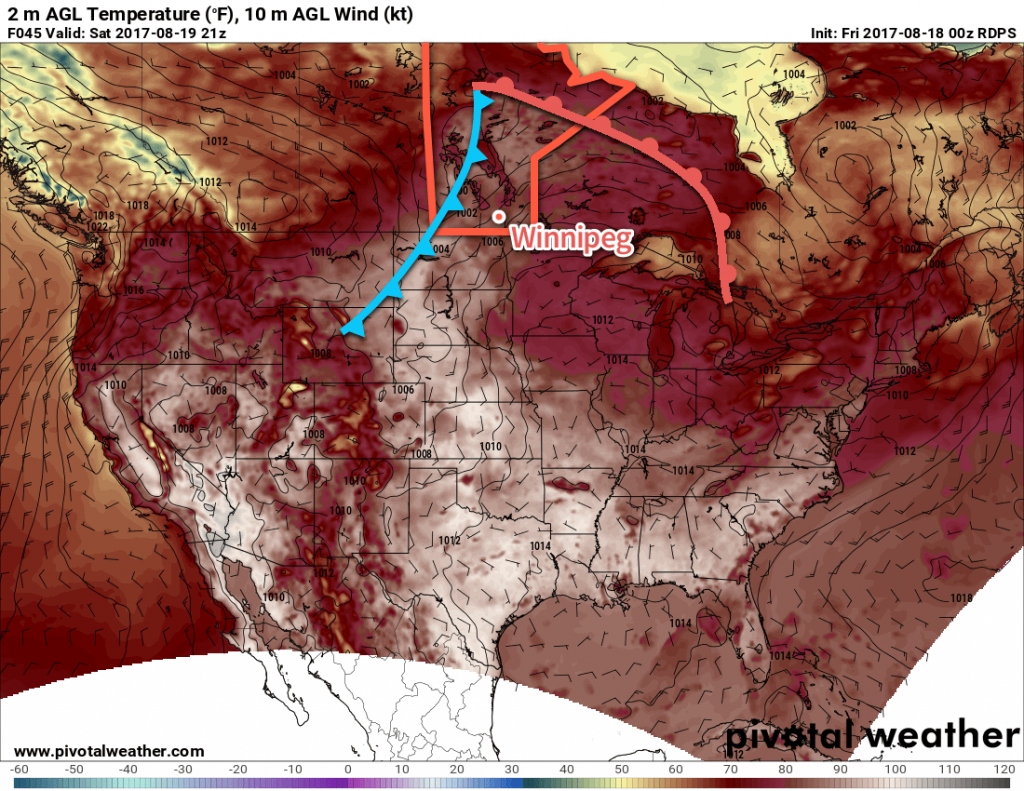 Sunday will bring cooler temperatures to the region as breezy westerlies at 20-30 km/h develop and highs reach a near-seasonal 25°C or so. Skies will partly cloudy and there may be an isolated shower or two passing through, but no particularly intense rain is expected. Expect mixed to cloudy skies on Sunday night as temperatures dip to a low near 14°C.
Long Range
Next week will start with mixed skies and near-seasonal temperatures and continue that way through much of the week, albeit with a bit more sunshine working in as the week progresses. It looks fairly dry at this point with no significant threats for rain on the horizon until next weekend. It appears that temperatures will creep towards the upper 20's once again as the week progresses. Overall, it looks like it'll be another warm and dry week.
Winnipeg's seasonal daytime high is currently 25°C while the seasonal overnight low is 11°C.