Winnipeg will see cooler weather move in today, bringing an end to the heat wave that brought record-setting warmth to the city over the weekend. The relief will be brief, though; daytime highs will climb back into the low 30s on Wednesday.
Winnipeg will see temperatures fall through the day today as a cold front pushes through the region. Cloud cover associated with the front will move in early this morning, bringing mainly cloudy skies for much of the remainder of the day. Winds will increase out of the northwest to 30 gusting 50 km/h midday, sending temperatures down to around 23°C by the end of the afternoon. The wind will gradually diminish overnight and the cloudy skies should gradually clear. Temperatures will dip down to a low near 9°C.
A high pressure system will move into the region on Tuesday, bringing northerly winds of 10 to 20 km/h and partly cloudy skies. Winnipeg's high near 22°C will be well below-seasonal for this time of year and a far cry from the 37.5°C seen on Sunday. Temperatures will remain cool on Tuesday night with a low near 11°C and light winds.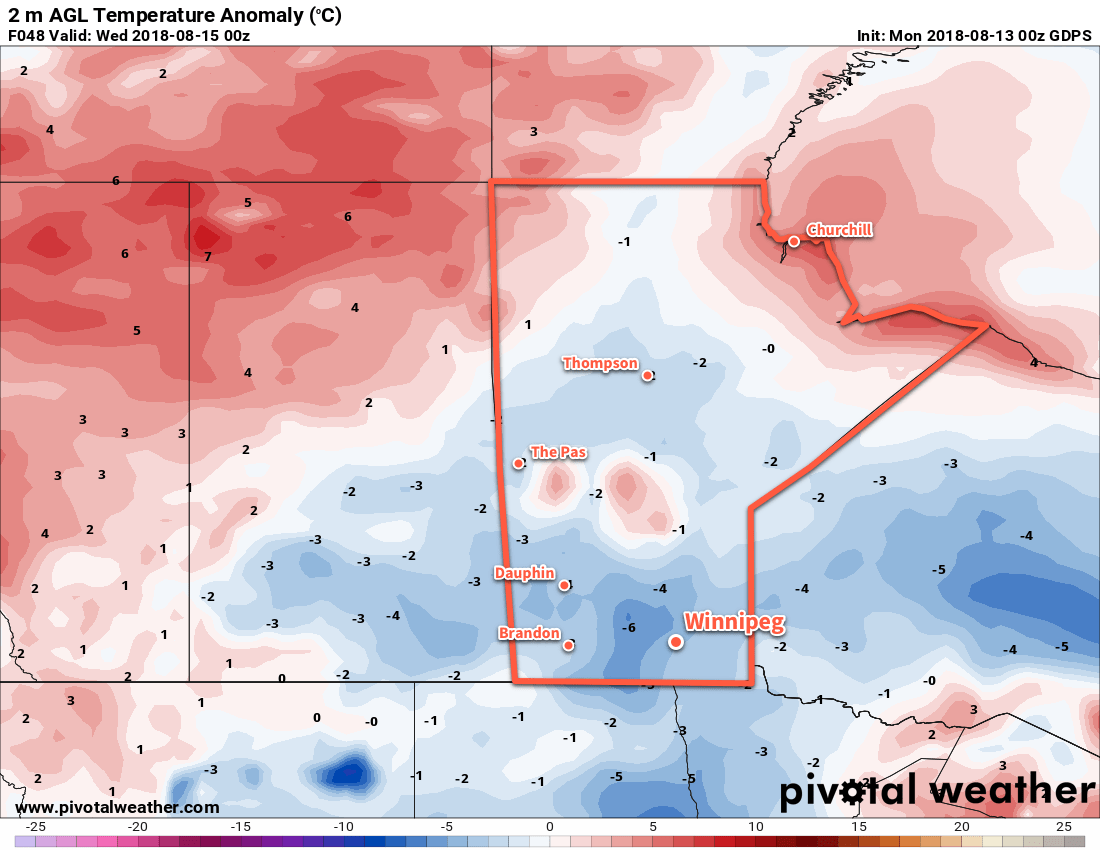 And that brings an end to the cooler temperatures. The heat returns on Wednesday as another upper-level ridge begins building across the southern Prairies. Winnipeg should see a high near 31°C with winds out of the south-southwest at 20 to 30 km/h. Skies should remain mainly sunny through the day. Expect a low near 17°C on Wednesday night.
Long Range Outlook
The remainder of the week is looking like Winnipeg will continue to see above-normal temperatures with highs in the low 30s through the remainder of the work week. There are some hints that the weekend may bring a return to seasonal temperatures alongside some unsettled conditions, but it looks rather uncertain at this point.
All in all, it looks like a pretty nice stretch of weather coming up with near to slightly above-seasonal highs well into next week.
Winnipeg's seasonal daytime high is currently 25°C while the seasonal overnight low is 12°C.