Temperatures will continue to be generally mild for mid-December over the coming days…but that's not to say that it will be pleasant all the time.
Despite the general mild trend that will be in place for Winnipeg over the coming days, today will be distinctly unpleasant as moderate northwesterly winds of 30 to 40 km/h usher in a cooler Arctic air mass. Temperatures will fall through the day to around -11°C by early this evening as the cloud cover clears out. Winds should taper off in the latter half of the afternoon. Temperatures will dip to a low near -16°C tonight but cloud cover will begin working back into the region overnight and help temperatures moderate back towards -12 or -11°C by Tuesday morning.
Tuesday will bring mostly cloudy skies to Winnipeg as a warm front slowly pushes eastwards ahead of the next low pressure system dropping into the Prairies from the Northwest Territories. Temperatures will reach a high near -8°C with light winds. The cloudy skies will continue on Tuesday night as winds pick up a bit out of the south-southeast and temperatures rise to around -4°C by Wednesday morning.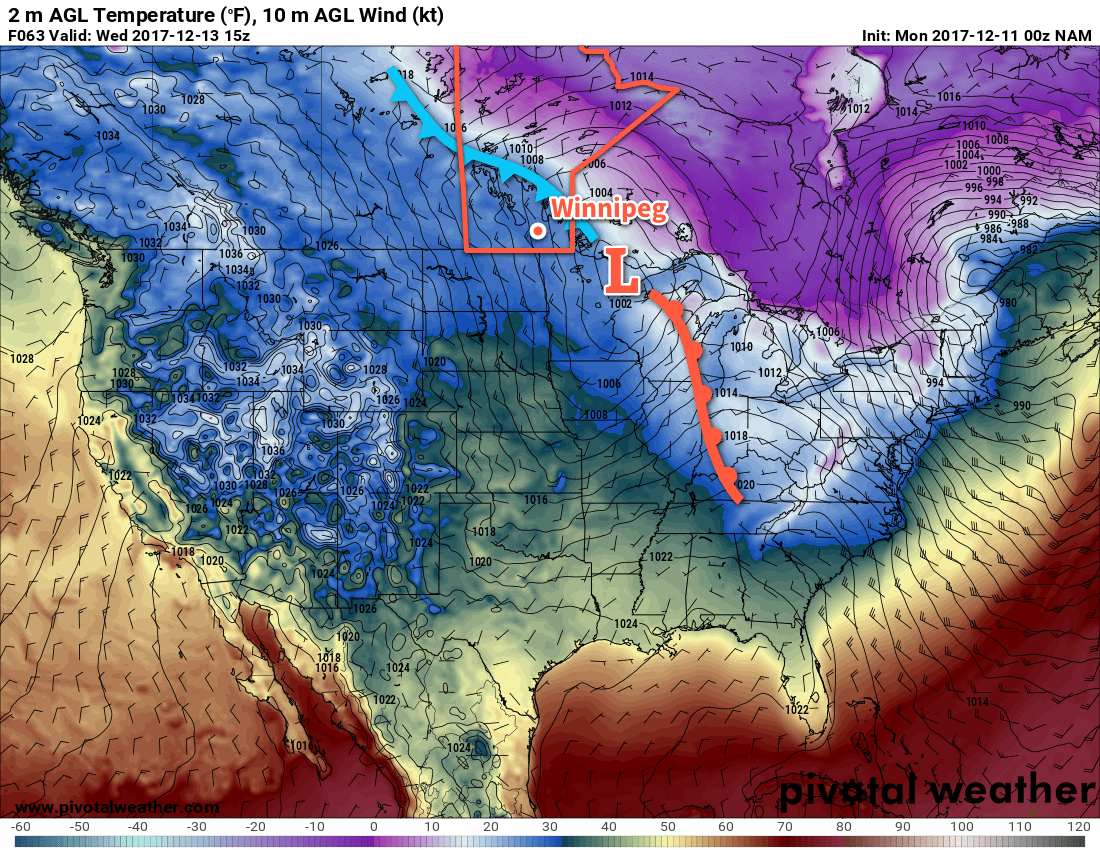 Wednesday will bring mild conditions as highs climb to around -2°C in Winnipeg under cloudy skies as a low pressure system slumps southeastwards through the province. Winds will pick up out of the northwest in the afternoon to around 30 to 40 km/h behind a cold front that will slump southwards through the region midday. There will be a chance for some light snow throughout much of the day but at this point amounts look like they would be minimal. Expect breezy conditions on Wednesday night as temperatures head to a low near -10°C.
Long Range Outlook
The remainder of the week will continue to bring seasonal to above-seasonal temperatures, particularly with respect to overnight lows which look to remain 5-10°C above normal for much of the week. The chances for snow look low until Friday into Saturday, when a low pressure moving across the region will bring a chance for some accumulating snow.
Winnipeg's seasonal daytime high is currently -9°C while the seasonal overnight low is -19°C.