Milder weather will gradually build into the region over the coming days, but cloud cover will limit potential warmth.
The tail end of the weather system that brought snow to the region yesterday will move through the Red River Valley this morning, bringing with it a good chance of some rain showers or flurries. The precipitation should end by mid-morning followed by northerly winds of 20–30 km/h and a high of +1 °C. Skies will become mixed in the afternoon, then mainly clear in the evening. The winds will ease tonight with temperatures heading to a low near -11 °C as an Arctic ridge slides through.
On Thursday, skies will become increasingly cloudy with a light southerly wind. Temperatures will still be a bit cooler with a high near 0 °C as Arctic air lingers a bit longer in the region. Temperatures will head to a low near -5 °C on Thursday night with mixed skies.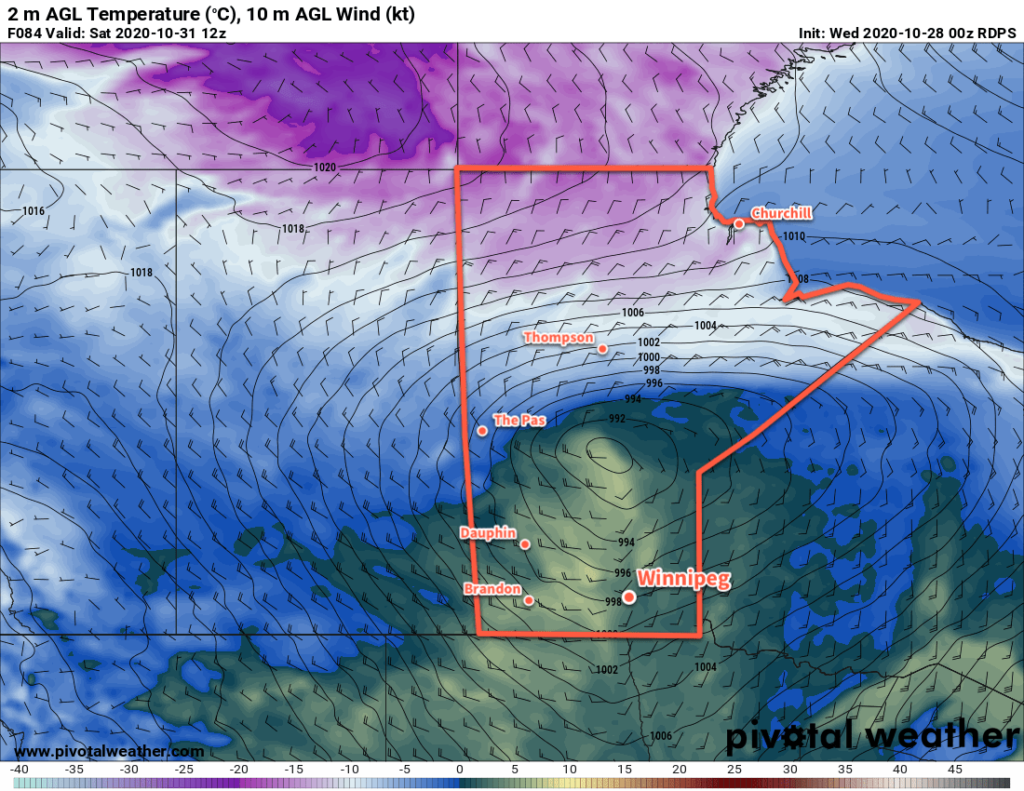 A strong low pressure system will begin moving across the Prairies on Friday, pushing a warmer air mass across the southern Prairies. Unfortunately, an expansive area of cloud moving through the region will limit temperatures. Winnipeg will see a high of only 2 or 3 °C with southerly winds increasing to 30 gusting 50 km/h by the evening. These moderate southerlies will continue through the night as the low approaches. The region will see a chance of rain showers overnight with a low near +1 °C.
Long Range Outlook
Saturday will bring more cloud cover as the low continues moving through the region, along with another chance for some rain or snow. Temperatures will reach a high near +4 °C, but then a cold front will sweep through and usher in brisk northwesterly winds and a brief return to cooler temperatures. Sunday should bring mixed skies with a high in the low single digits.
Another push of warm air is forecast for the beginning of next week and the region could see daytime highs in the 7 to 10 °C range for the first half of the week.
Today's seasonal daytime high in Winnipeg is 6 °C while the seasonal overnight low is -4 °C.