The weather will continue to be seasonably cool as Winnipeggers celebrate Louis Riel Day this year.
Winnipeg will see plenty of cloud today as a large mass of stratus moves through the region behind a disturbance that moved through overnight. Temperatures will climb to -11°C with some non-accumulating light snow likely through the day. Winds will be a bit breezy out of the northwest at 20 to 30 km/h. The cloud cover will stick around through much of the night with a continued chance for some light snow. The winds will ease off in the evening and temperatures will head to a low near -20°C overnight.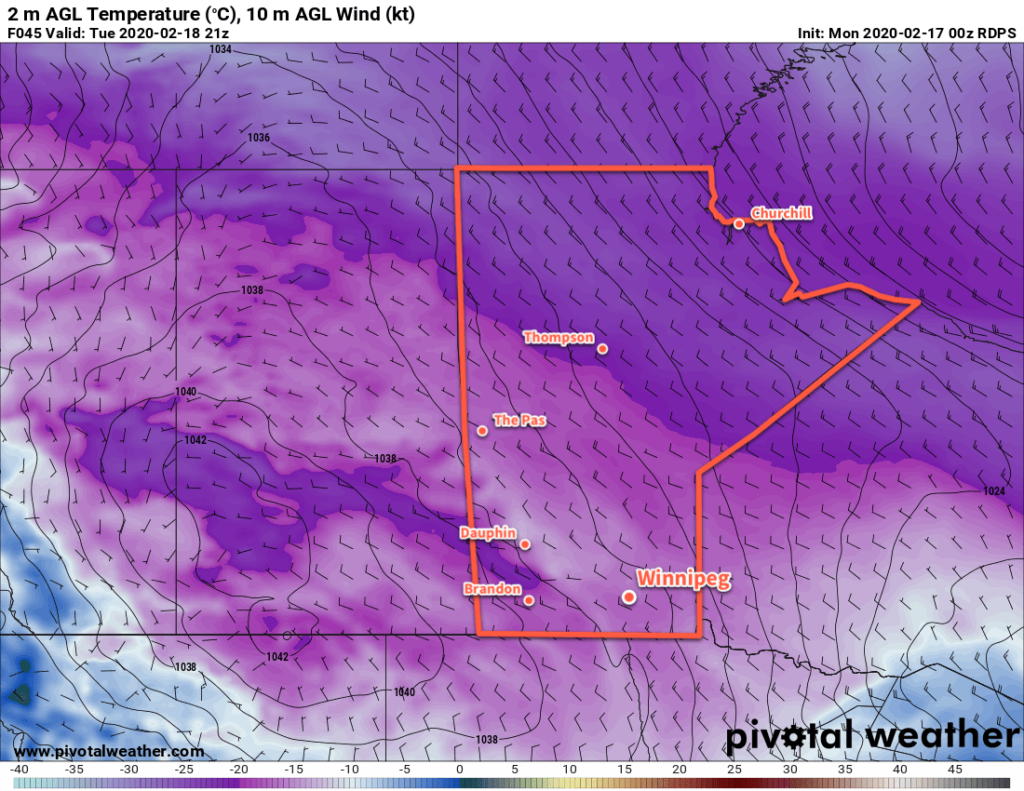 Cooler weather will move in for Tuesday and Wednesday as another Arctic high slides through the Prairies. Winnipeg will see a high near -17°C on Tuesday with breezy northwest winds near 30 km/h as skies clear out. Winds will ease on Tuesday evening, then temperatures will head to a low near -27°C under clear skies on Tuesday night.
Wednesday will be another cold one with a high of just -18°C. Winds will be light out of the west, shifting southerly in the afternoon. Winds will pick up through the night as temperatures dip to a low near -23°C.
Long Range Outlook
For those hoping for a return to milder conditions, then second half of the week has you covered. A large surge of Pacific air will spill across the Prairies and after a windy Thursday, temperatures in Winnipeg will climb into the mid-minus single digits. Daytime highs will climb towards the freezing mark through the rest of the week and stay there for the weekend. The city should see a fair amount of sunshine through the transition with no notable snowfall expected.
Today's seasonal daytime high in Winnipeg is -8°C while the seasonal overnight low is -18°C.