Several waves of snow will try to push into southern Manitoba over the coming days, but they will have to try and overcome dry air near the surface coming from an abnormally strong Arctic high.
A low pressure system building into Alberta today will spread cloud cover eastwards across the Prairies. This cloud will push into Winnipeg through the day, bringing gradually increasing cloud cover. With some sun, temperatures should be able to climb to a high near 4°C. Winds will be a bit of an issue, however, increasing out of the southeast to around 30 km/h. Snow will begin spreading into southwestern Manitoba in the afternoon, then attempting to move into the Red River Valley this evening.
The snow will have a worthy adversary in the form of a large Arctic ridge over Ontario that will supply the Red River Valley with dry air. This will undercut the band of snow, weakening it and significantly slow down its eastward progress. Some light snow will likely arrive in Winnipeg late overnight into Saturday morning. Winds will continue out of the southeast at 20 to 30 km/h. Temperatures will drop to a low near -4°C.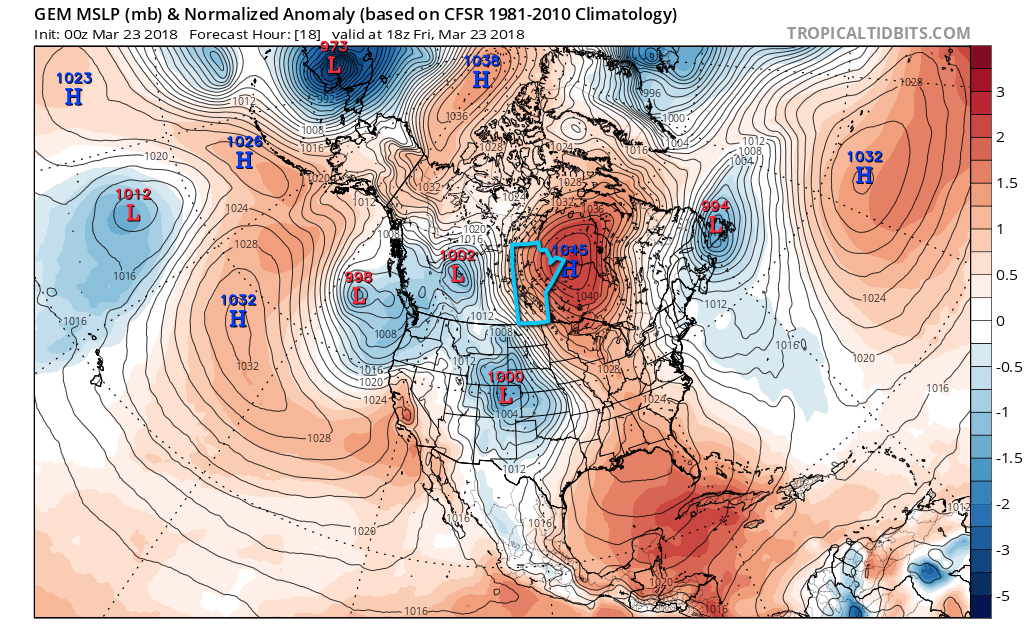 Saturday will bring a bit of light snow in the morning with southerly winds continuing at around 30 gusting 50 km/h. Snow should taper off by midday, leaving behind cloudy skies. Temperatures will be cooler than Friday with a high near +1°C. A second low pressure system will move into the Prairies on Saturday night, bringing stronger southerly winds of 40 gusting 60 km/h to Winnipeg by early Sunday morning along with some snow. At this point, it looks like a few evening flurries will intensify into accumulating snow through the second half of Saturday night. Temperatures will dip to a low near -2°C.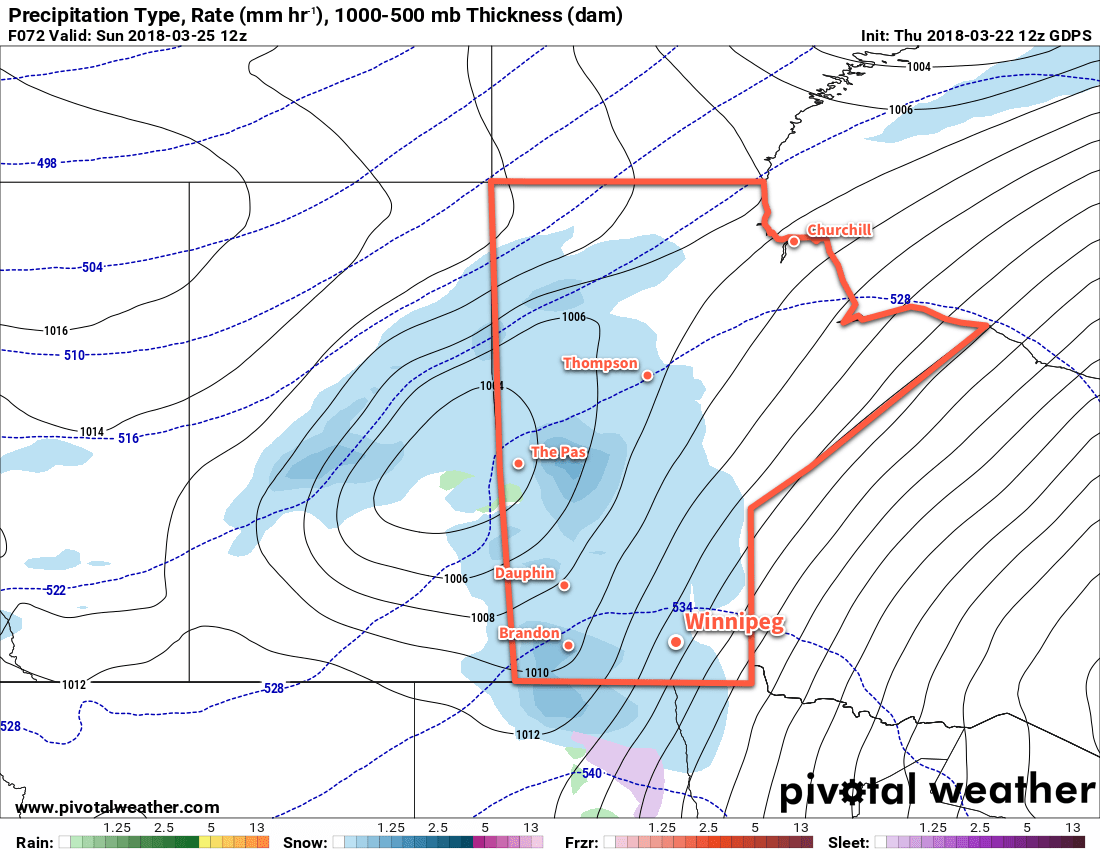 Sunday morning should bring accumulating snow to Winnipeg with 2 to 5 cm of snow by the time it tapers off midday. The wind will diminish rather quickly in the morning as the low moves into Manitoba. Temperatures will be near-seasonal with a high near +2°C.
Long Range Outlook
Next week looks like it will bring variable cloudiness to Winnipeg with several chances of light snow. Temperatures will remain more or less near-seasonal, possibly shifting to just slightly below-seasonal in the latter half of the week.
Winnipeg's seasonal daytime high is currently 2°C while the seasonal overnight low is -9°C.