Winnipeg will see a bit of a mixed bag over the next few days with some light flurries, some sun, and more accumulating snow on the way.
Today will bring some light flurries to the region as a weak disturbance moves out of the Red River Valley. Accumulations are expected to be minimal, and the light snow will taper off towards the afternoon as the clouds begin pushing off to the east, allowing a bit of sunshine through the afternoon in Winnipeg. Temperatures will be much milder than yesterday with highs near -4°C, but winds will be quite breezy out of the west to around 30 km/h.
Tonight will bring more cloud across the Red River Valley as temperatures drop to a low near -10°C with a northwest wind at 20-30 km/h.
For Thursday, Winnipeg will be under a weak ridge of high pressure. This will bring an end to the flurries, but won't have enough "oomph" to actually completely clear things out. Skies will likely remain mixed—with perhaps some afternoon clearing—through the day. Temperatures will be a bit cooler than Wednesday with a high near -8°C. Thursday night will bring increasing cloud and a low near -16°C while winds pick up out of the southeast to around 20 km/h ahead of the next incoming weather system.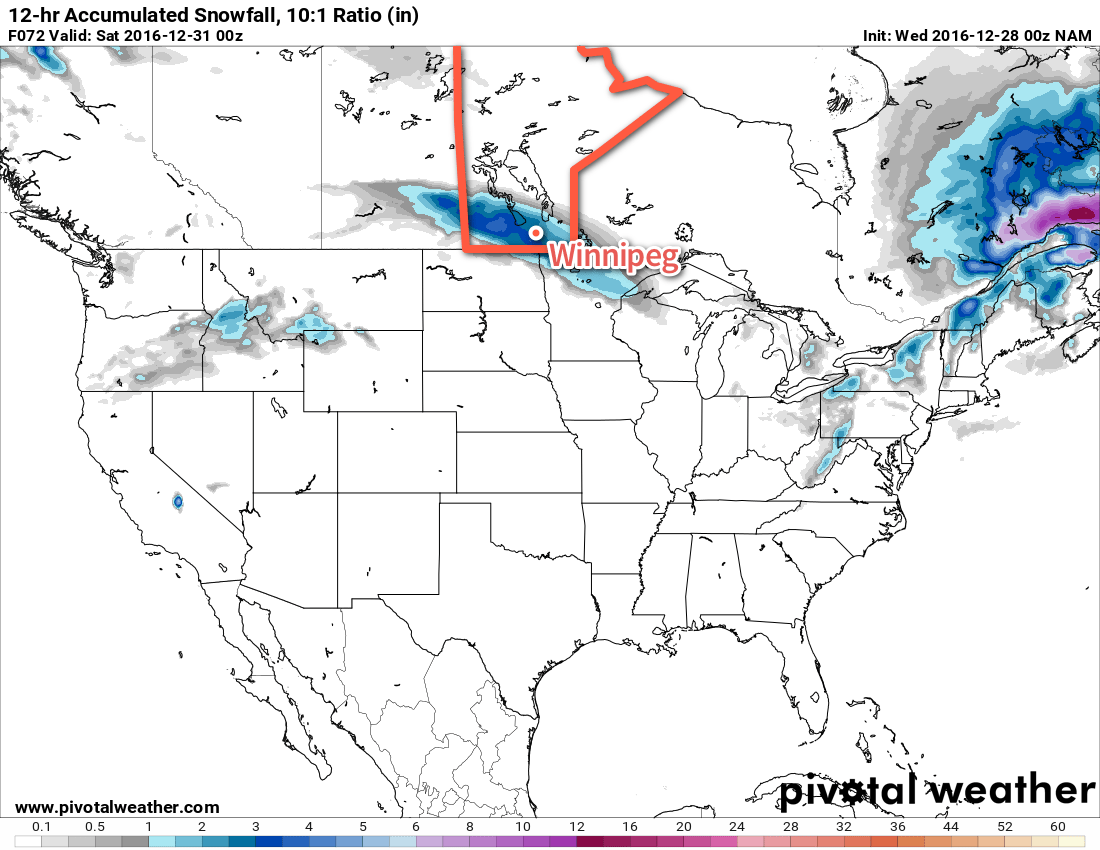 An Alberta Clipper moving through on Friday will bring cloudy skies with snow that starts by mid-morning and persists through to the evening. Temperatures will climb to a high near -8°C with winds tapering off in the afternoon. By the time the snow stops, another 4-8 cm of the stuff will have fallen. Skies will remain mostly cloudy on Friday night with temperatures falling to a low near -17°C.
Long Range
The weekend is looking fairly seasonal for late December in Winnipeg. Saturday will bring mixed to mostly cloudy skies and a high around the -12°C mark. A disturbance moving through Saturday night will bring a chance of flurries and mark the start of a pattern change. Temperatures will slowly fall through the day on Sunday with a brisk northerly wind.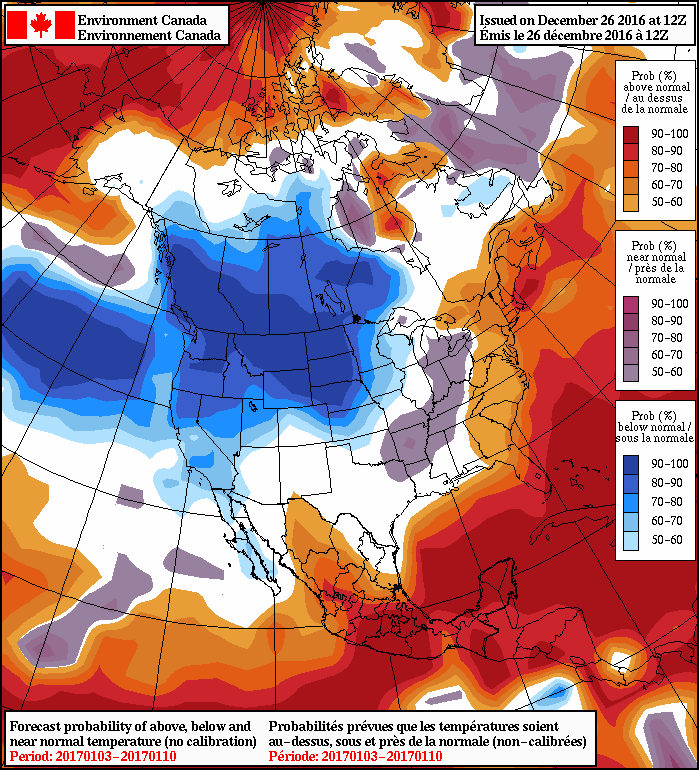 Colder weather is on tap for next week as the Polar Vortex re-establishes itself over the central Canadian Arctic, allowing much colder air to slump southwards. Daytime highs next week will fall into the -20's with overnight lows approaching -30°C.
This transition will mark a change that will likely persist through the first half of January. Although short1 warm-ups to near-seasonal values are possible, temperatures will largely be below-normal and quite cold.
Winnipeg's seasonal daytime high is currently -12°C while the seasonal overnight low is -23°C.
---
Perhaps a single day or so. ↩