Summer heat will push into southern Manitoba for the weekend, starting with a beautiful Friday in Winnipeg. More humid conditions will develop on Saturday which will also bring the chance of stormy weather.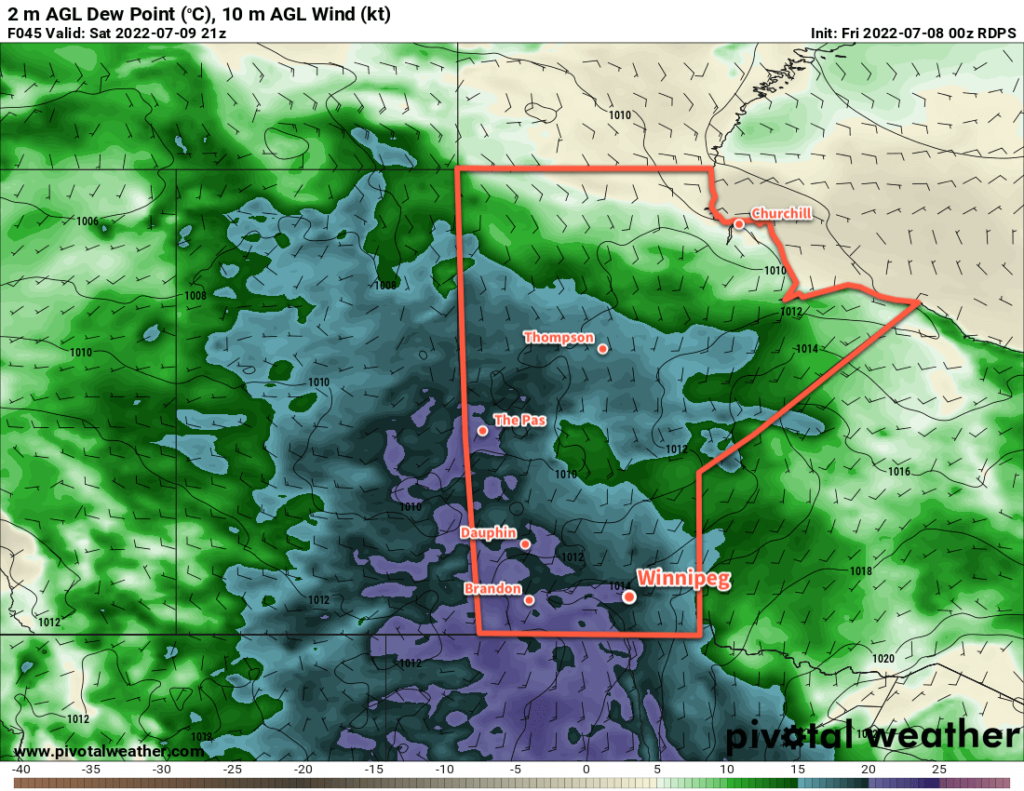 A light southeasterly flow will develop across the Red River Valley today as a warmer air mass moves into the region. Highs will climb into the upper 20s across the region under mainly sunny skies, making for a beautiful afternoon. The humidity will stay at comfortable levels through the day.
Temperatures will stay mild tonight with a low in the upper teens as more warm air pushes into the area. There will be a significant push of humidity northwards overnight, which could result in a few thunderstorms later in the night or early Saturday morning.
As temperatures warm up on Saturday, the moisture that streamed northwards will mix back down to the surface, resulting in a dramatic increase in humidity through the morning. Dew point values will climb near or above 20 °C by midday, making it feel very muggy outside. Mixed skies will keep temperatures a bit cooler than they would otherwise be with highs in the upper 20s.
Another risk of thunderstorms will develop as a trough of low pressure moves across the region later in teh day. Given the heat and moisture over the region, there will be a risk of severe thunderstorms with this system. All thunderstorm hazards will be possible, including an isolated tornado if storms are able to develop early enough to be surface-based. Definitely keep an eye out for any alerts issued by ECCC on Saturday.
Temperatures will stay very warm on Saturday night with lows near the 20 °C mark. The risk of thunderstorms could continue well into the night across much of the region.
Sunday will bring mixed skies to the region with temperatures once again climbing into the upper 20s. The humidity should ease a bit heading into the afternoon with slightly drier conditions behind Saturday's surface trough. The potential for thunderstorms will return in the evening as a cold front slumps towards the area from the north. This activity shouldn't be as bad as Saturday night's, but there's enough support for strong to marginally severe thunderstorms. This risk will continue into the night as an upper-level disturbance tracks over the province.
Long Range Outlook
Next week will bring near- to above-seasonal temperatures with generally pleasant conditions. A small chance for isolated showers or thunderstorms will continue into the early part of the week, but a building upper ridge will likely bring much sunnier, warmer weather to the region for the latter half of the week.
Today's seasonal daytime high in Winnipeg is 25 °C while the seasonal overnight low is 13 °C.