A low pressure system will move into Manitoba today and spread snow throughout the province that will last through the weekend.
A rather potent low pressure system over western Saskatchewan will move into Manitoba later today, spreading a broad area of snow across the province. This system will stall out, resulting in periods of light snow that will persist right through the weekend.
Winnipeg will see cloudy skies today with a few flurries. Breezy southeasterly winds will increase in the 30 to 40 km/h range as temperatures climb to a high near -6°C. Light snow will move into the city late this afternoon and persist right through the night. By Saturday morning, Winnipeg will likely have around 5 cm of fresh snow on the ground. Those breezy southeasterly winds will diminish late overnight. Temperatures will rise through the night in Winnipeg, reaching around -3°C by morning.
Saturday will bring periods of light snow to the city. Winds will remain fairly light with temperatures steady near -4°C. The light snow will continue right through the evening and into the night. Winds will pick up out of the northwest to around 20 km/h in the evening, sending temperatures to a low near -8°C.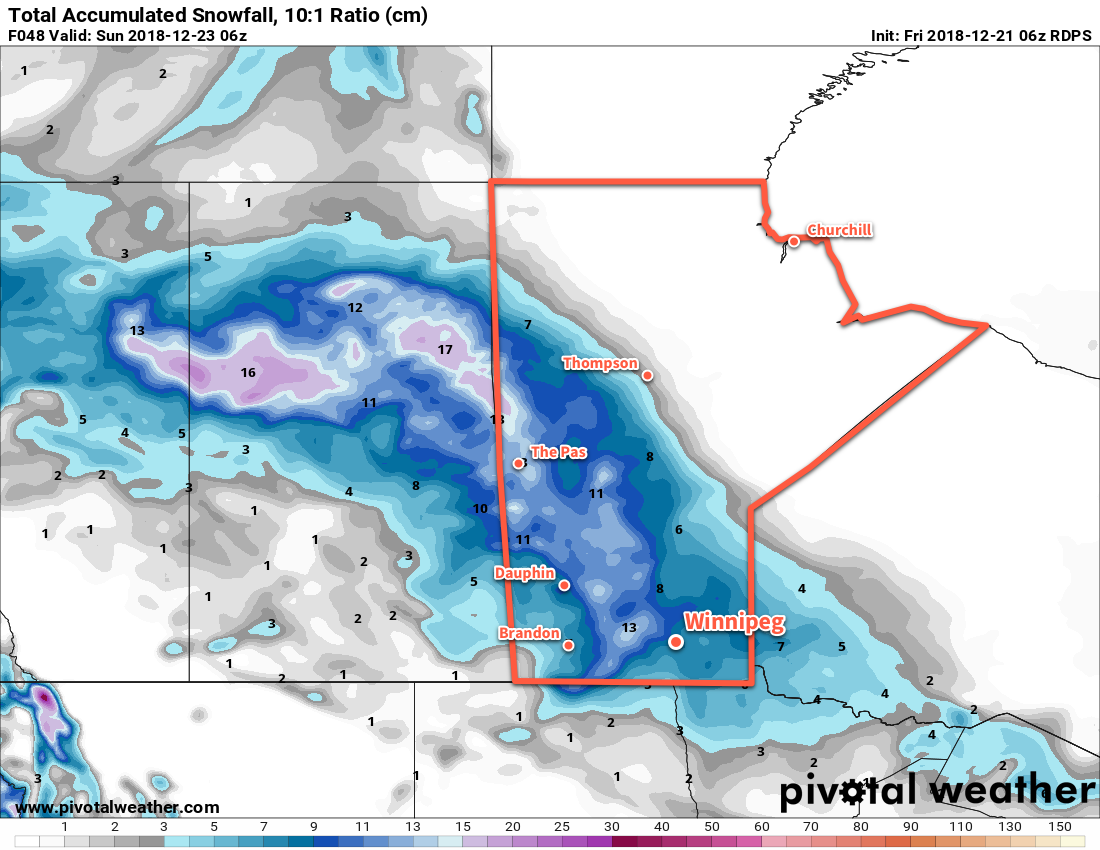 Winnipeg will continue to see cloudy skies on Sunday, but much of the organized snow will be over. A few flurries will stick around through the region with diminishing winds. Winnipeg will see temperatures hover near -8°C through the day before dipping to a low near -16°C Sunday night. By the time the snow comes to an end, Winnipeg will likely accumulate close to 10 cm of snow.
Long Range Outlook
Looking ahead to the Christmas holidays, it looks like Winnipeg will be seeing close to seasonal temperatures and a fair amount of cloud. Daytime highs are forecast to drop into the mid-minus teens to start next week with overnight lows close to -20°C. No significant snow is in the forecast. Overall, it looks like a fairly seasonable white Christmas with good travel conditions!
Winnipeg's seasonal daytime high is currently -11°C while the seasonal overnight low is -22°C.