Winnipeg will continue to see seasonably cool conditions with skies staying on the cloudier side.
The city will see a chance for some early morning light snow as the disturbance that brought snow to the region yesterday pushes off to the east. After that, Winnipeg will see mostly cloudy skies with a few afternoon sunny breaks possible. Temperatures will climb to a high near +2 °C with light west-northwest winds. Skies will cloud back over tonight as another disturbance movs towards the region. Temperatures will head to a low near -5 °C.
Thursday will bring cloudy skies to the city with a chance of light snow. Snow will push into the province from North Dakota as the day progresses; it may reach Winnipeg as far north as Winnipeg, but will mainly impact areas south and southeast. Temperatures will reach a high near +1 °C and winds will pick up out of the north into the 20–30 km/h range.
As those northerly winds pick up, they will support the development of more lake-effect snow from the Manitoba Lakes. The winds are forecast to shift northwesterly overnight, which will rotate the Lake Manitoba band towards Winnipeg. The city will see a chance of flurries overnight as temperatures dip to -5 °C again.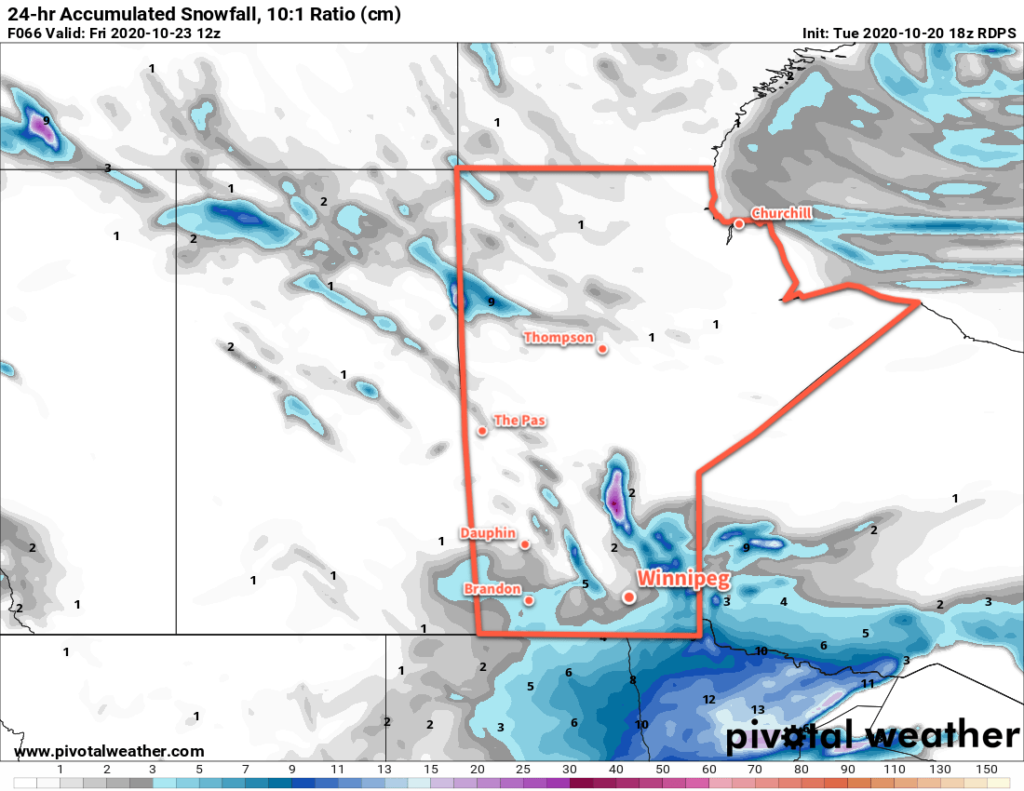 The cloud cover will finally break up on Friday, but persistent cloud cover form Lake Manitoba will keep skies mixed. The city will continue to see a chance of flurries as west-northwest winds of 20–30 km/h continue to bring a chance of flurries from Lake Manitoba. Temperatures will be a tad cooler with a high near +1 °C. The winds will turn westerly and ease on Friday evening with clearing skies. As long as those skies clear, then temperatures will head to a low near -12 °C.
Long Range Outlook
The weekend will bring a fair amount of sunshine with highs near the freezing mark and overnight lows in the -5 to -10 °C range. In fact…it's much more of the same right through next week. Highs of -2 to 0 °C and overnight lows in the -5 to -10 °C range with variable cloudiness.
The only thing that could put a wrench in plans is if the lake-effect snow continues off Lake Manitoba into the weekend. If so, it won't affect temperatures too much but the city could end up seeing some cloudy periods with a chance of light snow as well.
Today's seasonal daytime high in Winnipeg is 8 °C while the seasonal overnight low is -2 °C.