Winnipeg will have a cool and unsettled start to the week, but warmer spring conditions are on the way.
A cold front slumping southwards today will bring cool temperatures and mostly cloudy skies to Winnipeg. Northwest winds up to 30 gusting 50 km/h will keep temperatures to a high of just +3°C. A few flurries will be possible midday through the afternoon as general instability develops over the region. The clouds will clear out this evening with diminishing winds. A ridge of high pressure moving through overnight will send lows down to -10°C by Tuesday morning.
Another low pressure system will slide through the southeastern Prairies on Tuesday. While it will bring mild conditions to southeastern Saskatchewan and southwestern Manitoba, it will be much cooler in the Red River Valley. Highs will again sit near +3°C with breezy south-southeast winds of 30 gusting 50 km/h. Skies will cloud over in the morning as the low pushes into the southwest corner of the province, followed by some light snow through the afternoon hours. The winds will taper off in the evening with some fo the cloud cover breaking up. Temperatures will dip to a low near -2°C.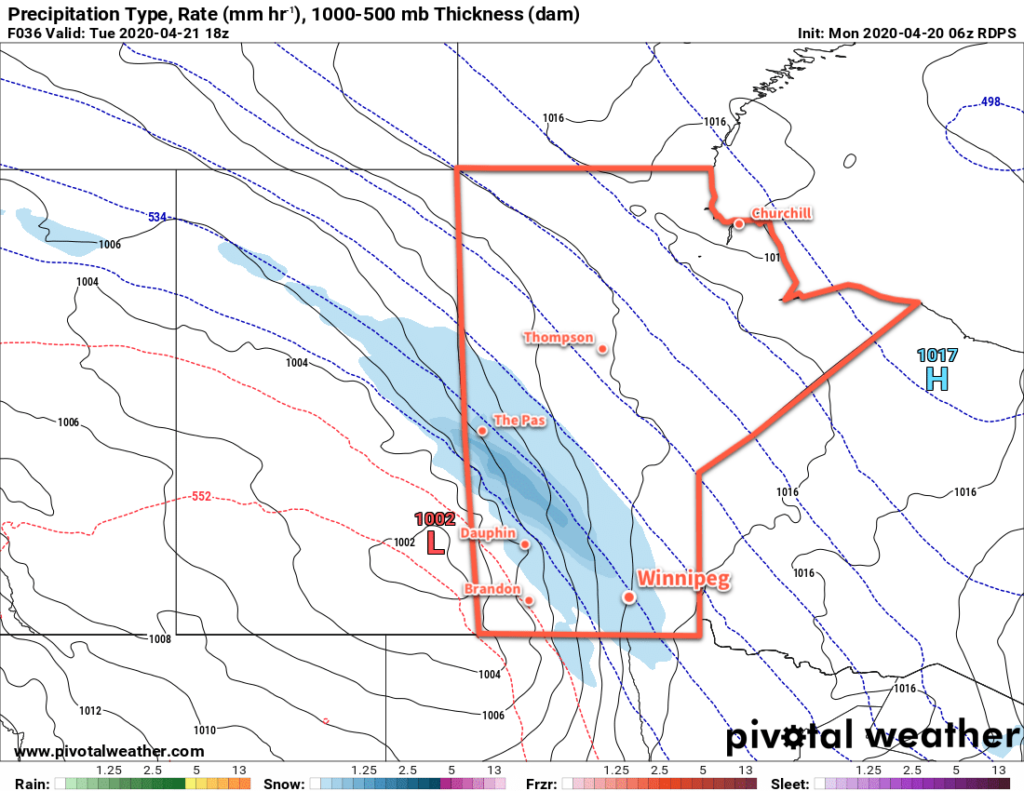 Wednesday will mark the beginning of The Turnaround®. A more zonal flow will develop across the Prairies as the west coast upper ridge begins to collapse, allowing milder Pacific air to push eastwards. Winnipeg will see a high near +9°C with mixed skies and light winds. Skies will stay mixed on Wednesday night with a low near +2°C.
Long Range Outlook
The rest of the week finally looks to bring pleasant spring weather. With partly cloudy to mixed skies, Winnipeg will see several days of highs in the mid-teens with light winds. There may be a chance of showers (or perhaps even thunderstorms) in the second half of the week, currently looking like possibly on Wednesday night into Thursday morning. Even warmer weather looks likely for the weekend with highs climbing into the upper teens.
Today's seasonal daytime high in Winnipeg is 12°C while the seasonal overnight low is 0°C.