A developing winter storm will bring moderate-to-heavy snowfall to southern Manitoba beginning early Monday morning. The storm system will primarily affect the Red River Valley and areas east, bringing a fair amount of wet, heavy snow to the region.
Monday's main story will the snow that moves across the region, supported by a developing low pressure system lifting northeastwards through the Dakotas. The area of snow will rapidly develop overnight, first across western North Dakota, then expanding quickly northwards.
The snow will fall throughout much of the day in the Red River Valley, and into the evening over southeastern portions of the province. It will fall mainly as snow, except for the far southeastern portion of the province—particularly in the Sprague area—where it may become mixed with ice pellets or rain as warmer air wraps in just north of the low.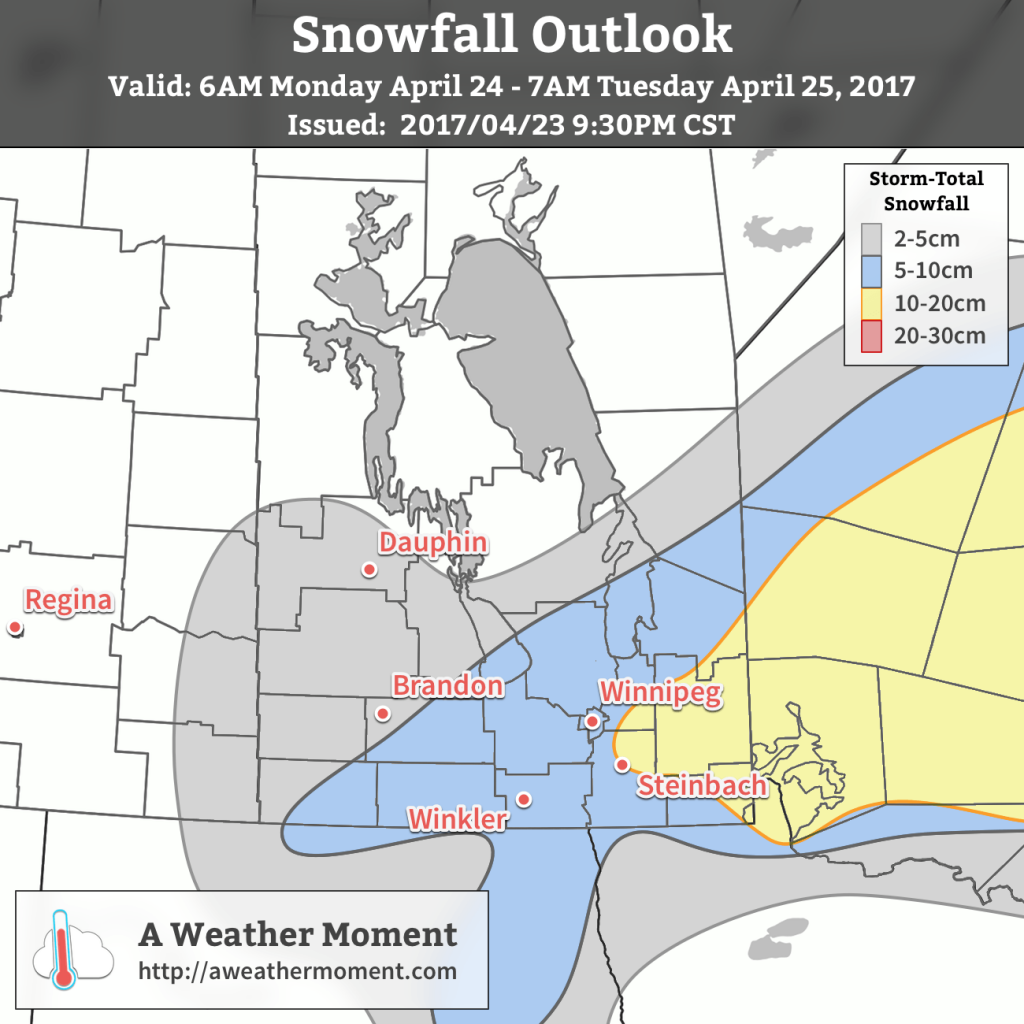 By the time the snow tapers off this evening much of the south-central and southeastern portion of the province will see between 5-10 cm of snow. The Whiteshell region will likely see 10-15 cm of snow.
Potential Forecast Issues: There are a few potential sticky spots for the forecast. The first hinges on temperatures, which are largely expected to be hovering near the freezing mark. If things end up a bit warmer, snowfall totals will be reduced, either due to lower snow-to-liquid ratios and increased melting/compaction of the snow, or via greater mixing of rain. If temperatures end up dropping a bit cooler than expected, snowfall amounts will bump up a bit, but the greatest impact would be in Sprague, which would go from "near 10 cm with mixed precipitation" to "10-20 cm of heavy snow."
The most likely snowfall amount for Winnipeg is likely in the 7-10 cm range, with a very small chance of creeping up to 11 or 12 cm. While this may seem like a pretty notable snow, it's not very significant in the grand scheme of things and doesn't even register on the top 10 largest daily snowfalls after April 15th:
Top 10 Largest Daily Snowfalls After April 15 (Winnipeg 1872-2016)
| Rank | Snowfall Amount | Date |
| --- | --- | --- |
| 1 | 21.1 cm | May 1, 1967 |
| 2 | 20.8 cm | April 27, 1966 |
| 3 | 20.3 cm | May 19, 1931 |
| 4 | 20.0 cm | May 9, 2002 |
| 5 | 20.0 cm | May 11, 2004 |
| 6 | 17.3 cm | April 24, 1937 |
| 7 | 16.5 cm | April 25, 1960 |
| 8 | 15.2 cm | May 20, 1882 |
| 9 | 14.0 cm | April 19, 1996 |
| 10 | 13.0 cm | May 5, 1938 |
Snowfall records produced by Rob's Obs.
Winds will pick up out of the northeast early Monday to around 30 km/h and remain at that strength for quite a while, gradually shifting to the north by Monday evening and then persisting through Tuesday until tapering off on Tuesday night. Temperatures will drop to a low near -3°C on Monday night, climb to a cloudy high near +3°C on Tuesday and then drop back to a low near -6°C under mixed skies on Tuesday night.
The cloudy skies and cooler temperatures will slow the snow melt over the region, and as a result the snow will likely stick around longer than Friday's snowfall did. However, the sun should poke a bit on Wednesday which, when combined with a slightly warmer high near 4°C, should be enough to melt the snow.
We'll be keeping an eye on new runs of weather models as they roll in later tonight and update this post if there's a significant shift in the snowfall forecast.
Long Range
Cooler-than-normal temperatures will persist through the remainder of the week with daytime highs of 5-9°C remaining below the seasonal average of 14-15°C.
Winnipeg may see some more rain or snow on Thursday as a large low pressure system lifts into Northern Ontario and may spread precipitation westwards into Manitoba; this seems relatively unlikely, but it's worth being aware of as an outside possibility.
Things should settle down for the weekend with a return towards seasonal temperatures, however long range models show the potential for another system Sunday night into Monday that could bring more rain and snow into the region.
Winnipeg's seasonal daytime high is currently 14°C while the seasonal overnight low is 1°C.