After a cool end to the week, breezy southerly winds will strengthen this weekend and bring summer temperatures back to the region.
Today will be one last seasonably cool day across the Red River Valley as an Arctic ridge exits the region. Temperatures will top out at only around 19°C with light winds. Winnipeg should see sunny skies, so although it's cool, the light winds and sunshine should make for a pleasant June day. Temperatures will dip to a low near 8°C tonight with light southeast winds.
Temperatures will return to seasonal values on Saturday with a high near 23°C under mainly sunny skies. Winds will pick up through the morning into the 30 to 40 km/h range out of the southeast. With seasonal temperatures and a nice breeze keeping the bugs at bay, it will again be a pleasant June day! Temperatures will head to a low near 14°C on Saturday night.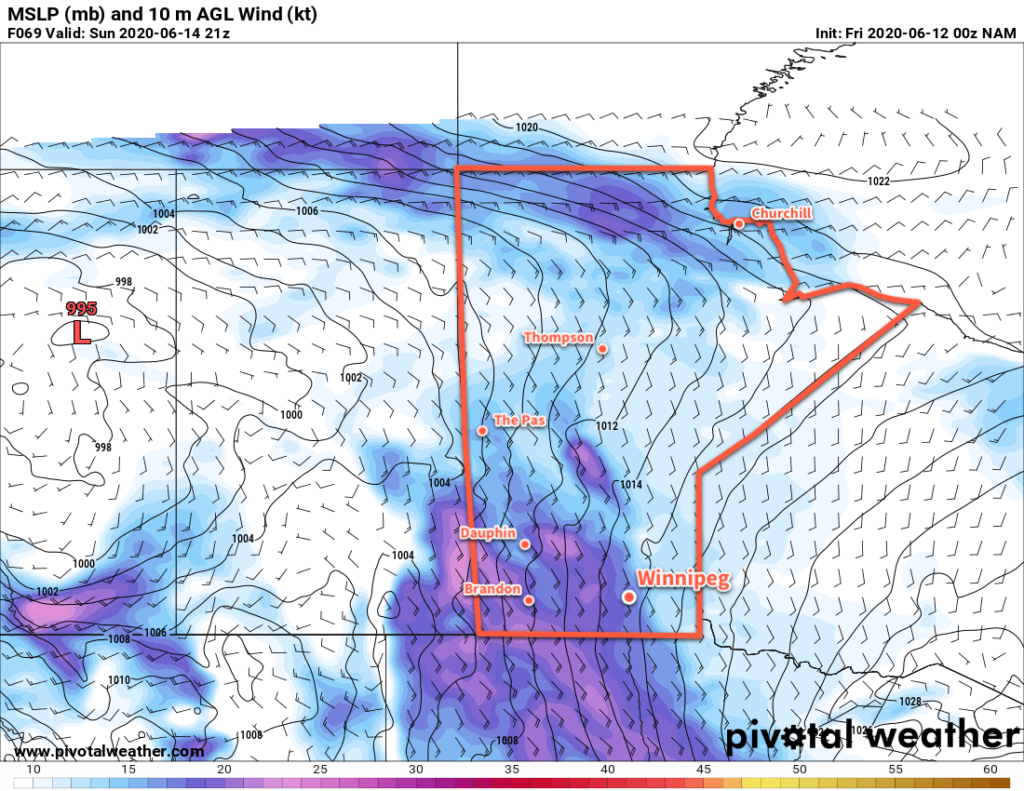 The winds will strengthen on Sunday to 40 gusting 60 km/h with temperatures continuing to climb to a high near 27°C. The city will see partly cloudy skies and no notable humidity will accompany the heat. Winnipeg will see more cloud cover on Sunday night with a chance of showers or thunderstorms. Temperatures will drop to a low near 17°C as the winds continue through the night.
Long Range Outlook
Next week will continue to be seasonably warm with highs in the mid-20s. Some unsettled conditions will develop as a series of low pressure systems move through. As is typical with summer lows here, they will be convectively driven so rainfall patterns will be hit and miss. Early indications are that western Manitoba will see most of the rain next week, providing some relief to flooded regions in the southeastern corner of the province. That said, all areas in southern Manitoba will see a chance of showers or thunderstorms through the first half of the week.
Today's seasonal daytime high in Winnipeg is 23°C while the seasonal overnight low is 10°C.