After an all-too-brief respite from the wet conditions of the past week, more chances for rain are on the way as a series of disturbances move through southern Manitoba.
The rain train is heading back to Winnipeg Station today as an occluding frontal wave moves across the southern portion of the province ahead of a deepening low pressure system. As the wave approaches this morning, mostly cloudy skies will be in place and there is a chance that some morning showers will materialize.1 The main action — a mix of showers and thunderstorms — will begin developing near midday over southwestern Manitoba and then quickly expand and move eastwards into the Red River Valley for the afternoon. These will move out of the region by the early evening.
Severe thunderstorms are not expected over a widespread area, however there are just enough energetics and dynamics that an isolated storm or two may become marginally severe.2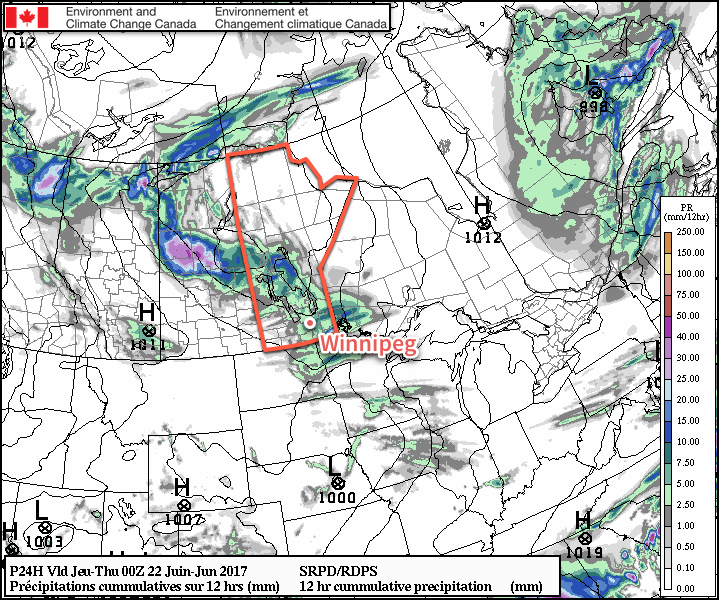 Temperatures will climb to a high near 21 or 22°C today with southerly winds of 30-40 km/h gusting up to 60 km/h shifting to westerly after the frontal passage in the afternoon. Expect some clearing in the evening, then variable cloudiness developing towards morning. Temperatures will dip down to a low near 13°C.
Thursday will bring mixed to mostly cloudy skies to Winnipeg and much of the Red River Valley as strong westerly winds of 40-50 km/h build into the region. There will be a chance of showers as rain wraps around on the back side of the passing low pressure system, but much of the guidance suggests that the rain will remain mainly north of the Red River Valley. Temperatures will climb to a high near 19°C and head towards a low near 12°C under mostly cloudy skies with light rain likely on Thursday night.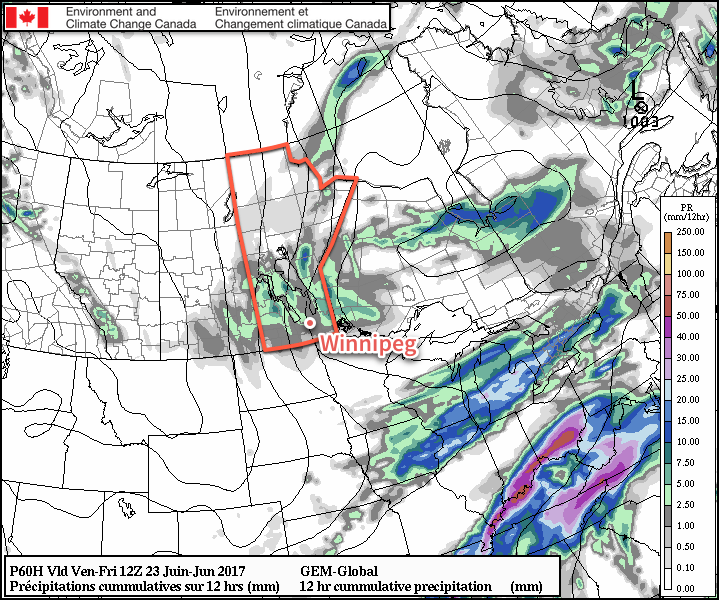 Friday will bring cloudy skies with a chance of showers as the overnight activity on Thursday tapers off through the region as an upper-level trough exits. Winds will be out of the northwest at 30-40 km/h with gusts up into the 50-60 km/h range. Skies continue cloudy overnight with a chance of showers as temperatures drop to a low near 10°C.
Long Range
Saturday will remain unsettled with a chance of showers as a weak disturbance ripples through the region from the north and cooler air spills southwards. Conditions finally improve on Sunday, which looks likely to be a fairly sunny day. Temperatures will remain below normal, however, through the weekend and into early next week as Manitoba remains under the influence of a large upper low over Hudson Bay.
Winnipeg's seasonal daytime high is currently 24°C while the seasonal overnight low is 12°C.
These showers would be elevated, meaning they are formed at higher altitudes and would occur ahead of the incoming front. ↩
In this case, we would expect either wind gusts just over 90 km/h or severe hail in the 20-25mm range. ↩