After a hot start to the week today in Winnipeg, a cold front passing on Tuesday will usher in much cooler conditions.
Temperatures will soar above 30°C today in Winnipeg as a broad area of low pressure moves through the region. A west-southwest flow will send highs up to around 31°C with comfortable humidity levels. Skies will remain mainly sunny, and those aforementioned winds will only be around 20 km/h. Temperatures will remain mild tonight with a low near 18°C.
Tuesday will bring more cloud to the region and near-seasonal temperatures. Temperatures will climb to around 27°C before a cold front drops through the region. The front will bring increasing cloud and begin cooling off temperatures. There will be a chance for some showers or isolated thunderstorms in the afternoon, but low moisture and dynamic support will limit the rainfall potential. Winds will be notable with northerlies up to 30 to 40 km/h moving in for the afternoon.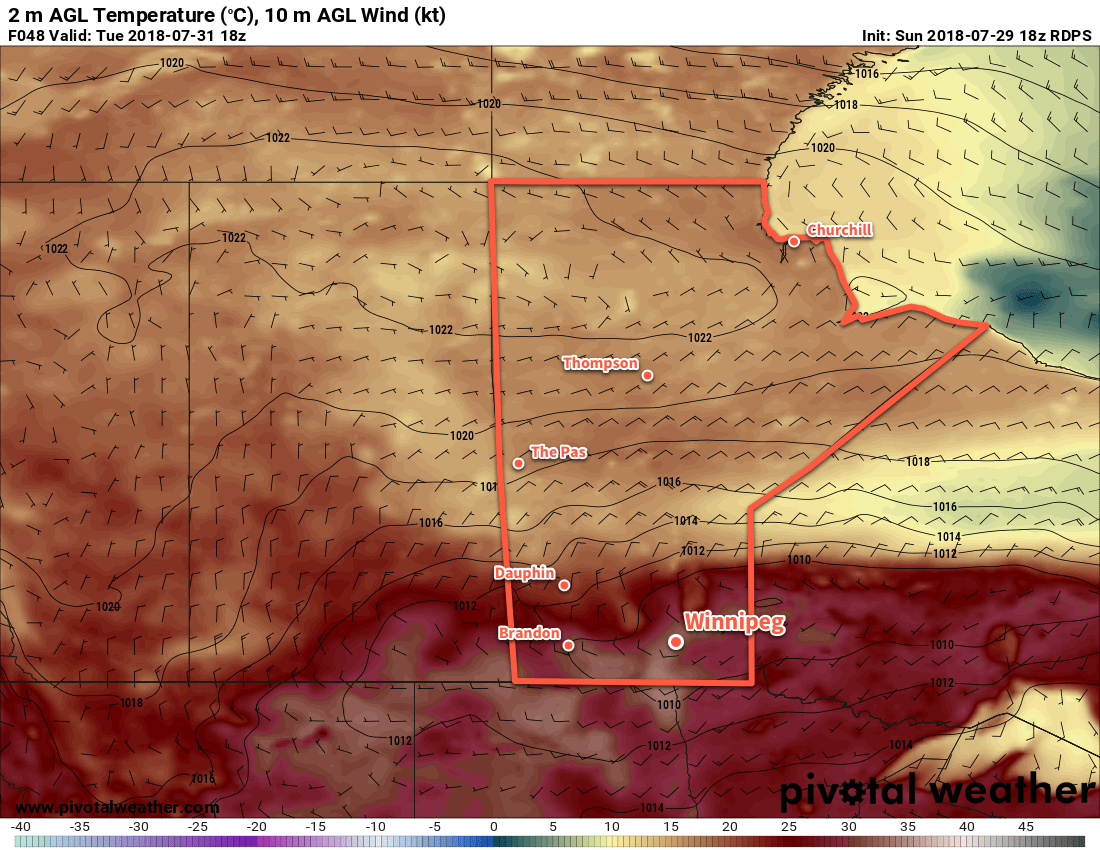 A high pressure system moving into the region will bring significantly cooler temperatures on Tuesday night wth lows heading back towards 10°C. Winds will gradually diminish to around 10 to 15 km/h on Tuesday night.
Wednesday will see mixed skies gradually clear, but temperatures will be markedly cooler with a high near 21°C. Winds will be light out of the north-northeast as the high moves through. Expect another cool night on Wednesday night with a low near 11°C and light winds.
Long Range Outlook
Temperatures will return back towards seasonal values for the remainder of the week, but forecasts are indicating that unsettled conditions will return to the region. A few disturbances moving through will bring the chance of showers or thunderstorms back to the region Thursday night through Friday.
Winnipeg's seasonal daytime high is currently 26°C while the seasonal overnight low is 13°C.