Winnipeg will see a much cooler and comfortable day today with cloudier conditions and a chance of showers. For the weekend, a building upper ridge will bring sunshine as warmer weather builds into the region.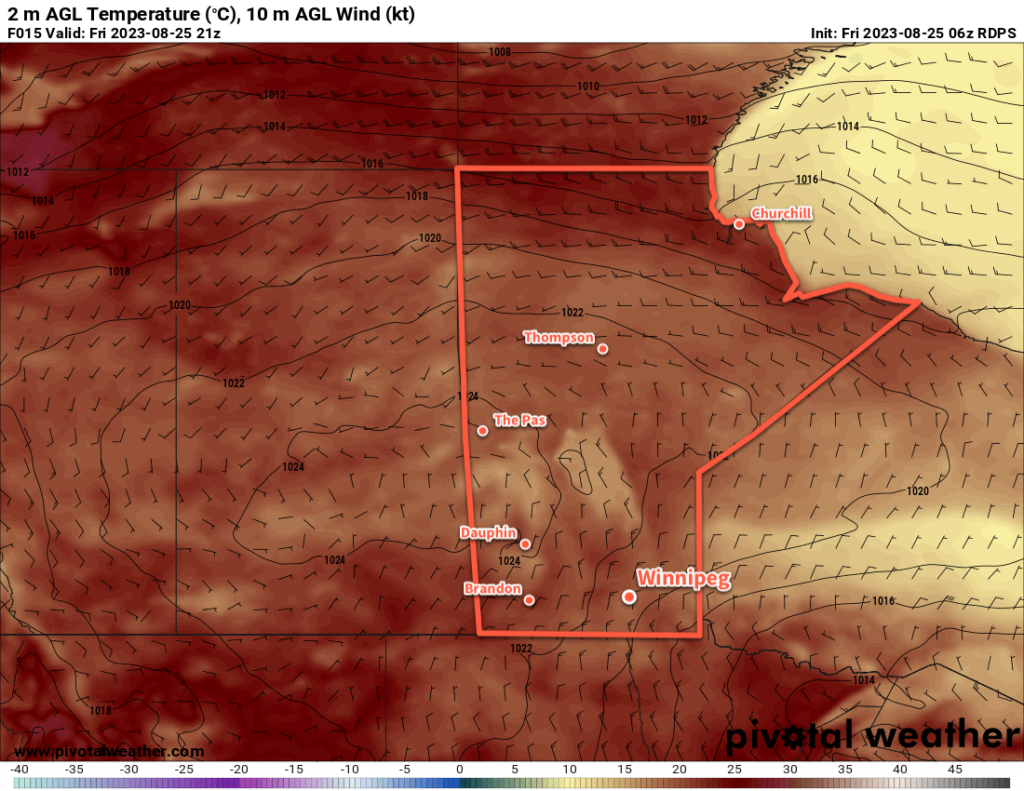 Today will be a marked departure from yesterday's hot and humid weather that led to an outbreak of severe thunderstorms across southern Manitoba, including a potent storm that pummelled NE Winnipeg. With the system responsible for that weather off to our east, today will bring cooler northwest winds that will usher in cloudier skies with a chance of some scattered showers. Temperatures should reach a high near 20 °C with northwest winds up to 30 gusting 50 km/h. Skies will clear out later this afternoon, then the wind will die off and temperatures will head to a low on the cooler side of around 10 °C.
For the weekend, Winnipeg should see mainly sunny skies on Saturday with light winds and a high in the low 20s. On Sunday, warmer weather will push in with highs in the mid-20s. Some cloud is likely in the afternoon as a trough of low pressure moves through. This feature might bring a chance of a thunderstorm with it, but it's looking a bit uncertain at the moment. A cold front will slump southwards overnight as temperatures head to a low in the mid-teens.
The region will likely see some haze through the weekend as well as wildfire smoke once again makes its way into southern Manitoba.
Long Range Outlook
Next week will start off with a couple seasonally-appropriate days; both Monday and Tuesday will bring highs in the 20 to 25 °C range with partly cloudy skies. By mid-week, warmer weather with highs in the mid-20s will return to the region, but we could see another chance for showers or thunderstorms in the latter half of the week.
Today's seasonal daytime high in Winnipeg is 23 °C while the seasonal overnight low is 10 °C.