An Arctic ridge will bring a blast cold air to southern Manitoba resulting in a late-spring freeze in many areas. After a cold Wednesday night, temperatures will gradually warm towards seasonal values.
A broad Arctic ridge will lay sprawled across Manitoba today, bringing seasonably cool weather to the region. Winnipeg will see a high of only 11 °C with a north wind easing to around 20 km/h in the afternoon. Skies will clear tonight with easing winds as the main ridge axis moves into southern Manitoba. Temperatures will dip below freezing through the Red River Valley overnight, potentially reaching as cold as -4 or -5 °C. In Winnipeg, there will likely be a larger range of temperatures going from slightly below freezing near the city core to around -3 or -4 °C on the outskirts (particularly on the north side of the city).
If you've planted your garden, you'll definitely want to cover the plants up to help protect them from the cold tonight. More of an issue may be damage to sprouting crops through the Red River Valley.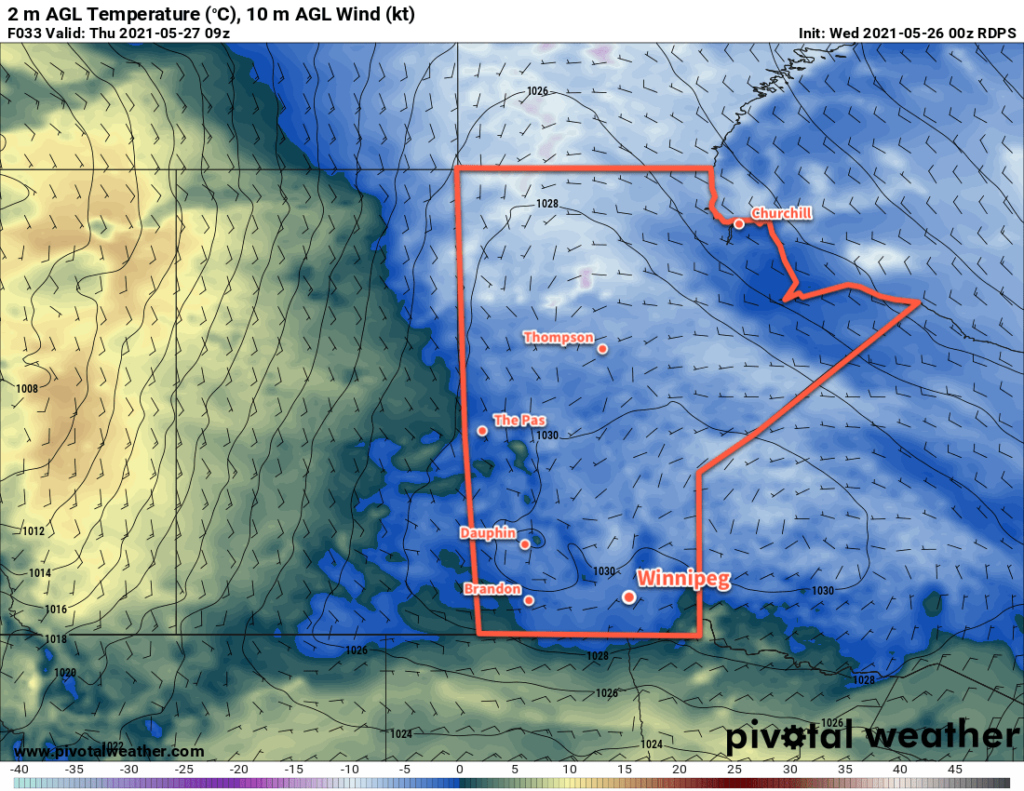 Temperatures will begin to recover on Thursday with a high near 15 °C with light easterly winds. The Arctic high will keep skies sunny as it slowly pushes off to the east. This will be a good thing, as it will likely mean a quick warm-up above freezing on Thursday morning. Temperatures will be warmer on Thursday night with a low near 2 °C.
Skies will stay sunny on Friday as warmer air continues to move into the region ahead of a low over the western Prairies. Winnipeg should see mainly sunny skies with southerly winds picking up into the 30–40 km/h range for the afternoon. Highs will reach around 18 °C through the Red River Valley, followed by lows in the upper single digits. The wind will stay breezy out of the south right through the night with some cloudier conditions building into the region.
Long Range Outlook
Forecasts show showers likely again on Saturday as a disturbance moves across the region. Sunnier skies should return on Sunday. Temperatures will be near-seasonal through the weekend with highs near 20 °C and lows near 10 °C. Warmer weather will return next week with highs climbing into the mid to upper 20s and lows in the low to mid-teens.
Today's seasonal daytime high in Winnipeg is 22 °C while the seasonal overnight low is 7 °C.