The weather will be cool and quiet across the Red River Valley through the remainder of the work week.
Winnipeg and the Red River Valley will be wedged between a ridge of high pressure anchored over western Manitoba and a train of low pressure systems moving into Northern Ontario. While it appeared earlier in the week that some precipitation associated with the low pressure systems would work its way westward into the Red River Valley from Ontario, more recent model runs have been producing a more sensible solution that keeps everything off to the east.
That said, Winnipeg & the Red River Valley will see cloud cover associated with these systems. Today will be the cloudiest of the next three with much of the day seeing mainly cloudy skies. Skies will progress to mixed on Thursday, and then we'll finally see straight sunshine again on Friday.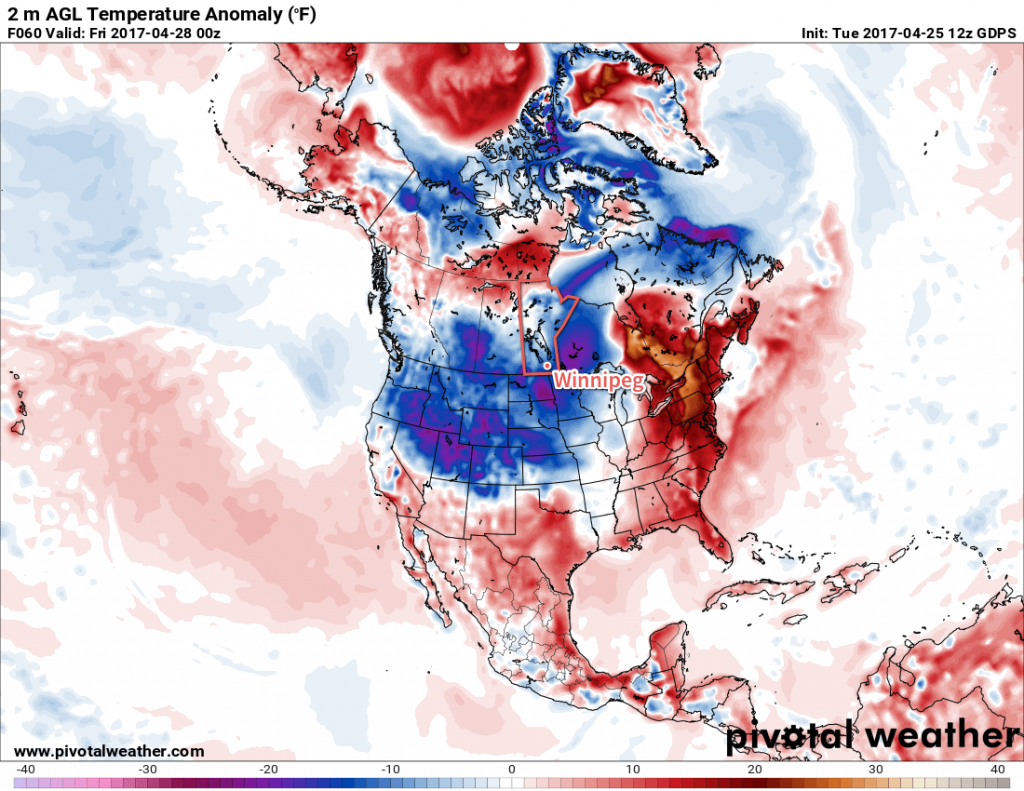 Temperatures will remain cool, though, as the ridge and low pattern maintain a northerly flow over the region that continues to tap a cooler air mass to the north. The high temperature both today and tomorrow will hover near 6 or 7°C, with low temperatures near -5 or -6°C both Wednesday night and Thursday night. Friday may end up slightly warmer with a high near 8 or 9°C, but don't expect anything too far removed from today or tomorrow.
The wind will continue to be quite breezy today, up to around 30 gusting to 50 km/h. They will persist until this evening, when they'll diminish for the night, then make a reappearance for Thursday. Winds will be much lighter on Friday.
Long Range
This weekend will bring more of the same, except slightly warmer. Temperatures should edge towards more seasonal values under fairly sunny skies, although Saturday may end up more mixed than sunny.
Winnipeg's seasonal daytime high is currently 14°C while the seasonal overnight low is 1°C.