Sunshine will gradually return to Winnipeg over the coming days as cooler fall weather settles into the region.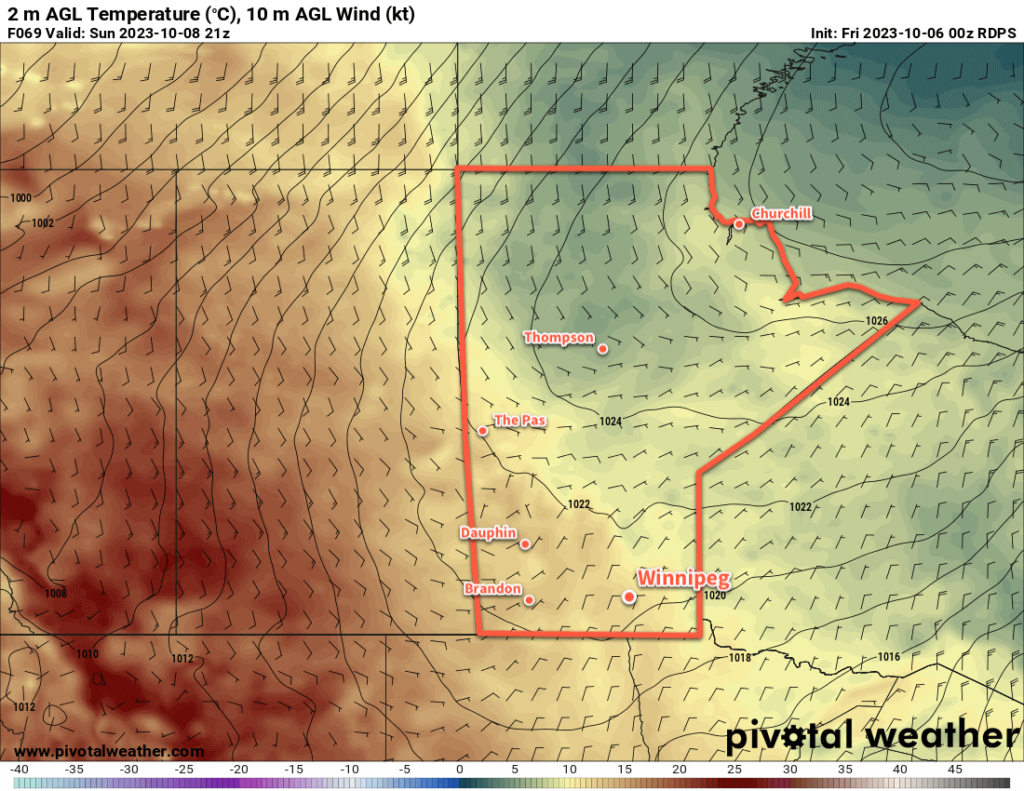 The Red River Valley will see mixed skies today as an unsettled air mass moves through the region. Cool temperatures combined with north-northwest winds will result in some persistent lake-effect rain bands. These could be a bit intense at times, and will shift eastwards and weaken as the day progresses. This will result in a chance of showers for many areas in the Red River Valley this morning, then tapering off into the afternoon.
It will be a cool day across the region; highs will reach around 10 °C with northwest winds around 30 gusting 50 km/h. The showers and cloud will clear out this evening as a ridge of high pressure builds in. Temperatures overnight will bring a good chance of some frost to the region as the winds taper off and temperatures dip to around 0 °C.
A weak disturbance rippling along in the flow could bring a few showers to southern Manitoba on Saturday morning, but it looks like the precipitation will likely stay north of the Red River Valley.
A ridge of high pressure will keep things on the sunnier side through the weekend with seasonal highs in the low teens and overnight lows dipping close to the freezing mark.
Long Range Outlook
Through the weekend, an upper ridge will build in the west and some warmer weather will move into Alberta and Saskatchewan. For Manitoba, a deep upper trough is forecast to shift east and mature in to a broad vortex that stalls out over eastern Canada, perhaps even retrograding a bit into next week.
As a result, the warm air will be shunted northwards into the Northwest Territories and Nunavut while cooler near-seasonal temperatures likely remain entrenched over Manitoba through next week.
Today's seasonal daytime high in Winnipeg is 13 °C while the seasonal overnight low is +2 °C.