Winnipeg's first effort at milder temperatures will come with plenty of cloud and wind, but sunnier and warmer conditions are likely next week.
Warmer weather will build into the region today ahead of a low pressure system forming over Alberta. Skies should stay mostly cloudy today as the low gathers steam and pushes into Saskatchewan. Temperatures in the city will climb to a high near +2 °C this afternoon. As the low begins moving towards the province this evening, southerly winds will strengthen up to 40 gusting 60 km/h and persist through the night. With cloud cover and moderate southerly winds, temperatures will stay fairly steady with a low near +1 °C.
On Saturday, the low will cross through the province, bringing the warmest air with it. Th wind will ease for the morning with temperatures reaching a high near +4 °C. A potent cold front will sweep through the region midday, ushering in strong northwest winds up to 50 gusting 70 km/h. A chance for midday rain will quickly change to a chance of snow as temperatures drop in the afternoon. The chance of light snow will continue into the evening, then end as a ridge moves into the area. Skies will clear out overnight with temperatures heading to a low near -8 °C.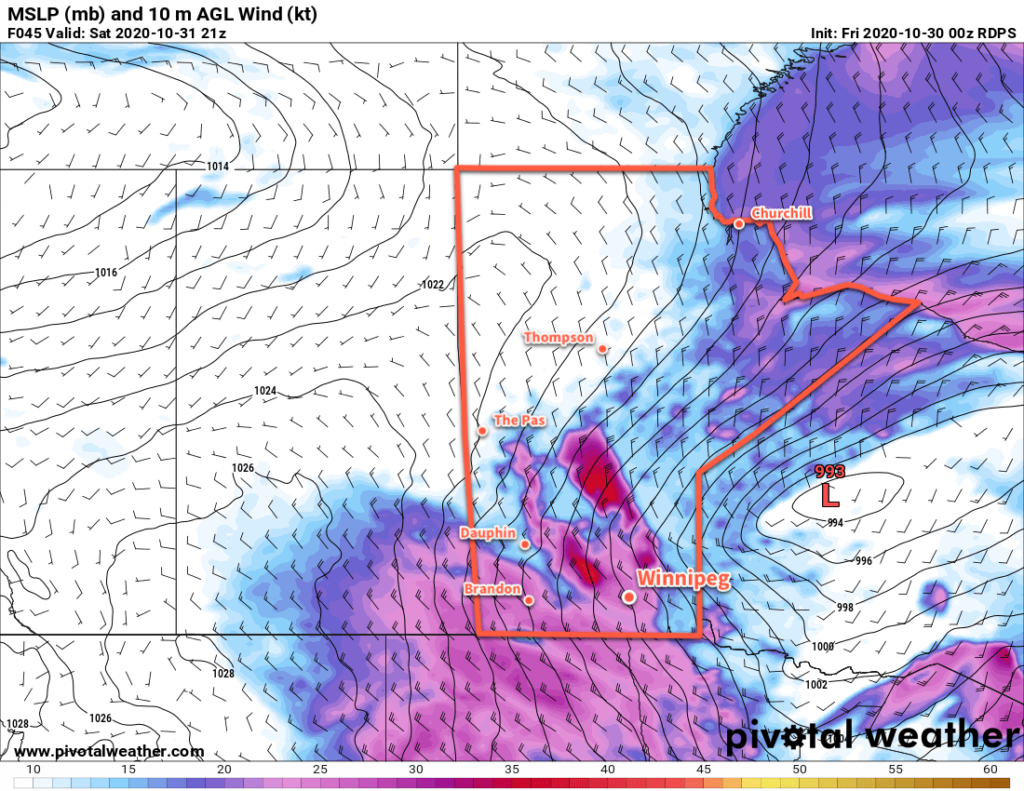 Warmer air will already be pushing back into the area on Sunday as a broad upper ridge begins building across the Prairies. The city should see a high near +2 °C with partly cloudy skies. South-southwest winds will pick up through the day into the 20–30 km/h range, then gradually ease overnight. Temperatures will fall to a low near -2 °C on Sunday night under partly cloudy skies.
Long Range Outlook
The upper ridge will continue building across the Prairies through early next week, ushering in a warmer air mass. It looks likely that daily highs may climb up into the 8–12 °C range for a few days, but one unknown is how much low-level cloud the snowpack may generate as the warmer air arrives. In some cases, extensive stratus development can keep temperatures near the surface hovering close to the freezing mark.
We'll have to wait and see, though, how much of an impact this has. If the winds are able to keep enough of a westerly component to them, they should stay dry enough to scour out any moisture from melting and keep the sun shining through.
Near-seasonal temperatures are forecast to return near the end of the week.
Today's seasonal daytime high in Winnipeg is 4 °C while the seasonal overnight low is -5 °C.