Unsettled conditions moving through the region on Tuesday will bring a return of seasonal temperatures to Winnipeg.
Winnipeg will see beautiful conditions for much of the day today with sunshine and light winds. Temperatures will climb to a high near 25°C this afternoon with cloudier conditions moving in for the evening. The region will see a chance of showers through the night into Tuesday morning. Winnipeg will only see a chance of showers through this period, though, with much of the activity passing to the south. Temperatures will head to a low near 15°C tonight.
Tuesday will another day of light winds as a weak low pressure system drifts away to the southeast. After some cloud and chance of showers in the morning, skies should gradually clear in the afternoon. Temperatures will be a bit cooler with a high near 22°C. The city will see partly cloudy skies on Tuesday night with a low near 12°C.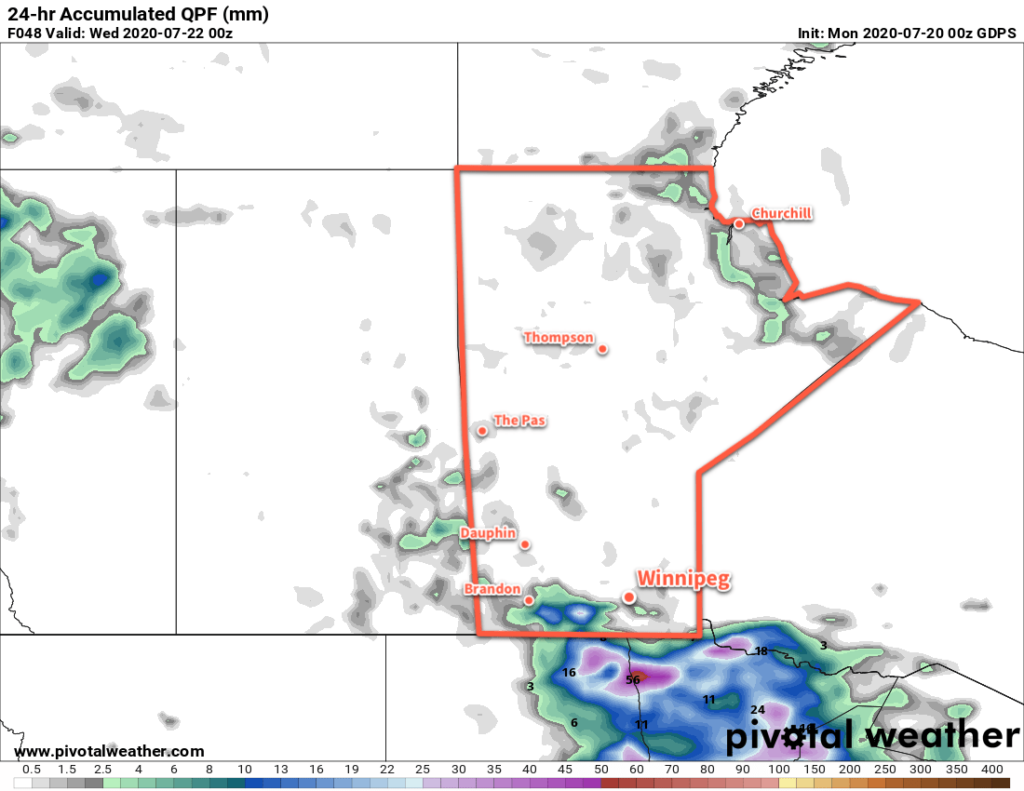 Wednesday will see temperatures return to seasonal values in Winnipeg with a high near 25°C. Skies will be partly cloudy with a light southerly wind developing for the afternoon. Cloudier conditions will develop overnight ahead of the next disturbance moving into the area. By early Thursday morning, the Red River Valley may see some thunderstorms rolling through.
Long Range Outlook
Warmer weather will move in for the second half of the week with highs climbing up towards 30°C. Humidity will also move back into the region; forecasts show dew point values increasing back towards 20°C. With the heat and humidity will also come the potential for more thunderstorms. The weekend looks to continue to be warm with gradually easing humidity.
Today's seasonal daytime high in Winnipeg is 26°C while the seasonal overnight low is 13°C.