A breezy northwest wind won't manage to bring an end to the seasonably mild stretch of weather in Winnipeg.
Breezy northwest winds near 30 gusting 50 km/h will persist in Winnipeg toady as a Colorado Low storm system departs to the east. Unlike most other times, though, this wind isn't the harbinger of a deep freeze; rather, temperatures will keep roughly where they have been lately with a high near -9°C. Skies will be cloudy through the day with the remnant light snow tapering off. The wind will persist at 20 to 30 km/h tonight with the cloud cover gradually breaking up. Winnipeg will see a low near -15°C, although if the clouds are more stubborn and stick around longer it'll be closer to -11 or -12°C.
The lack of cold temperatures over the past couple weeks is largely due to the positioning of the Polar Vortex, a persistent winter feature over the Northern Hemisphere. A variety of factors impact where it, and the bitterly cold air associated with it, moves. When the vortex descends into Hudson Bay, it results in the brutal cold snaps across the eastern Prairies.
For the past couple weeks, however, the Polar Vortex has been trundling about the High Arctic. This has kept the coldest temperatures further north and allowed milder Pacific air to cross the Rockies into the Prairies more often. Fortunately (for cold-weather haters), the Polar Vortex is forecast to stay in the High Arctic for the next while. This will allow Winnipeg to continue to see relatively mild temperatures through the rest of the week.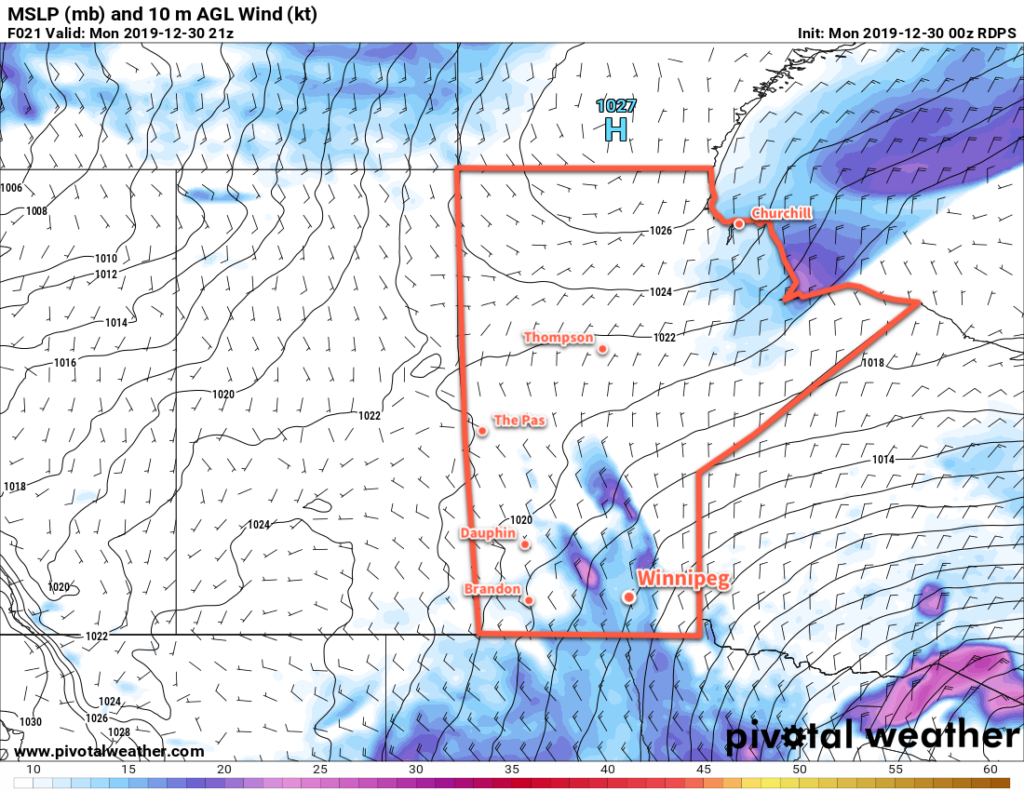 On Tuesday, a ridge of high pressure will cross Manitoba, bringing an end to the breezy winds and mixed skies. Daytime highs will once again be around -9 or -10°C across the region. A broad area of low pressure developing over the western Prairies will push more cloud into the region on Tuesday night along with southerly winds around 20 km/h. Winnipeg's low will dip to around -12°C.
2020 will start off with relatively pleasant winter weather in Winnipeg. The broad area of low pressure will move into Manitoba on Wednesday. Skies will be mostly cloudy and while no organized snow will move through, a few flurries are possible. Temperatures will be mild with a high near -4°C. The chance for flurries will continue on Wednesday night with temperatures dipping to around -7°C.
Long Range Outlook
The rest of the week looks seasonably mild with plenty of cloud cover. While a few flurries are possible, no organized snow looks likely until the weekend when another low moves through and brings the chance for accumulating snow to the Red River Valley.
Today's seasonal daytime high in Winnipeg is -13°C while the seasonal overnight low is -23°C.