Hot and humid weather over southern Manitoba will lead to a thunderstorm outbreak on Tuesday afternoon. A cold front will slowly push across the region on Wednesday, bringing more showers with a risk of thunderstorms again, though severe weather is less likely. One last blast of unsettled weather will develop Thursday evening in North Dakota and spread into Manitoba overnight. By Friday, Winnipeg will see some more settled conditions.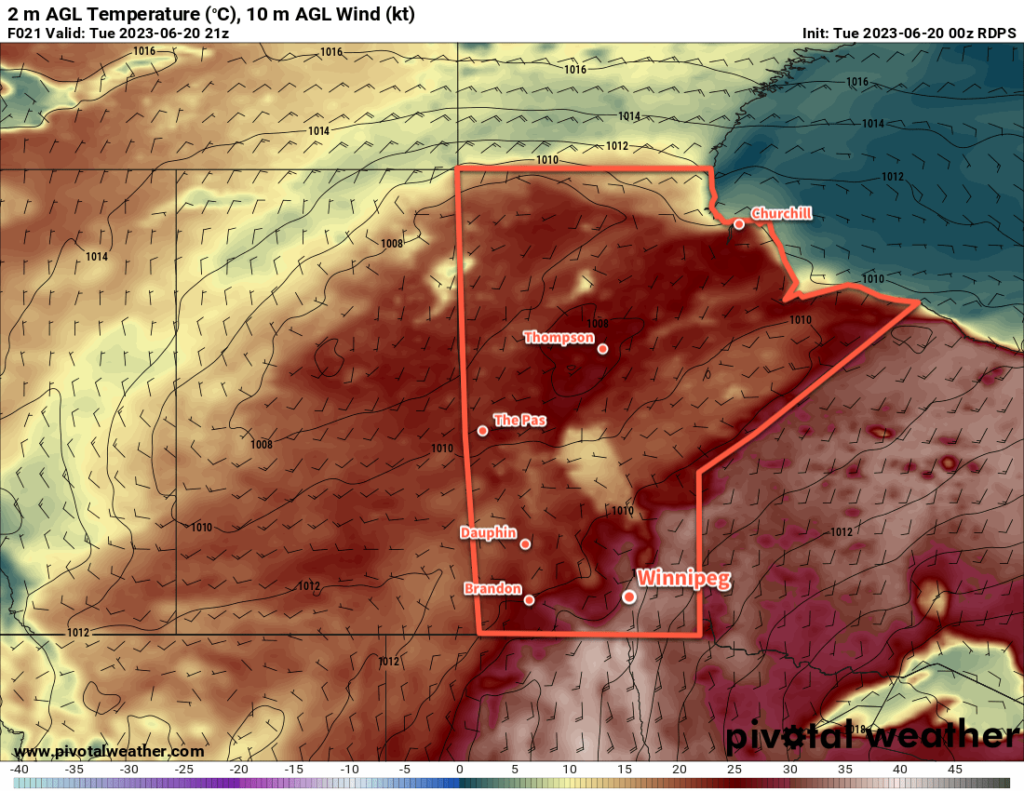 There is a notable severe thunderstorm threat today in southern Manitoba as a hot and humid air mass continues building into the region. The main drivers of the weather today will be a warm sector trough that will arc from north-central North Dakota into the Interlake this afternoon and a cold front that is gradually shifting eastwards from the Manitoba/Saskatchewan border.
Along and east of the trough — which includes the Red River Valley — very hot and humid conditions will develop today. Daytime highs will climb into the low to mid-30s with dew points climbing up to around 20 °C. This will produce widespread humid values in the upper 30s or low 40s across much of south-central and southeast Manitoba. As this air mass cooks, it will bump up against the warm sector trough as it slowly shifts eastwards through the day.
By mid-afternoon, very significant amounts of energy for thunderstorm development will have built up in southern Manitoba. A quick summary of the afternoon's convective parameter forecasts: MLCAPE values in the 2,000–3,000 J/kg range, bulk shear values of 25–45 knots, shear vectors aligned roughly along the convergence boundary, and STP values ≥ 1.
The end result of all the parameters is this: thunderstorms will redevelop this afternoon and there will be numerous severe thunderstorms. Primary threats today will be very large, damaging hail and torrential rain. With so much energy to work with, it's also likely that some thunderstorms will be able to produce damaging wind gusts. An isolated tornado or two is possible today, particularly early in the storm development later today.
Be sure to be aware of any severe weather watches or warnings issued by the Meteorological Service of Canada through the day today.
The thunderstorm activity will continue into the night, growing upscale along the trough and slowly shifting eastwards. Activity will refocus further south overnight where another disturbance riding northeastwards along the cold front, spreading more showers with the risk of thunderstorms into southern Manitoba by Wednesday morning. With the cold front further east, Winnipeg will see cloudier conditions through the day but temperatures could still be quite warm with highs in the upper 20s. Thunderstorm activity on Wednesday will be weaker overall than today, with a much lower risk of any severe-level activity.
More rain and thunderstorms is possible overnight Wednesday into Thursday as another disturbance rolls into the province along the slow-moving frontal boundary. It will support an area of nocturnal convection that will push into southern Manitoba, bringing what could be another widespread area of precipitation. There will be much less instability by this point, so little to no severe weather is likely with this final round of showers. This system will also bring cloudy skies to the region for much of Thursday with highs finally dipping back down into the mid-20s. The humidity stuck in the region will also finally begin to ease as the cold front slowly shunts southeastwards.
Long Range Outlook
More unsettled weather is likely this weekend as an upper low treks northeastwards out of the American Rockies, bringing a broad area of rain into southern Manitoba. There's still some uncertainty associated with this system, but at this point it looks like a widespread 25 to 50 mm could be possible across many parts of southern Manitoba through a combination of rain and embedded thunderstorm activity. This system will clear out of the region to start next week, followed by another chance of showers on Monday evening as a cold front slumps into the region.
All in all quite an unsettled week ahead of us with numerous chances for showers and thunderstorms across the region. Particularly today, be sure to keep aware of the day's thunderstorm development given the notable risk of severe weather.
Today's seasonal daytime high in Winnipeg is 24 °C while the seasonal overnight low is 11 °C.