The blizzard that has brought much of southern Manitoba to a halt will end today, making way for much calmer weather.
This Week
The crippling blizzard that began last night will gradually end today. Winds this morning will be northwesterly at 40 km/h gusting to 60 km/h, decreasing as the day progresses. Snowfall will end from west to east across southern Manitoba this morning, which will also help to improve visibility. Skies will remain cloudy through the afternoon, with just a lingering chance of flurries. Roads beyond the major routes will likely be impassable today as snow drifts will be significant in many exposed areas. Luckily, calmer weather is expected for the rest of the week, giving folks a chance to recover from yet another significant December blizzard.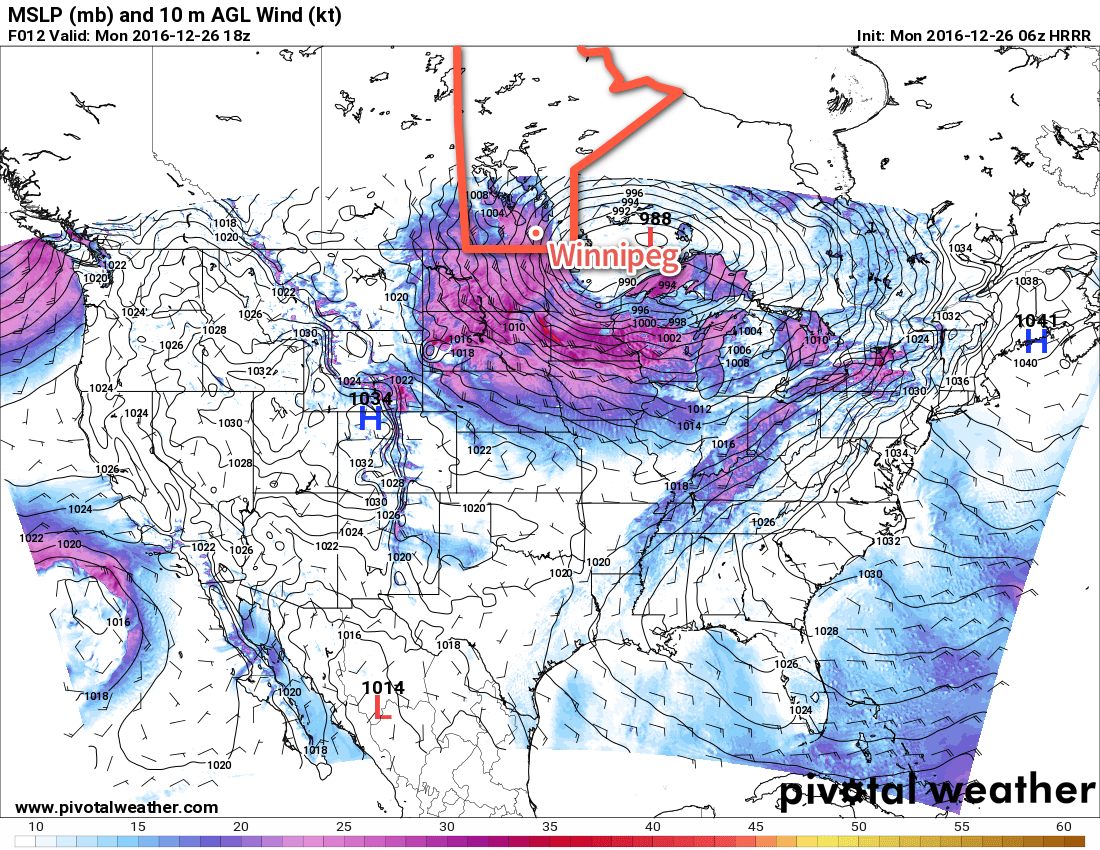 Tuesday will be a fairly typical winter day with high temperatures in the mid minus teens and a mixture of sun and cloud. Winds will be fairly light, helping to keep wind chill values at bay. Thankfully, this should provide decent weather for those still shoveling out from the storm.
A rapid warm-up will occur on Wednesday as a fast-moving system pushes a warm front across southern Manitoba. This front will push temperatures up close to the freezing mark in many areas, although temperatures for most of the day will be just below zero. This frontal passage may be associated with a bit of snow, but amounts will be small if there's any accumulation at all.
Long Range
Temperatures in southern Manitoba look to follow a bit of a roller-coaster pattern for the remainder of the week. Another cool-down is expected late this week, before another possible warm-up rolls through for the weekend. This pattern may persist for the remainder of the month before a much extensive arctic air mass moves in for early January.
Forecaster Note
This will be my last regular Monday post at A Weather Moment. I have enjoyed writing my weekly forecast here, but new opportunities mean it's time for me to give up my regular role. Thanks those that have ready my articles here every week for the past 5 years. I'll still be a part of AWM, but in a lesser capacity. When the next storm rolls in, you'll still be sure to hear from me!
-Scott
Update: Blizzard Snowfall Totals
Environment Canada has released a summary with snowfall totals associated with the Christmas Blizzard of 2016:
| Location | Snowfall Total (cm) |
| --- | --- |
| Winnipeg | 18-33 |
| Brandon | 21-25 |
| Steinbach | 31 |
| Ross | 30 |
| Beausejour | 20 |
| Pinawa | 24 |
| Grand Beach | 28 |
| Victoria Beach | 18 |
| Carman | 21 |
| Winkler | 24 |
| Boissevain | 36 |
| Melita | 35 |
| Miami | 30 |
| Stony Mountain | 25 |
| Woodlands | 20 |