The reprieve from yesterday's 10-20mm of rain that fell across the Red River Valley will be short-lived as another disturbance will move through the region today and bring more wet weather. Fortunately, things will improve quickly with clouds clearing out for Tuesday and Wednesday alongside a rebound to seasonal temperatures.
It will be another cool one in Winnipeg today with mainly cloudy skies and intermittent showers as a disturbance slumps southwards from the Interlake, bringing another couple millimetres of rain to the region. Temperatures will top out at just 12°C today, kept down by the cooler air mass and brisk northerly winds that will develop a bit later this morning to around 30 gusting 50 km/h. The rainy weather will finally taper off late this afternoon into the early evening, and Winnipeg will be left with cloudy skies and northerly winds of 15 to 20 km/h as temperatures dip to a low near 8°C.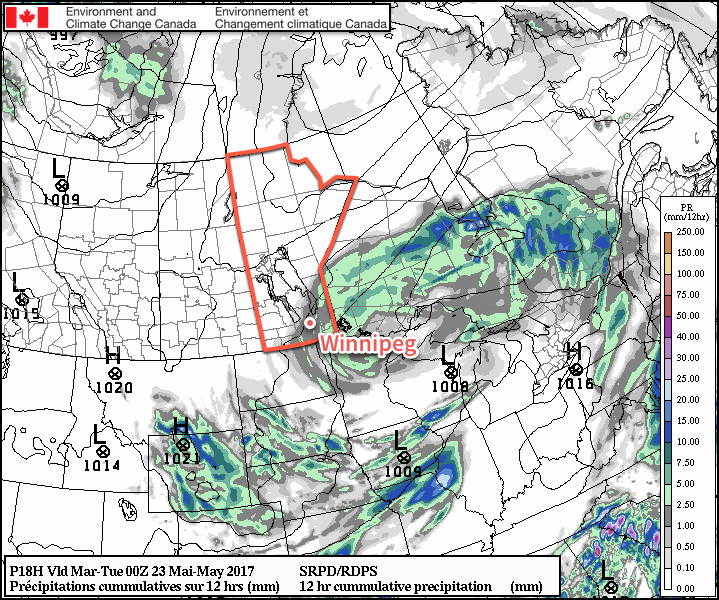 Tuesday will be a much nicer day with skies clearing in the morning and then temperatures climbing to a high near 19°C. Winds will remain out of the north to northeast at 15-20 km/h. Expect a low near 9°C on Tuesday night under clear skies with light winds.
Wednesday will bring more pleasant weather to the city with mainly sunny skies and a high near 21°C. Winds will increase out of the south from calm to around 30 km/h through the day.
Long Range
Conditions will turn more unsettled through the second half of the week as a major storm develops over Alberta and track eastwards.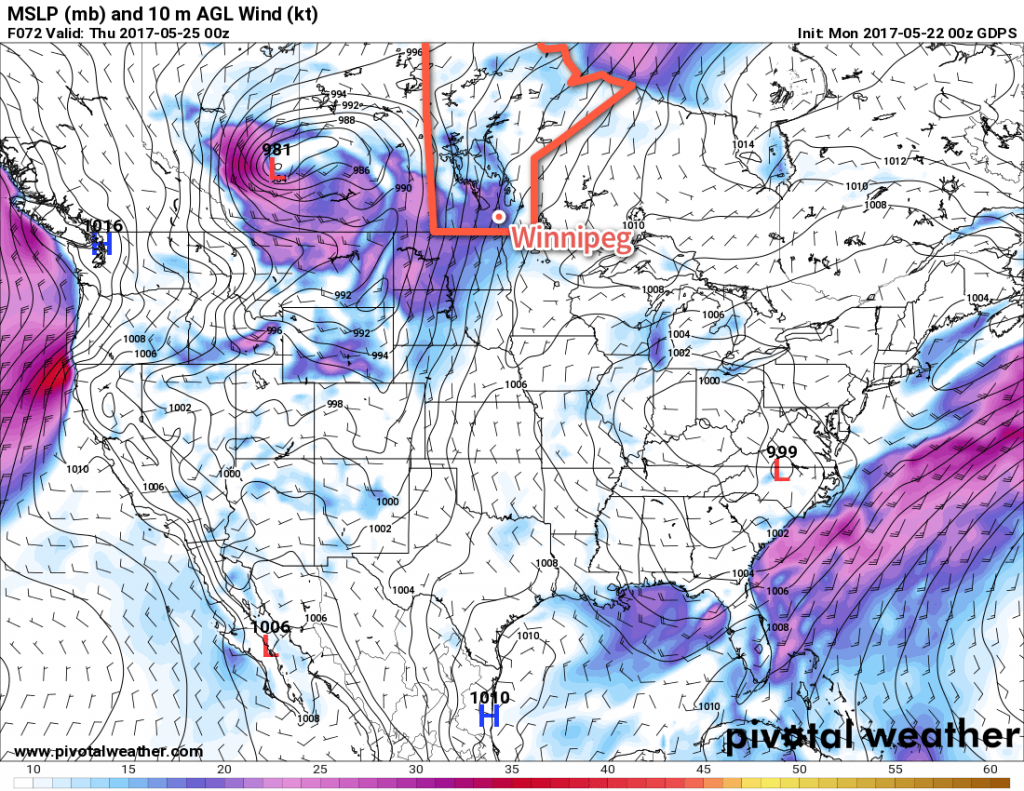 As it does so, Winnipeg will see a few chances for precipitation Thursday through Saturday, but it really seems like we'll avoid the worst of this system. We'll be keeping an eye on it as it develops and begins to push towards the region.
Winnipeg's seasonal daytime high is currently 21°C while the seasonal overnight low is 7°C.