After experiencing the coldest day of 2017 on December 30th, Winnipeg will see relief from the bitter cold as the Arctic high moves out of the region and temperatures return closer to seasonal values. Temperatures will climb to near-seasonal values on Tuesday with some light snow, but a cold front moving through Tuesday night will bring colder temperatures back for Wednesday.
Today will be the first day where temperatures really start breaking from the Arctic chill in Winnipeg with the high temperature climbing to around -20°C. Skies will remain mainly clear for much of the day, however a bit of cloud will begin working into the region late in the day; so late, in fact, that it may end up being dark before the cloud finds its way into the Red River Valley. The wind will become a little more noticeable as the day progresses, though, climbing to around 20 to 25 km/h by the end of the afternoon, producing a wind chill values in the -30 to -35 range.
Winnipeg will see partly cloudy skies tonight as temperatures dip to a low near -24°C with south-southwesterly winds of 20 to 30 km/h. Wind chill values will be in the -35 to -40 range. A bit more cloud will push in through the latter half of the night as a low pressure system begins pushing into the Interlake region from northern Saskatchewan.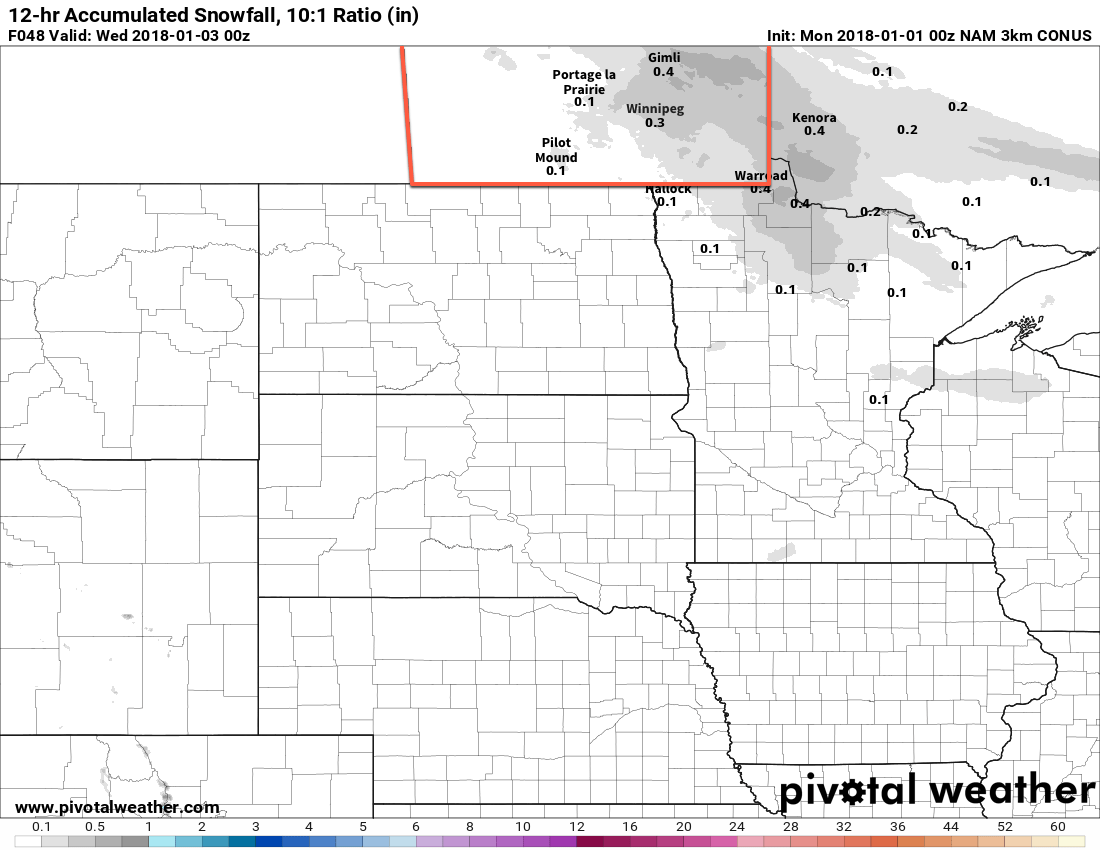 Tuesday will bring mostly cloudy skies to Winnipeg as a low pressure system brushes by the region. Temperatures will be the warmest they've been since December 23rd1 as highs climb to around the -15°C mark. Winds will ease midday, but a cold front sweeping through in the afternoon will usher in brisk northwesterly winds of 30 to 40 km/h, bringing an end to the brief mild spell.2 Skies will remain mostly cloudy to mixed overnight as temperatures dip to a low near -25°C. Wind chill values will once again fall into the mid -30s.
Wednesday will bring clearing skies with temperatures reaching a well below-seasonal high of -21°C. The winds will ease to light by midday, making for a relatively nice afternoon if you bundle up. Winnipeg should see clear skies and light winds on Wednesday night as a ridge of high pressure moves into the Red River Valley. Lows will be cold, though, with temperatures expected to drop to around -29°C in Winnipeg.
Long Range Outlook
Over the next while, it looks like temperatures will remain seasonal to below-seasonal, although not to the extremes seen at the end of December. It also looks fairly dry; after Tuesday's light dusting, the next chance Winnipeg may see a bit of snow is on Saturday night into Sunday morning as another low moves through, bringing milder air with it. So no extreme cold, no big snows, just some relatively calm winter weather ahead.
Winnipeg's seasonal daytime high is currently -13°C while the seasonal overnight low is -23°C.
Winnipeg's daytime high on December 23, 2017 was -11.4°C. ↩
Which should be noted is still below seasonal average temperatures. ↩