Winnipeg will see milder weather return today and near-seasonal conditions this weekend. Conditions will turn next week, though, as bitterly cold Arctic air descends into the Prairies.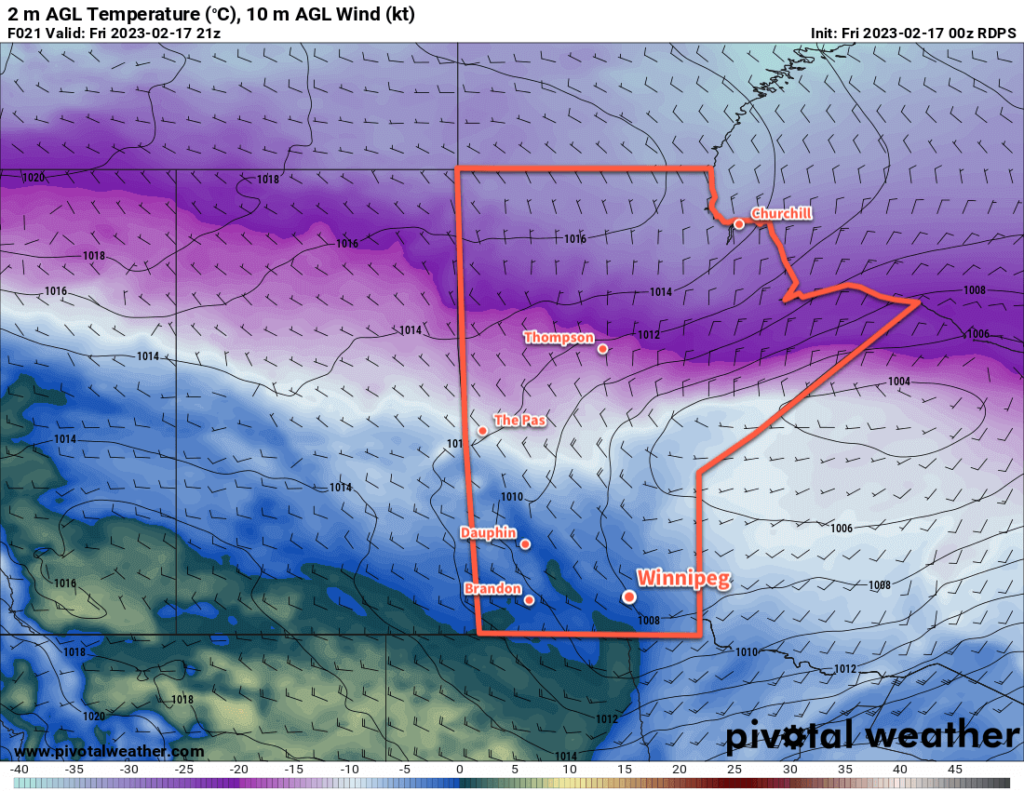 A low pressure system crossing the northern Prairies has brought a stiff southerly wind and warming temperatures to southern Manitoba today. With southerlies up near 40 gusting 60 km/h, temperatures rose through the night and will continue through the morning. The city should see a high near the freezing mark this afternoon as winds ease and turn westerly-northwest.
The region will see mixed skies today and there's a slight chance of some light snow. Most of the precipitation will likely stay well north of Winnipeg, but some scattered areas of light snow might hang on along the trough as it moves through. Even if any precipitation does make it into the Red River Valley, no notable accumulation is likely.
A lingering chance of flurries will linger into the night as temperatures dip into the -10 to -15 °C range. The cloud cover should break up a bit overnight with easing winds.
On Saturday, more cloud will move back into the region as another weak low pushes into the region. There will be a slight chance of flurries through the day as temperatures rebound back to a high near -5 °C.
A band of light snow will likely work its way across the region on Saturday evening as a cold front sweeps into the region. A couple centimetres is possible as northerly winds pick up through the night. Temperatures will dip into the -10 to -15 °C range by Sunday morning.
To wrap out the weekend, northerly winds will continue as colder air pushes into the region. Some sun should reappear on Sunday with a below-seasonal high near -12 °C or so. More cloud will push into the region on Sunday night as another low approaches the region. Temperatures will be a bit cooler, though, with a low near -20 °C. Some light snow will push towards the region for Monday morning.
Long Range Outlook
Winnipeg will likely see some light snow to start off next week. The high temperature will climb back to around -10 °C, but a cold front sweeping through later in the day will usher in northerly winds that bring a substantial change to the region.
Skies will clear as the system leaves on Monday night, and much colder weather will move into the region in its wake. Lows will dip into the -25 to -30 °C on Monday night. Heading into the rest of the week, daytime highs will drop to close to -20 °C with some -30 °C lows possible much of the week.
Temperatures will begin to moderate slightly on Friday, with a more marked push towards seasonal values beginning next weekend.
Today's seasonal daytime high in Winnipeg is -8 °C while the seasonal overnight low is -18 °C.