The summer heat will gradually wane over the coming days as unsettled conditions move into the region.
A large upper ridge over the Prairies will bring another day of scorching weather to southern Manitoba. With blazing sunshine, Winnipeg will see temperatures soar to a high near 34 °C. Dew point temperatures will stay in the mid- to upper teens, producing humidex values near 40 through the afternoon.
Tonight, a low pressure system will slide across the province, dragging a cold front with it to the east. That will bring some cloudiness to the city overnight as temperatures dip to a low near 16 °C. Heading through the second half of the night, Winnipeg will see a low chance of showers or thunderstorms as the low moves into the Red River Valley.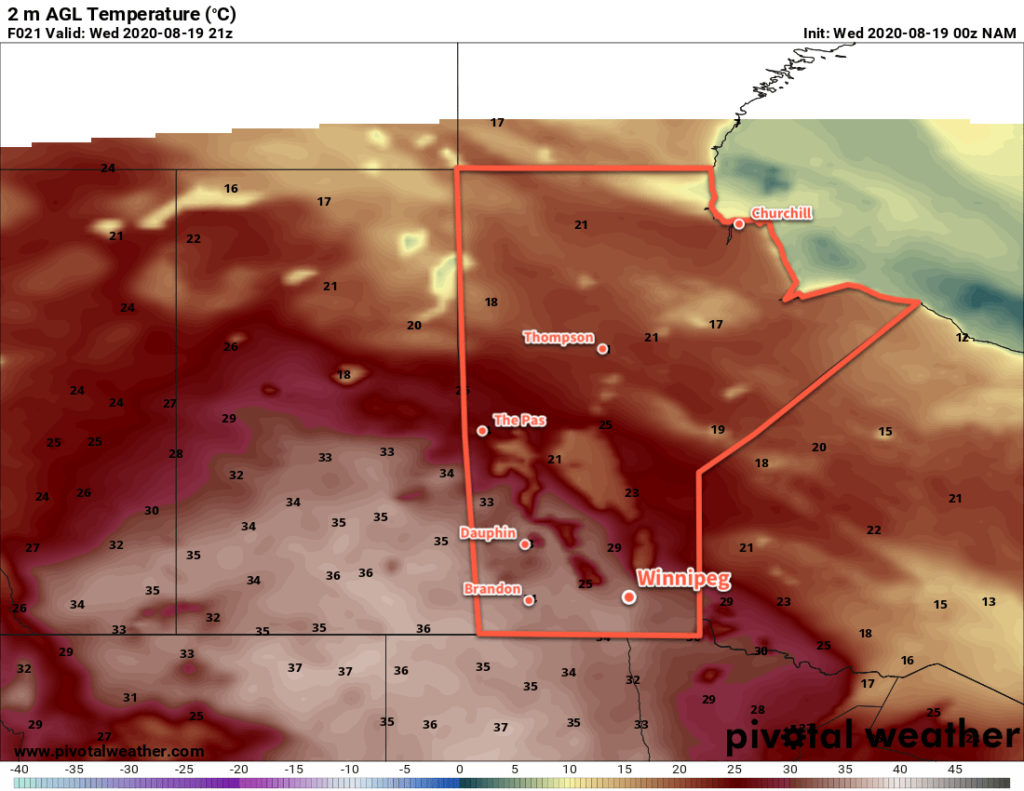 On Thursday, any chance of rain will come to an end in the morning as the low moves off to the east. Temperatures will quickly rise to a high near 32 °C with partly cloudy skies for the rest of the day. The winds will shift to the north for the afternoon behind a weak cold front that moves through the area. Temperatures will dip to a low near 16 °C on Thursday night with a few clouds.
On Friday, a shortwave moving eastwards will run along a warm front draped across southern Manitoba. Skies will be mixed to cloudy with a good chance of some showers or thunderstorms through the day. Winnipeg should see a high near 26 °C, but it will be sensitive to the exact placement of the warm front and how much sun manages to poke out. If it ends up a tad on the sunnier side, temperatures could climb as high as 30 °C. Some marginally severe thunderstorms may be possible and there is the potential for some training storms resulting in locally high rainfall accumulations in bands parallel to the warm front.
The unsettled conditions will clear out on Friday evening with temperatures dipping to a low near 17 °C.
Long Range Outlook
The weekend will bring more settled conditions back to the region with seasonably warm highs in the upper 20s. On Sunday, a weak disturbance passing through may bring the chance for thundershowers back to the region.
Today's seasonal daytime high in Winnipeg is 24°C while the seasonal overnight low is 11°C.