Temperatures will soar into the low 20's today and challenge a long-standing daily record high . Temperatures will then cool for the weekend as a low pressure system tracks through the region, but will still remain seasonably mild with daytime highs in the mid-teens.
Today will be a gorgeous day with temperatures soaring towards record values as very mild air – shown well by 850 mb temperature anomalies of 15 to 20°C above seasonal – moves into southern Manitoba. This mild air is being drawn northwards by a broad area of low pressure strengthening over Alberta. In addition to the warmth, strong southerly winds will develop across the Red River Valley today, reaching a peak near 40 gusting to 60 km/h through the afternoon.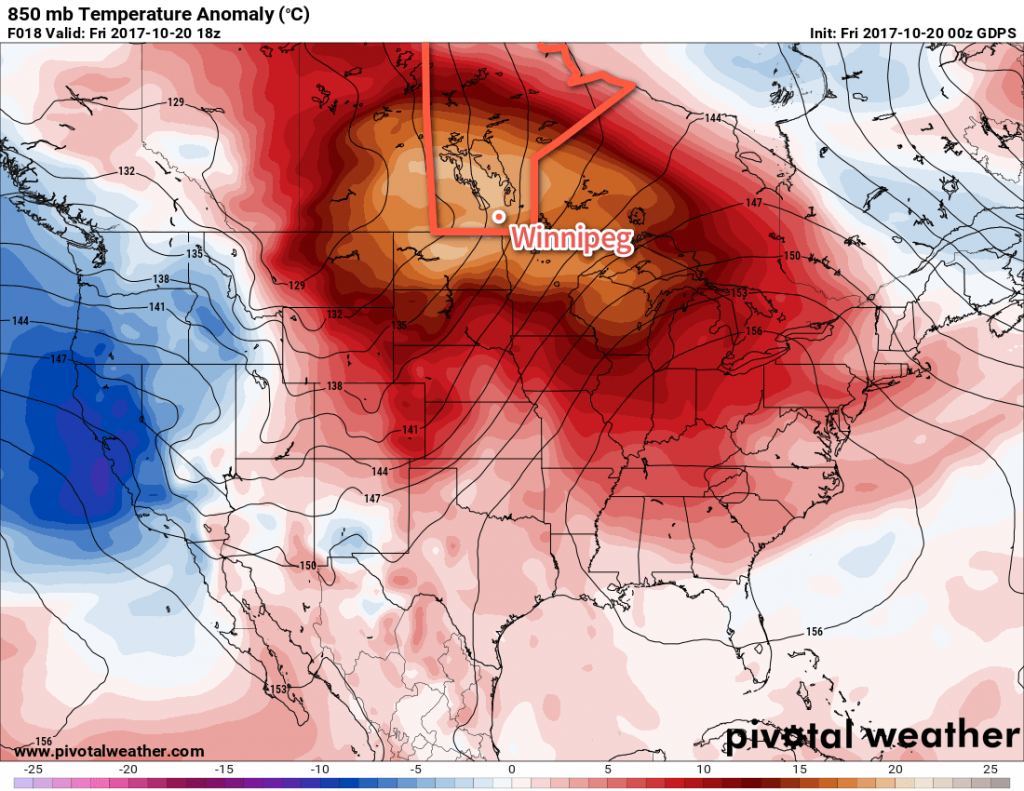 The southerly winds and mild temperatures aloft will result in daytime highs climbing into the low 20's today; in Winnipeg, the high should reach 23°C, or perhaps a tad warmer, challenging the current record daily high of 23.9°C set in 1958. Clouds will build into the region through the day, going from sunny skies this morning to mixed skies this afternoon. Tonight should bring variable cloudiness and a low near 15°C. While the overnight low will likely remain higher than the record warmest daily minimum temperature of 12.2°C set in 1953, Winnipeg won't break a record due to this morning's chillier low near 7°C.
Winnipeg will see more cloud on Saturday with mixed skies in the morning giving way to mainly cloudy conditions in the afternoon as a low pressure system moves through. Temperatures will be cooler than Friday, but still much warmer than seasonal as highs climb to around 18 or 19°C. Southerly winds of 20 to 30 km/h wills shift to the west-southwest behind a cold front pushing through in the morning. There will be a chance of showers along the cold front as well as a bit later in the afternoon, but at this point it looks like the odds are relatively low. Winds will persist at 20 to 30 km/h overnight as temperatures dip to a low near 6°C.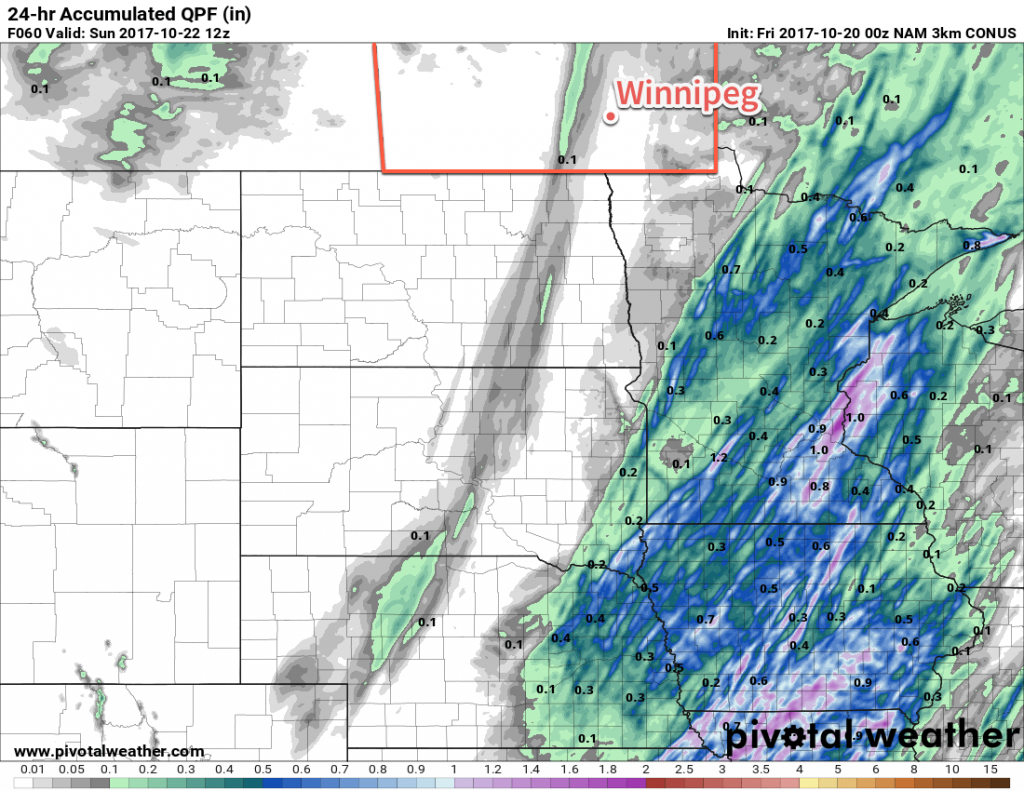 Sunday will bring some sunshine back to Winnipeg with any remaining cloud from Saturday's system clearing out in the morning. Temperatures remain warmer than seasonal with highs near 15 or 16°C as winds shift back to the south ahead of yet another low pressure system zipping across the southern Prairies. Cloud will begin to build back in through the afternoon with a slight chance of showers returning Sunday evening into the night. Lows will dip down to around 7°C.
Long Range
Next week will kick off with a return to seasonal temperatures with northwesterly winds predominant through the Monday and Tuesday. The remainder of the week looks like a bit of a temperature rollercoaster with unsettled conditions, however details remain fuzzy at this point. That said, it looks like much of the week will bring variable cloudiness and a few chances for rain (or snow!) as the storm track slumps southwards.
Winnipeg's seasonal daytime high is currently 9°C while the seasonal overnight low is -2°C.