Hot and muggy weather will stick around in Winnipeg for a few more days along with more chances for thunderstorms. Some relief is on the way for the end of the week, though, with more seasonal conditions arriving on Friday.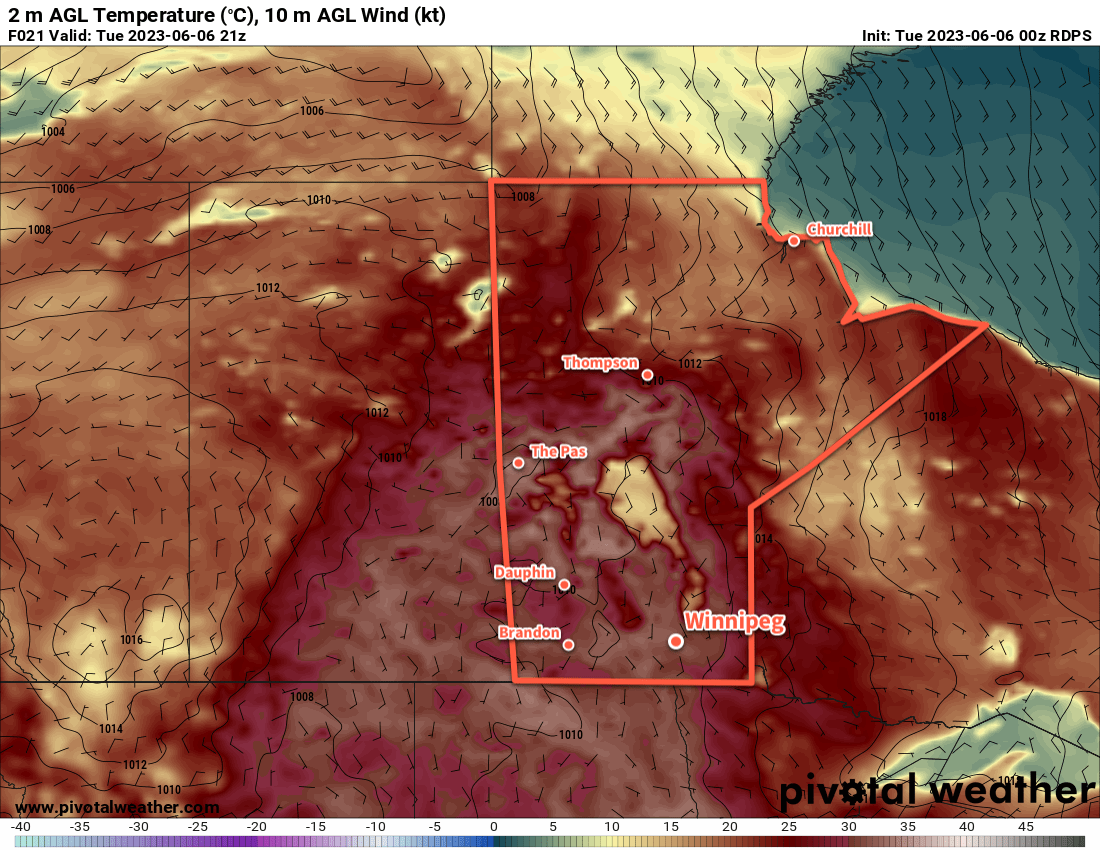 An upper high entrenched over the eastern Prairies means little change is on the way for Winnipeg over the next few days. That said, there is a change on the way. A developing low pressure system over the southern Arctic is beginning to push cooler air into the northern Prairies. As it matures in the coming days, that cooler air will continue to slump southwards through the Prairies. By Friday, this cold front will sweep through southern Manitoba, clearing out the humidity and lowering temperatures back towards more seasonal values.
Before we get to that, though, there will be a few more days of hot and unsettled conditions in the Winnipeg area. The daytime high will reach the low 30s again today, then ease into the upper 20s for the next couple days. That humid air mass will keep overnight lows mild with lows in the 18 to 20 °C range.
Each of the next few days will also continue to bring a risk of thunderstorms across the region. Here in the Red River Valley, scattered thunderstorms are possible today, but not likely until closer to the evening. Much of the activity will stay west of the region on Wednesday, but an isolated thunderstorm is possible. On Thursday, a chance of thunderstorms will develop across the region later in the day as a cold front pushes through.
With the heat and humidity in the region, there will be a risk of severe thunderstorms over the region. That being said, most will likely be non-severe. Any that manage to organize to severe limits will mainly pose a torrential rain and hail threat.
Long Range Outlook
A break from the heat and humidity will stick around for the weekend, a welcome relief for many. Daytime highs will vary from the low to mid-20s this weekend, feeling very comfortable thanks to lower humidity levels. That drier air mass will also allow overnight lows to cool off into the low to mid-teens.
Warmer weather is expected to return next week with daytime highs climbing back into the 30s.
Today's seasonal daytime high in Winnipeg is 23 °C while the seasonal overnight low is 9 °C.