Temperatures in Winnipeg will climb into the upper teens over the next couple days before dropping back towards seasonal values on Sunday. The wind will put a bit of a hamper on enjoyment, though, as both today and Sunday will feature fairly prominent winds.
A surge of warmth is on the way to Winnipeg. The warm air will be drawn northwards by a developing low pressure system over Saskatchewan that will track eastwards through the Interlake on Saturday.
But first, today will be mild with a high temperature near 16°C coming in well above the seasonal average of 7°C. Skies will be a bit mixed as a combination of mid- and upper-level cloud moves through the Red River Valley. That said, the most prominent feature will be the southerly winds that pick up later this morning and strengthen to 40-50 km/h for the afternoon. The winds will then taper off fairly quickly in the evening as temperatures head to a low near 7°C under partly cloudy skies.
Saturday will be a nicer, albeit slightly cloudier day, than Friday. Temperatures will climb to a high near 17°C with much lighter southerly winds shifting to westerly in the afternoon. It looks like it will be a fairly cloudy day, but not completely without some sunshine. If there manages to be a little more sunshine than expected, it's possible that the daytime high could reach up to 18 or 19°C. Rain-wise, there only appears to be a very slight chance of some showers in the afternoon, but it seems pretty insubstantial at this point.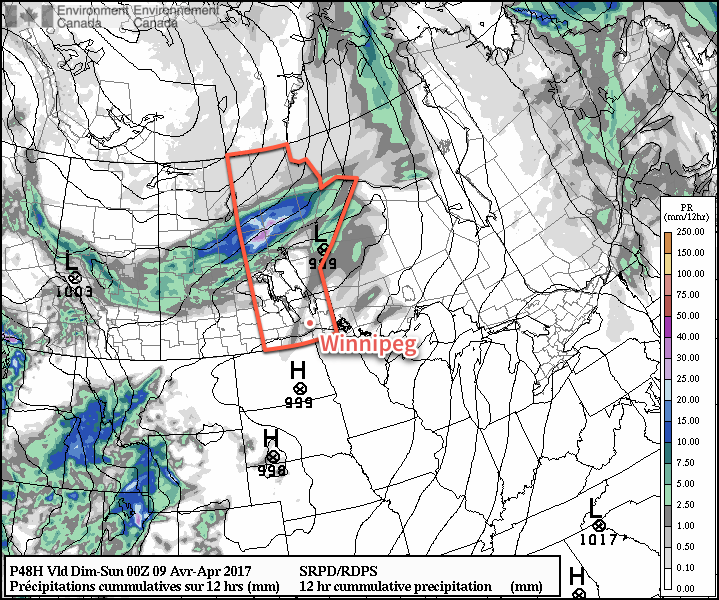 Once the sun goes down, Winnipeg will be headed towards an overnight low near 3°C as the winds shift to northerly under partly cloudy to mixed skies.
Sunday will bring increasing cloudiness to Winnipeg as gusty northerly winds increase to around 30 km/h. Temperatures will be much cooler with a seasonal high near 8°C. Temperatures will dip down to around -3°C on Sunday night with mixed skies.
Long Range
As mentioned in the beginning, it had appeared that there would be a chance for a series of low pressure systems to impact the region beginning Sunday night and bring a mix of rain and snow to the region. Fortunately for us, that no longer appears to be the case as widespread support has emerged that places this system well to our south in South Dakota, the southern portions of North Dakota, and into Minnesota. This leaves us with just breezy northerly winds and cooling temperatures.
Much of next week looks to bring seasonal to slightly above-seasonal temperatures to the region, with dry conditions through the first half of the week and more organized chances for rainfall into the latter half of the week.
Winnipeg's seasonal daytime high is currently 7°C while the seasonal overnight low is -4°C.