This week will start out with what could be our last arctic outbreak of the winter. Temperatures will remain below seasonal for most of this week, but it appears spring may not be too far away.
Today will be the coldest day of the week, as high temperatures will be stuck in the upper minus teens. An arctic high pressure system sliding down from the north will be responsible for this cold air mass. The outflow from this high will be breezy from the north-west, pushing wind chill values near the -30 mark for much of the day. On the brighter side, it will be sunny, so at least there's that (pun fully intended by the way)!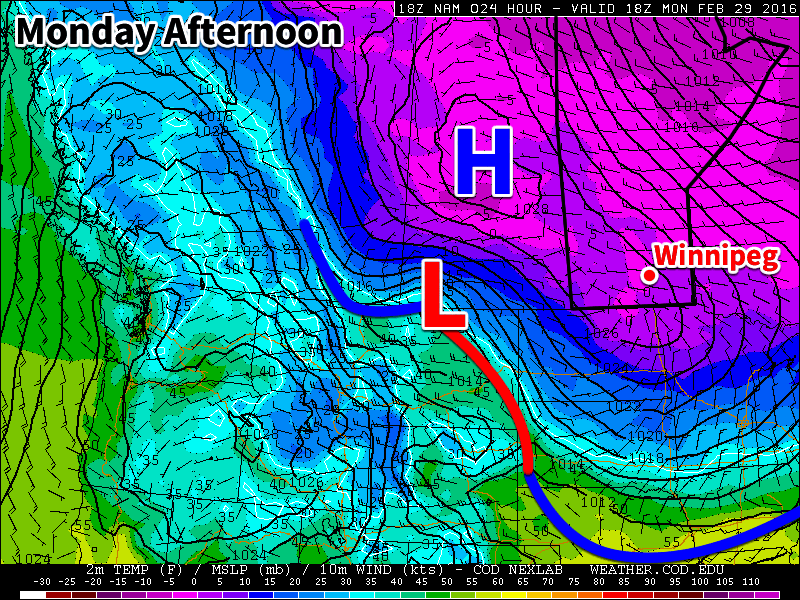 Tuesday will see slightly warmer temperatures from today as highs climb into the low minus teens. Skies should remain mainly sunny with lighter westerly winds. The arctic high from Monday will still be hovering around the region, preventing warmer air from pushing in.
Wednesday will be much the same as Tuesday, with high temperatures in the low minus teens and mainly sunny skies. Another arctic high will push down from the north and sit off to our north-east. This should bring north-easterly winds to southern Manitoba, with speeds near 20 km/h.
Long Range
The long range forecast suggests that we should begin to see a shift towards above seasonal weather starting in about a week's time. Models are beginning to strongly indicate that spring-like conditions will build into southern Manitoba sometime around March 5-8 and last into mid-month. Given the time of year, this warm-up should be accompanied by some decent snow-melt. There isn't much snow to our south and west, so be prepared for a rapid transition to spring once this warmer pattern arrives!