Benign conditions will continue over the next few days as an upper-level ridge continues to bring seasonable temperatures to Winnipeg. Cloud will begin moving in by the end of the weekend, though, as an upper-level low starts working into the region.
Today and tomorrow will both bring a fair amount of sunshine to Winnipeg with high temperatures near close to 0°C. An area of high pressure slowly slumping southwards will give light southerly winds both days. By Saturday afternoon, some cloud cover will begin spreading into the Red River Valley, becoming cloudy for Saturday night. This blanket of cloud will result in warmer overnight lows, bringing Friday's expected -13°C up to around -8°C.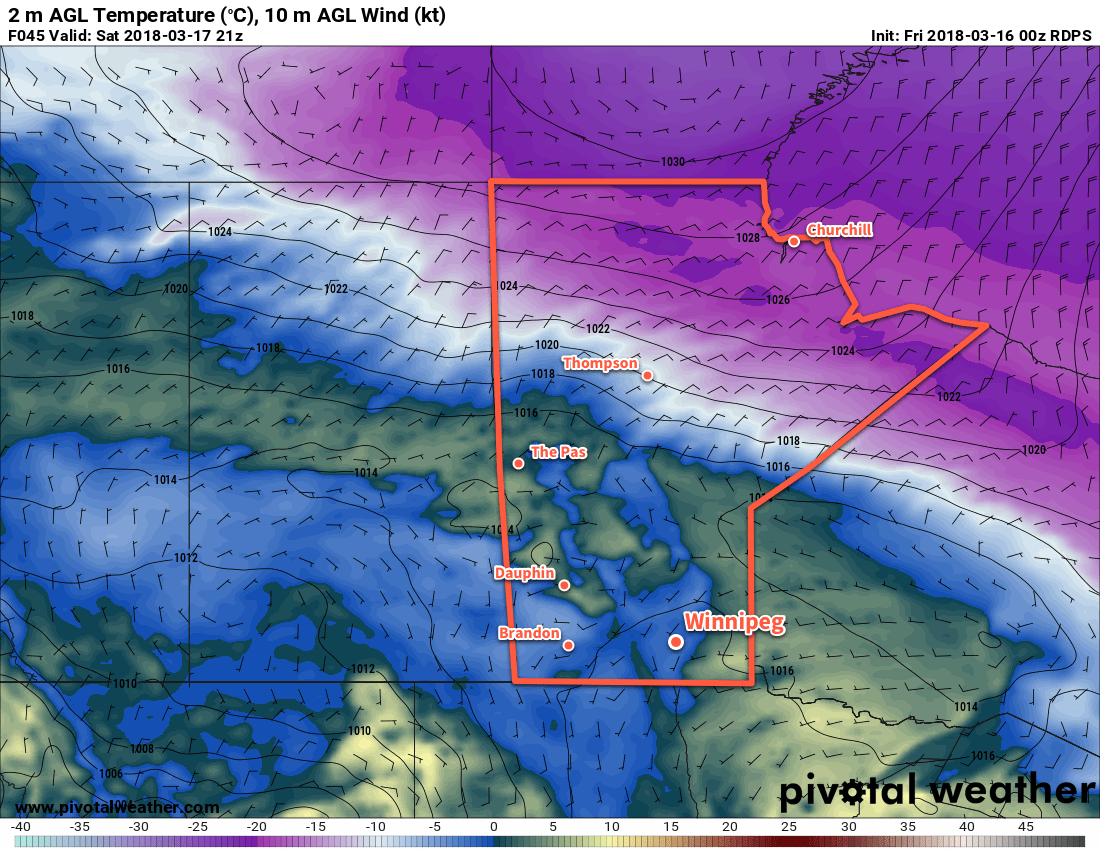 Sunday will bring mainly cloudy skies to Winnipeg as a large upper low complex lifts northeastwards into the province. Daytime highs will continue to sit near 0°C, but the lack of sun and northerly winds near 20 km/h will make it feel cooler. Just a slight chance of flurries will accompany the cloud. Temperatures will dip to around -6°C on Sunday night with an increasing chance of flurries.
Long Range Outlook
The beginning of next week looks a bit more unsettled as a series of upper disturbances moves through. Winnipeg and the Red River Valley will likely see snow on Monday with possible amounts of 2 to 5 cm. Some light snow may persist into Tuesday, but then clearing should work back into the region mid-week. Daytime highs are forecast to hover near the 0°C mark through the first half of the week. For those looking for warmer weather, there are some indications that milder conditions with above-zero temperatures may move in through the second half of the week!
So until then, enjoy the cooler but generally pleasant weather ahead!
Winnipeg's seasonal daytime high is currently -1°C while the seasonal overnight low is -11°C.