Winnipeg will finally get a break from the clouds and settle into its new reputation as a winter city thanks to an Arctic air mass that is bringing closer-to-seasonal temperatures back to the region.
Get settled in for significantly cooler temperatures than we've seen over the past week as daytime highs hover in the minus teens over the next few days. Generally expect daytime highs near -15°C increasing to -12 or -13°C by Friday. This will be slightly below the seasonal high of -11°C for this time of year.
The nights will be much colder than we've seen lately too, with lows hovering just below the -20°C mark both tonight and tomorrow night. Temperatures will moderate slightly on Friday night to a low near -18°C as some warmer air moves in associated with a weak disturbance that will move through on Saturday.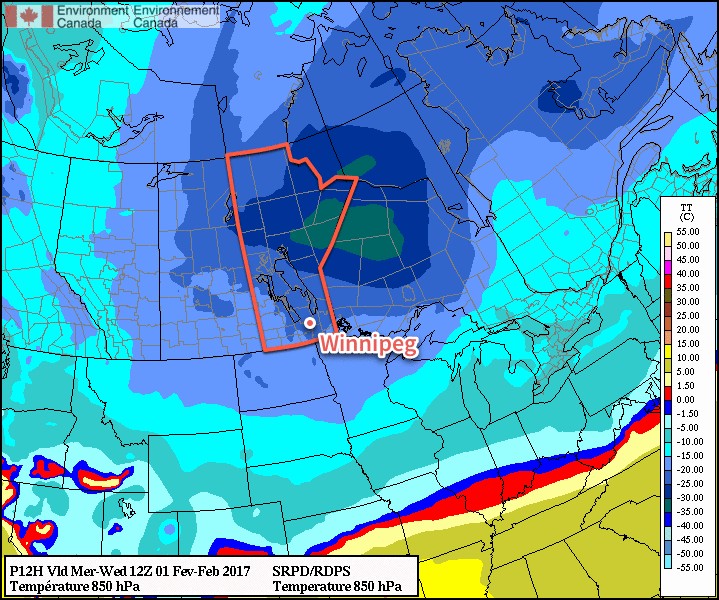 Skies will be fairly sunny all 3 days as well with just a patch of mixed skies likely later this afternoon and into the early evening, then spotty clouds on Thursday & Friday. Winds won't be too much of a bother either; both today and Thursday should see winds out of the west to northwest at 10-20 km/h, and then Friday will bring calm winds ≤ 15 km/h as the main ridge of high pressure rolls through.
Long Range
Conditions look to become more settled this weekend as the jet stream intensifies along the U.S. border, shifting the main storm track into our region.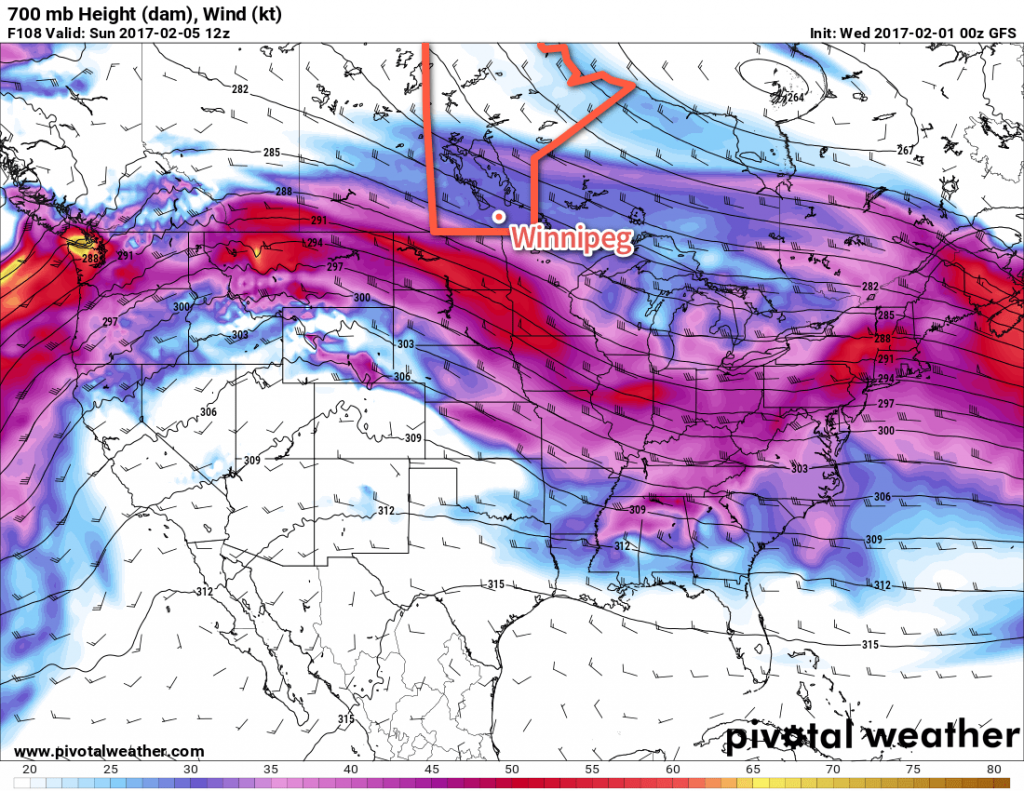 Systems will roll through roughly 18-24 hours apart, so there will be a chance for snow on Saturday, Sunday and Monday, however most of these systems look fairly weak and will be faster-moving systems. Unfortunately with the strong jet stream running west-to-east along the border, the warmest air will remain locked up to our south, and while temperatures may climb slightly above seasonal on Saturday, it will be a quick return into cooler weather once again.
There is some uncertainty as to how cold it will get once things settle down next week, but at this point daytime highs in the bottom half of the minus-teens seem fairly likely.
Winnipeg's seasonal daytime high is currently -11°C while the seasonal overnight low is -22°C.