Dry weather is increasingly becoming the predominant weather story for our region as an extended period of little-to-no precipitation develops. Through March, the Winnipeg airport reported only 13.8mm of precipitation, barely over half of the normal of 24.5mm[1]. So far, half-way through April, we've seen just 2.0mm of precipitation, well off the pace of the normal of 30.0mm. This is all in addition to coming off the 9th driest meteorological winter on record. The dry weather has led to a fatality due to a brush fire in the RM of Rhineland, a fire that temporarily closed rail lines in Winnipeg near the Perimeter Highway and Wilkes Ave.[2] and the cancellation of Manitoba burning permits.
The problems are even worse south of the border, though, with some areas in North Dakota seeing record dryness. On Monday, the NWS Grand Forks office tweeted a new record for Grand Forks:
Since October 1, 2014, the NWS in Grand Forks has 1.89 inches of precipitation. Ranking as the #1 driest ever during this stretch. #dry

— NWS Grand Forks (@NWSGrandForks) April 13, 2015
They followed it up by also mentioning that Fargo has seen it's 3rd driest October-April stretch. The dry weather has created an excessive fire hazard in the region and has resulted in numerous "Red Flag" warnings.[3]
Unfortunately, little relief is in sight. The warm, windy weather will continue over the coming days with no significant precipitation.
Today will be another very warm day; our forecast high of 22°C is over 10°C above normal for this time of year. The warmth will come along side very strong southerly winds, though, with sustained winds strengthening to 50–60km/h and gusts possibly as high as 90km/h. Environment Canada issued a wind warning at 11:51PM last night anticipating the strong winds. Winds will remain strong into the evening before diminishing overnight. There will be some cloud moving in overnight associated with a cold front moving through as the temperature drops to around 6°C. There's a very slight chance of a few sprinkles overnight into early Thursday morning, but at this point it looks like any amounts, if they were to occur, would be insignificant.
Thursday will be a relatively quiet day. Temperatures will remain mild with highs near 16°C, but the more notable aspect of the day will be the calm winds thanks to a ridge of high pressure over the region. Expect cloud to move in on Thursday evening as we drop to a low near 6°C again.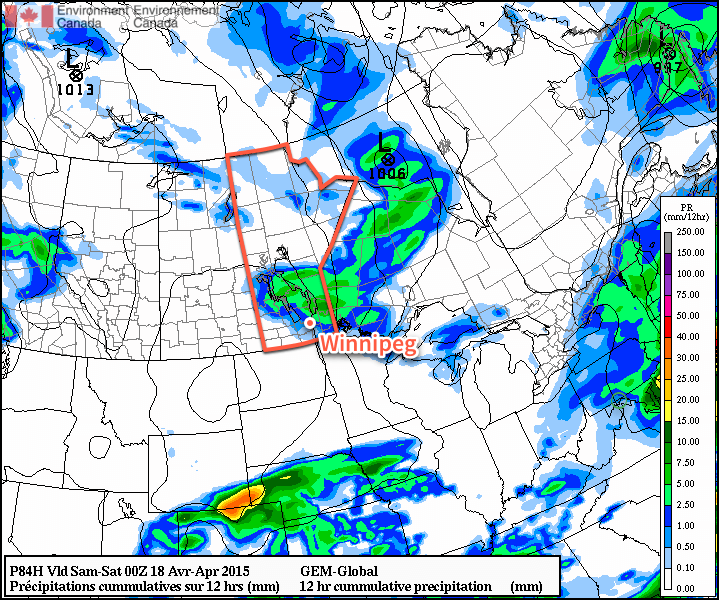 Friday's main weather story will be a low pressure system slumping through Southern Manitoba. It will bring an area of showers with it, however at this point general model consensus is that Winnipeg will likely see a few sprinkles, but the accumulating rainfall of a few mm will remain further north in the Interlake. As the system passes, a cold front will sweep through the Red River Valley and usher in strong northwest winds to around 40 gusting 60km/h. The temperature will climb to near 14°C under more cloud than sun. Skies will clear and winds diminish heading into the evening as the temperature heads to a low of about 3 or 4°C.
Long Range
In general, the weather continues to look warm and fairly dry. No significant precipitation is expected in the next 10 days across the Southern Prairies and Northern Plains. Any chances for rain in the 4–10 day period look pretty uncertain at best as different models are tracking fairly divergent solutions. The warm weather looks to stick around until next week before some cooler weather may begin moving in.
---
Based on the 1981 – 2010 climate normals.  ↩
Pictured above; credit to Christopher Stanton / Global News.  ↩
Red flag warnings are issued when weather conditions combine with dry hydrological conditions to present an extreme fire hazard.  ↩