Temperatures will soar well above seasonal values in Winnipeg as a flood of mild Pacific air washes over the southern Prairies.
A warm front pushing eastwards across the Red River Valley this morning will bring above-seasonal temperatures back to Winnipeg today. To start the day, Winnipeg may see a few flurries as the warm front pushes into the region. Once the front leaves, Winnipeg will see mixed skies with light southerly winds. Temperatures will climb to around -10°C by lunch and then inch towards a high of -8°C in the afternoon. Skies will cloud back over tonight as another warm front pushes into the region. This front will bring a chance of some light snow – and a risk of freezing rain – to the region late overnight into early Thursday morning. Temperatures will continue to rise overnight to around -2°C by morning.
Thursday will bring mainly cloudy skies to Winnipeg and the Red River Valley as a mild Pacific air mass spreads over the region. Temperatures will continue to climb to a high near 0°C with southwesterly winds of 20 to 30 km/h. Thursday night will bring mixed skies with a low near -5°C.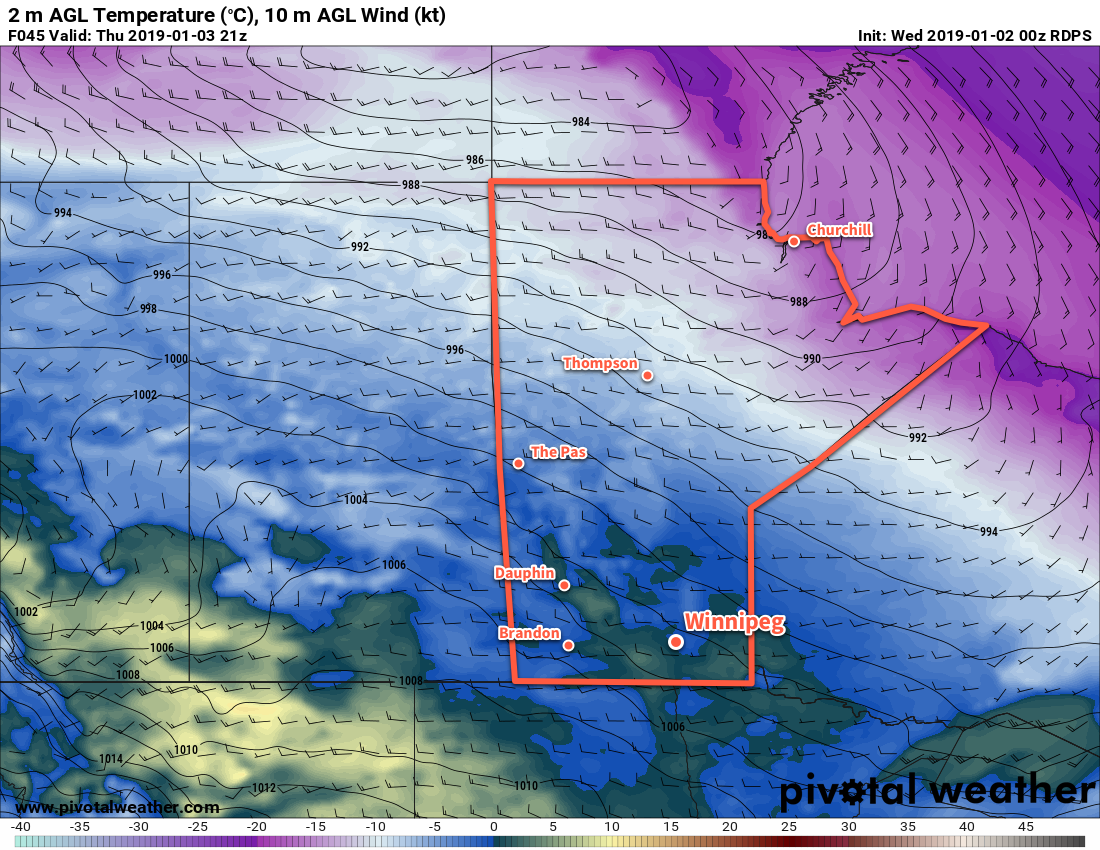 On Friday, the region should see plenty more cloud as temperatures once again climb to around 0°C. A low pressure system moving through the Interlake will bring southwesterly winds of 20 to 30 km/h to the Red River Valley on Friday afternoon. Winds will shift northwesterly on Friday night as temperatures dip to a low near -5°C.
Long Range Outlook
Temperatures will remain mild this weekend with daytime highs in mid-minus single digits. Sunday and Monday may bring a chance for some light snow as a larger low pressure system develops and moves through the region. Slightly above-seasonal temperatures will continue into the middle of next week with variable cloudiness.
Winnipeg's seasonal daytime high is currently -13°C while the seasonal overnight low is -23°C.