A winter storm rapidly developing over North Dakota will spread snow, freezing rain and showers into Manitoba today, along with increasingly strong northwesterly winds. Conditions will deteriorate rapidly this morning over western Manitoba, while the Red River Valley and southeastern Manitoba see conditions deteriorate later this afternoon when temperatures begin to drop and any showers change over to snow.
Winnipeg Forecast
Warm air will be reinforced over the Red River Valley ahead of this low pressure system as east to southeasterly winds increase to around 30 gusting 50 km/h develop, keeping temperatures mild with highs near 3°C today. An area of showers will develop as the main low centre lifts into the province out of North Dakota a bit later in the morning, spreading northwards through the afternoon. Rainfall totals throughout the Red River Valley will be variable thanks to the showery nature of the rain, but in general between 2-10mm seems most likely. If some more intense showers develop, there may be a chance for isolated accumulations of 10-20 mm.
Winds will taper off late this afternoon into the early evening as the centre of the low passes through the region. As it moves off to the northeast, winds will then abruptly strengthen out of the west to northwest at 40-50 km/h with gusts up to 70 km/h. Temperatures will quickly drop below zero as some wrap-around snow moves into the Red River Valley.
While some earlier forecasts were showing significant snowfall in the Red River Valley, it looks like the bulk of the snow with this storm will fall over western and northern Manitoba. Here in the valley, the best current indications are that we'll see a couple centimetres of snow. There are a few outlier models that suggest a secondary shortwave could produce heavy snow over the region in the second half of the night, but I don't have a lot of confidence in that. I'll be providing updates via our Facebook and Twitter pages tomorrow night.
The strong winds will persist all night, which when combined with a couple centimetres of new snow may be enough to create local areas of poor visibilities in blowing snow. Temperatures will drop to a low near -10°C.
Tuesday will bring more periods of snow to the Red River Valley with continuing strong winds out of the west. Temperatures will remain steady near around -11 or -12°C. Temperatures will drop to around -16°C on Tuesday night with more strong winds. Any remaining light snow should taper off overnight.
Wednesday will bring an end to the influence of this storm system. The clouds should break up a bit as the winds taper off through the day. Temperatures will remain cool with a high near -10°C. Expect some more clear breaks overnight as an Arctic ridge pushes into the region. Temperatures will fall well below normal with a low near -19°C.
The Big Picture
Rainfall
Rainfall will be the primary story for much of southern Manitoba today as an area of showers develops ahead of a warm front lifting northwards from the United States.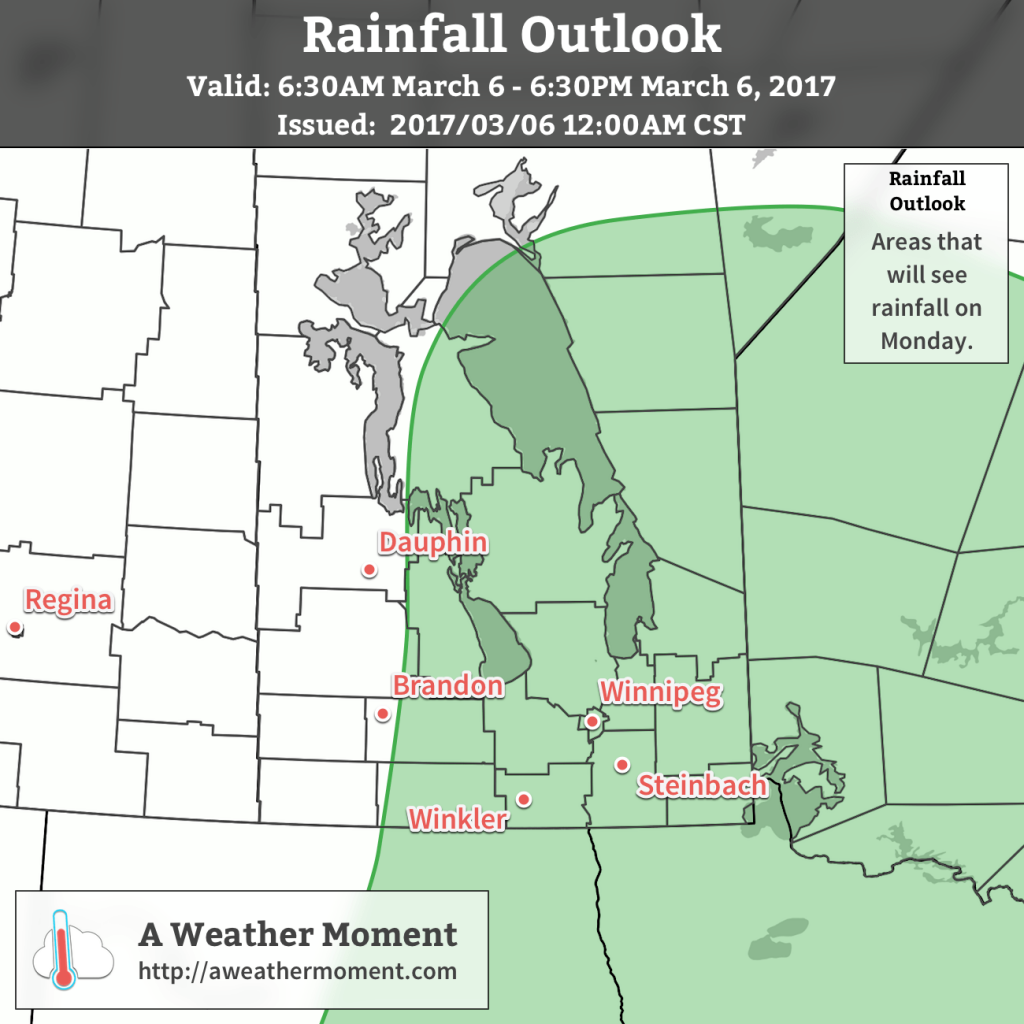 The biggest unknown is exactly how much rain will fall, which will depend on how intense the area of showers can manage to develop. At the moment it looks like most areas will see 2-5 mm, however there is the potential for higher widespread amounts of 10-15 mm further north in the Interlake. Should any potent convective cells develop, which may happen anywhere in the rain area today, they may be capable of producing isolated accumulations of 10-20 mm.
The rain will move out of the province this evening, replaced by snow.
Freezing Rain
The risk of freezing rain will appear today through western Manitoba into the Interlake.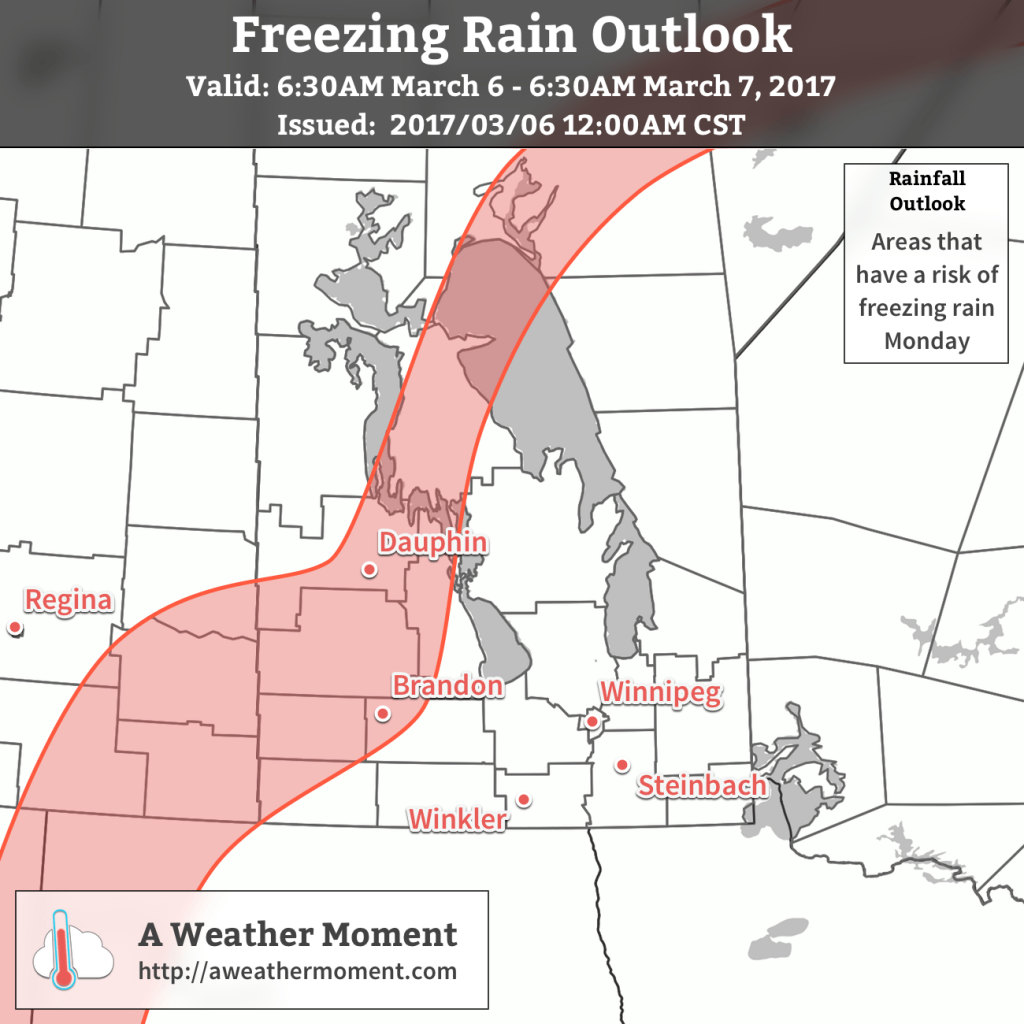 The threat for freezing rain will move into western Manitoba this morning and persist until midday. Accumulating freezing rain is possible, with the risk for several mm of ice accumulation. This threat will then lift into the Interlake for the afternoon and onwards into northern Manitoba tonight.
Snowfall
The major impact from this storm will the snowfall and associated winds.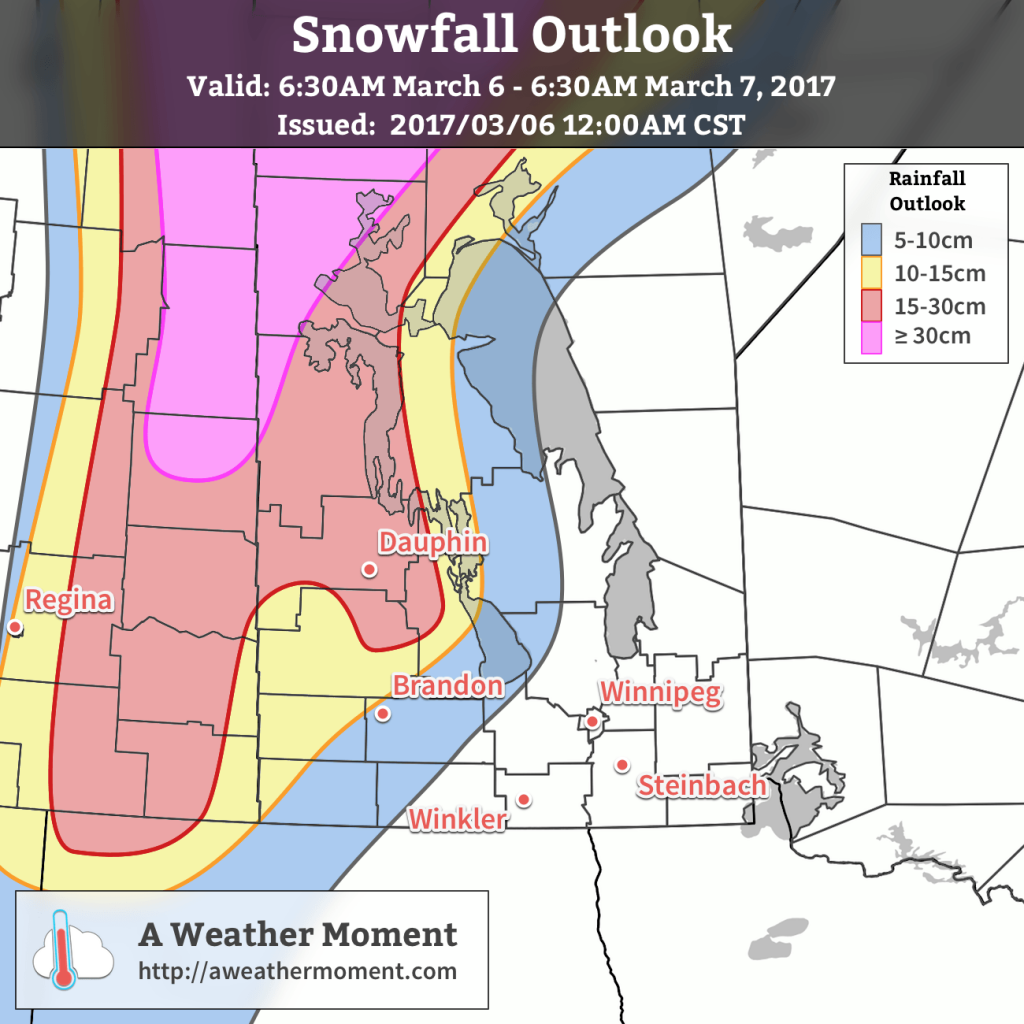 The snow is already falling across eastern Saskatchewan and northern Manitoba and will spread eastwards into western Manitoba for the afternoon. Snowfall amounts will be major, with upwards of 40-50 cm expected to fall through the heaviest band in Northern Manitoba. Further south, a north-south swath of 10-30 cm will pile up by Tuesday morning. There will be a relatively sharp cut-off from the heavy snow to just minor accumulations on both the eastern/southeastern and western flanks.
This heavy snow will combine with strong northwest to westerly winds to produce an extended period of blizzard conditions, likely lasting over 24 hours. If you are in the areas that will see heavy snow move in today, it will be best to avoid all travel until conditions improve.
Long Range
Once everything finally calms down on Wednesday, we'll move into an extended period of below-normal temperatures with daytime highs falling to the mid-minus teens and lows falling below -20°C. No precipitation is expected in the second half of the week.
Winnipeg's seasonal daytime high is currently -4°C while the seasonal overnight low is -14°C.