The heat will return early this week as temperatures climb up to the thirty degree mark. This warm and humid air mass will also bring another risk of thunderstorms to southern Manitoba on Tuesday.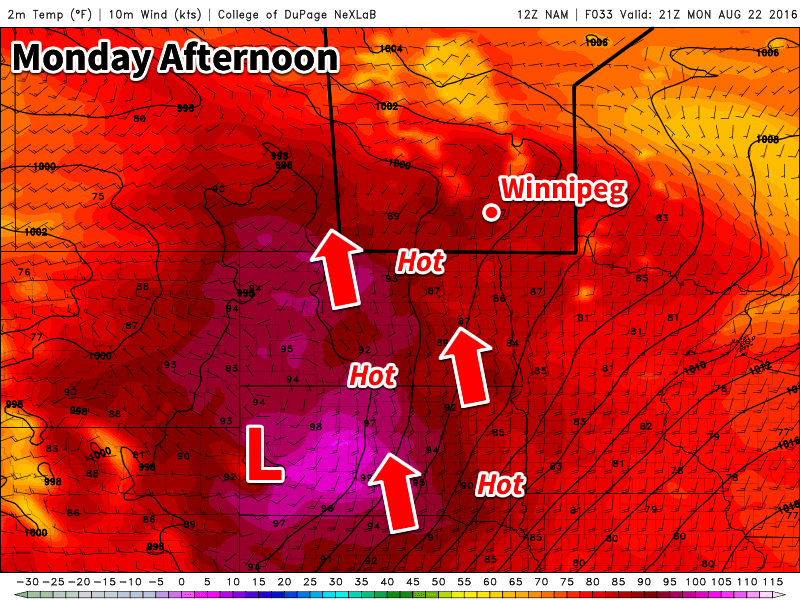 This Week
Today will be a hot one in southern Manitoba. Temperatures are expected to climb into the low thirties in most areas. The humidity will begin to climb as well, with dewpoints reaching the upper teens in most areas by late Monday – although locally higher dewpoints will be possible. Despite these hot and humid conditions it doesn't appear that we'll see any storms today. The atmosphere is expected to be capped, preventing thunderstorms from developing. There is a slight risk of storms overnight, but conditions don't look particularly good for widespread development.
Tuesday will be the more interesting day storm-wise, as humidity increases further. A low pressure system is expected to sit over southern Manitoba by midday Tuesday, maintaining a south to southeast surface flow over the Red River Valley and southeastern Manitoba. Instability will be high with the hot and humid conditions, while wind shear is also strong because of the approach of a strong upper-level trough. These conditions should be favourable for the development of severe thunderstorms. High temperatures should end up near 30C with the humidex in the upper thirties. Skies will be mainly sunny before storms begin to develop.
A strong cold front is expected to slice through southern Manitoba on Wednesday morning. This front will drop temperatures down to near the 20C mark. The front will also take advantage of the lingering humidity in the atmosphere to produce shower activity over most of southern Manitoba. Following the frontal passage, it will become quite gusty as well, with northerly winds of 40 km/h gusting to 60 km/h.
Long Range
It appears that temperatures will begin to rebound later this week following the passage of that cold front on Wednesday. Temperatures approaching the 30C mark may be possible again by the weekend – although models are still unclear as to how long and intense this next burst of heat will be.