The [extreme] heat will continue through the remainder of the week with daytime highs near or exceeding 30°C through Friday. A weak cold front passing through on Wednesday night will help flush some of the humidity out of the region, making for a slightly more comfortable end to the work week.
Another hot and humid day is on tap for Winnipeg & the Red River Valley as the air mass that moved into the region yesterday remains in place. Daytime highs will soar towards to near 33°C which, when combined with oppressive dewpoint values in the 22-24°C range, will feel more like the low- to mid-40's. There will be little relief from the extreme heat as winds remain fairly light.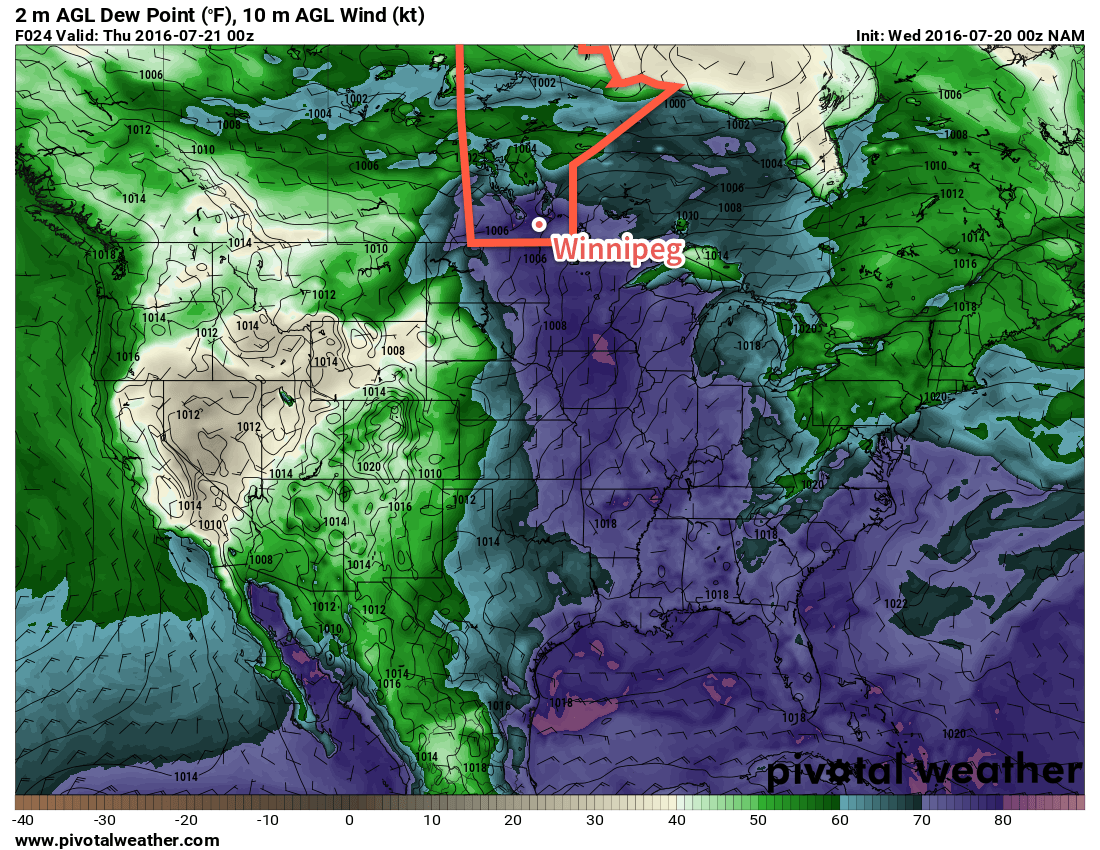 By late afternoon the risk for thunderstorms will ramp back up throughout much of southern Manitoba. There will be a moderate risk of severe thunderstorms along and south of the Trans-Canada Highway with a slight risk of thunderstorms extending northwards into Central Manitoba. Thunderstorms will likely initiate over southwestern Manitoba late in the afternoon, and then propagate eastwards across the Red River Valley overnight. The primary threats from these storms will be strong winds, torrential rain and damaging hail.1 When the storms first initiate in the late afternoon or early evening, they will also pose a tornado threat. It will be another all-hazards severe thunderstorm day for portions of Southern Manitoba.
Behind the thunderstorms overnight, a weak cold front will be sweeping through the region. This will begin pushing out the oppressive humidity and returning dewpoint values to more reasonable values in the upper-teens. Winnipeg will see a low temperature on Wednesday night near 19°C.
Thursday will be a beautiful and warm day under mainly sunny skies (once any left-over nocturnal convection clears out) and a light west-northwest wind. The daytime high will be around 31°C, but the humidity will be much more comfortable, with the dewpoint dropping down to the mid-teens for the afternoon. Expect a low near 17°C on Thursday night.
Friday will bring another disturbance towards Southern Manitoba, spreading more cloud into the region through the afternoon. A thunderstorm threat will once again return to the region. With low dewpoints in place over the region, there will be much less energy to work with than Wednesday's thunderstorms, however the dynamics look relatively good, so there will likely be a slight risk of severe thunderstorms over the region with hail and wind the main concerns. Expect another warm day on Friday with a high near 30°C. The low will dip to around 17°C on Friday night with continuing unsettled weather.
Long Range
The weekend is a bit of a mixed bag with unsettled conditions persisting through Saturday and sunshine returning on Sunday. Temperatures will be cooler with highs in the mid-20's.
Winnipeg's seasonal daytime high is currently 26°C while the seasonal overnight low is 13°C.
It's worth noting that this unstable air mass was capable of producing baseball-sized hail in a major supercell thunderstorm yesterday. ↩