Temperatures will stay warm in Winnipeg through the first half of the week and the city may even see a bit of rain.
Today will start off with mixed to cloudy skies as a band of showers makes its way across southern Manitoba. This band developed overnight and may bring some rain to Winnipeg; as of writing, the band hasn't formed yet so its exact placement is unknown to me!). It will be a narrow band situated just north of an upper-level front draped across the province. There may even be a chance of a thunderstorm. Any rain should push off to the east by midday, leaving the city with partly cloudy skies. Temperatures will climb to a high near 28 °C with northeasterly winds picking up into the 30–40 km/h range.
These winds will tap into some of the forest fire smoke from east of Lake Winnipeg, reducing air quality on Monday night into Tuesday. It shouldn't be anywhere near as a bad as the last smoke event, but will be enough to be noticeable.
Temperatures will dip to a low near 14 °C tonight with clear skies and easing winds.
An approaching low pressure system will push temperatures higher on Tuesday with the high in Winnipeg in the low 30s. Skies should stay mainly clear for much of the day but some cloud will build into the region by late afternoon. The winds will stay light through the morning, then pick up out of the south into the 20–30 km/h range by the end of the afternoon.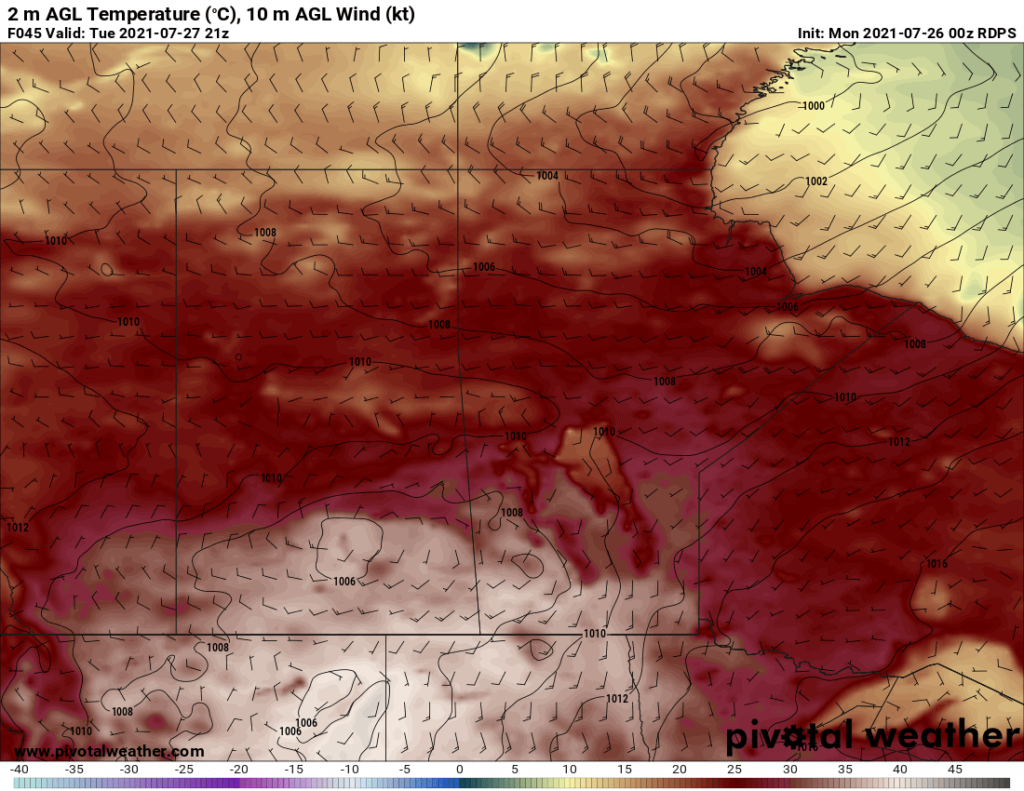 Heading into the night, nocturnal thunderstorms will likely develop over western Manitoba and push eastwards. Winnipeg will see a chance for some of that activity overnight into early Wednesday morning. Temperatures will head to a low near 19 °C with southeasterly winds near 30 km/h.
Skies will gradually clear out on Wednesday with northwest winds near 30 gusting 50 km/h and a high near 29 °C. The winds will ease on Wednesday night with a low near 17 °C.
Long Range Outlook
Warm weather will continue for the rest of the week with another chance for some showers or thunderstorms on Friday. After that, temperatures will return to seasonal values with variable cloudiness through the weekend into next week.
Today's seasonal daytime high in Winnipeg is 26 °C while the seasonal overnight low is 13 °C.