Winnipeg will see one last blast of summer this weekend before fall weather moves in next week. Daytime highs in the upper 20s and the risk of severe thunderstorms return to southern Manitoba this weekend.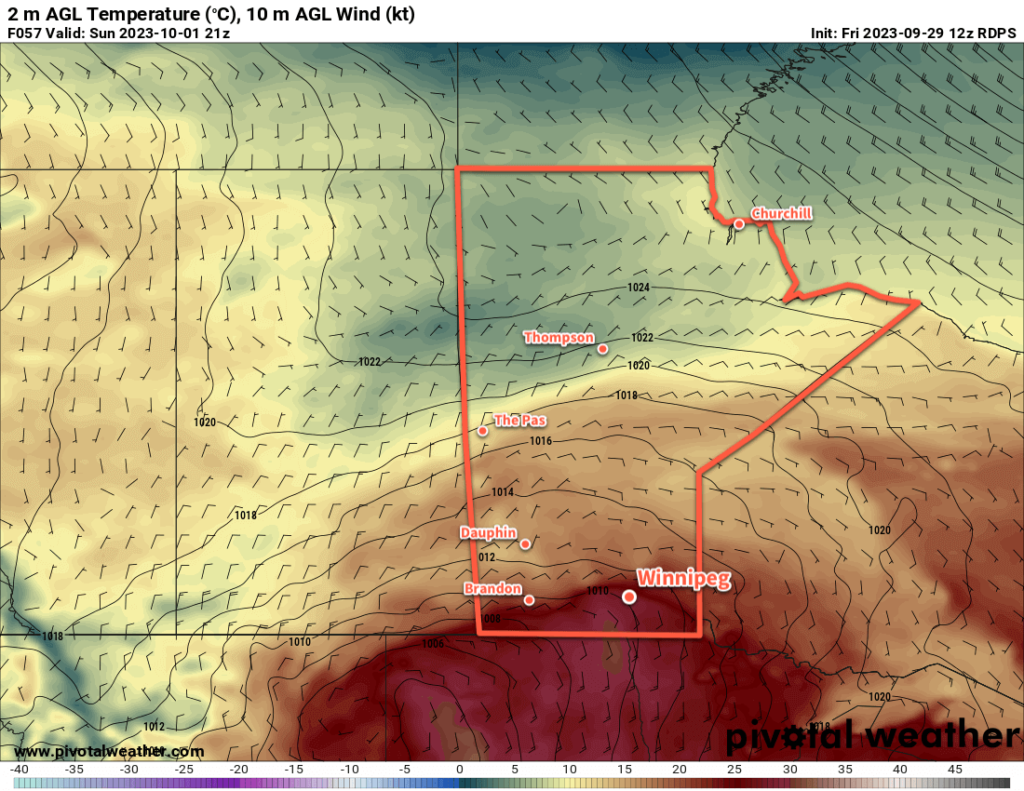 The work week will end on a pleasant note in Winnipeg with mixed skies today and a daytime high in the low 20s. Temperatures will dip down into the mid-single digits tonight, a cooler low thanks to a weak area of high pressure moving through the province.
On Saturday, the region will see light east-southeast winds as temperatures climb back up into the low 20s. Skies should stay mainly sunny through the day, but some cloud could start pushing into the region later in the day.
Heading through Saturday night into Sunday, there will be a very strong push of warmer air northwards as a low pressure system lifts through the United States towards the southeastern Prairies. A warm front will push northwards through the night with notable late-season instability developing towards Sunday morning.
By early Sunday morning, MUCAPE values are forecast to climb above 1,000 J/kg as moist air sourced from dew points in the upper teens ascends over the warm front. This will likely support elevated convection into Sunday morning, starting in SW Manitoba and progressing east-northeast. There is a risk that some of these thunderstorms could be severe with the main threat being large hail.
Sunday will be a very warm day if everything goes as planned. The warm front will lift north of Winnipeg, putting the city back into a hot and humid air mass. Temperatures will likely climb into the upper 20s with dew points reaching the high teens, making it feel more like low to mid 30s. An isolated thunderstorm or two will be possible near the warm front late in the day, but it's just as likely that the capping inversion will hold.
Temperatures will dip back down into the mid-teens on Sunday night with cloudier skies and a chance of showers.
Long Range Outlook
Next week will mark the slow transition to more fall-like weather across the region. Winnipeg will see cloudier skies with numerous chances for showers as the daytime highs gradually drop from around 20 °C to around 10 °C. Even cooler weather may move into the region to start the week after, so enjoy that last blast of summer warmth on Sunday before the chill sets in!
Today's seasonal daytime high in Winnipeg is 15 °C while the seasonal overnight low is +4 °C.