The generally mild and pleasant weather Winnipeg has seen the past couple days will continue for a few more, bringing sunshine and slightly above-normal temperatures until the next disturbance arrives in the region on Sunday.
Winnipeg is off to a chilly start today, courtesy a ridge of high pressure sitting right on top of the region that has plunged overnight lows to around the freezing mark. As the ridge moves off to the southeast today, temperatures will rebound back to seasonal values; Winnipeg should see a high near 15°C with light southerly winds and mainly sunny skies (outside of any fog that will burn off through the morning). The Red River Valley will see clear skies tonight with southerly winds increasing to 20-30 km/h by Saturday morning. Temperatures will dip to a low near 5°C in Winnipeg.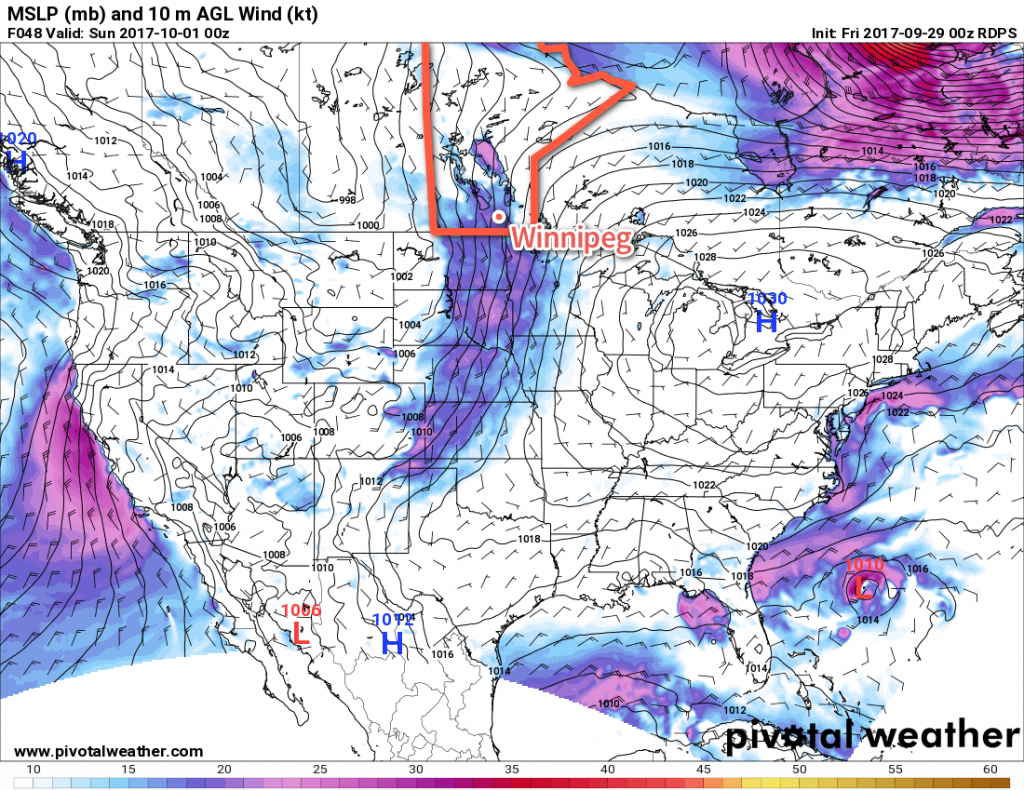 Saturday will be a warm and windy day with southerly winds increasing to around 40 km/h as temperatures climb to a well above-seasonal high of 19 or 20°C. Skies will be sunny through the morning, but cloud will begin working into the region from the south later Saturday afternoon into the evening. There will be a slight chance of some showers as the low-level jet ramps up and brings some mid-level instability to the region. Temperatures will continue mild on Saturday night with a low near 13°C and breezy southerly winds continued.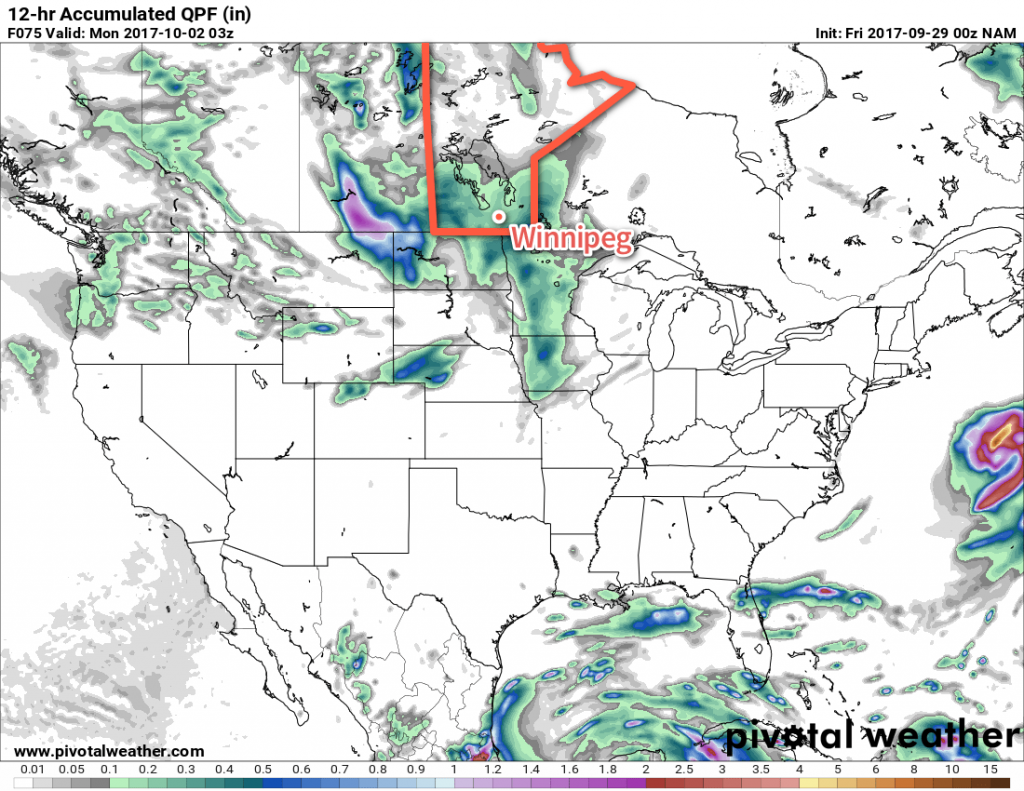 Sunday will bring cloudy skies to the region as a low pressure system moves in from the west. Winds will continue out of the south-southeast at around 30 km/h and temperatures will be just a tad cooler than Saturday with highs near 17°C. Showers will be possible throughout much of the day, particularly in the afternoon and evening as a more organized area of rain lifts northwards out of the Dakotas. There will also be a slight chance of seeing a thunderstorm as there will be a low to moderate instability associated with this system. A chance of rain will continue on Sunday night as temperatures dip to a low near 10°C.
Long Range
Next week starts with a bit of a mixed bag; the unsettled weather will likely continue on Monday before improving in the evening, but another chance for rain looks to materialize on Tuesday afternoon. The rest of the week looks drier, but with sporadic chances for some light rain. Temperatures will continue near- to below-seasonal for much of the week.
Winnipeg's seasonal daytime high is currently 15°C while the seasonal overnight low is 3°C.