Plenty more cloud cover lies ahead for Winnipeg this weekend as another warm front lifts northwards into the province and brings another round of showers and thunderstorms.
Winnipeg will see a bit of sunshine today with some breaks in the clouds expected throughout the day. Daytime highs will climb to a near-seasonal 19°C with light winds courtesy a ridge of high pressure moving through. Winnipeg will see a chance of showers later today as a weak upper-level disturbance rolls through. Temperatures will dip to a low near 8°C tonight with mixed skies continuing through the night.
On Saturday, a low pressure system over North Dakota will slowly lift a warm front north into the province. While Winnipeg may see a bit of sunshine in the morning, skies will cloud over through the day. Winds will be out of the northeast at 10 to 20 km/h. The cooler northeast winds will keep highs near-seasonal despite the advancing warm air.
Thunderstorm Threat Returns to Southern Manitoba Saturday Night
On Saturday night, a low pressure system will begin its trek from southwestern North Dakota towards Lake of the Woods. As it lifts northeastwards, elevated convection will once again fire north of the warm front, spreading showers and thunderstorms through a portion of southern Manitoba. This instability will persist into Sunday with the potential for showers and thunderstorms continuing through much of the day.
Given elevated convection 36+ hours out, there's still a lot of the details that remain unclear. Early indications are that another round of severe thunderstorms will be possible; guidance suggests a fair amount of instability and strong shear to help the elevated convection organize. Right now it looks most likely over the southern Red River Valley into southeastern Manitoba. It's early, though, and that could easily shift over the coming days. We'll be keeping an eye on it. Given the extensive cloud cover and proximity of the warm front, Saturday night will remain mild with a low near 14°C in Winnipeg.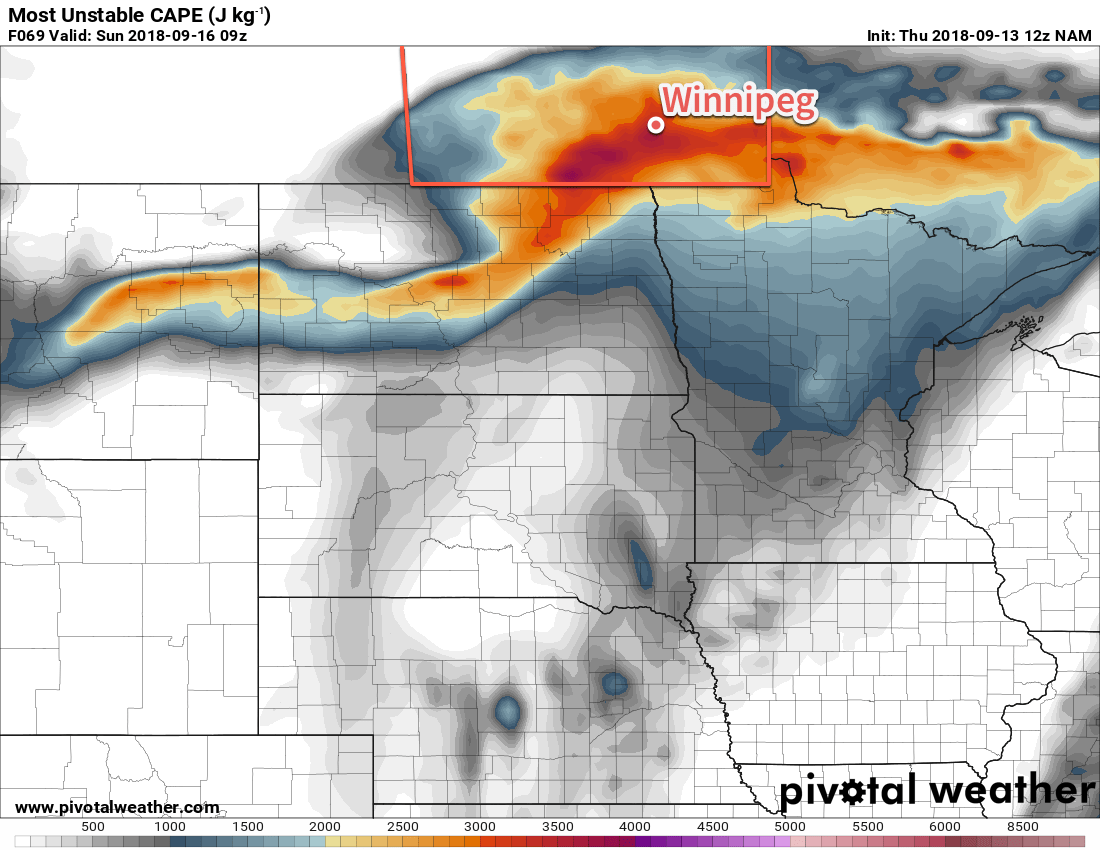 The instability continues through Sunday with a chance of showers or thunderstorms for Winnipeg. It won't be an all-out rainy day and most of the precipitation should end up north of the city. Winds will be out of the northeast at 15-20 km/h for much of the day. As the low passes in the afternoon, winds will shift northerly to 30 gusting 50 km/h. Temperatures should reach a high near 18°C, but much warmer temperatures will be in place just to the southeast on the other side of the warm front where highs near 30°C are possible, so areas closer to the US border, particularly southeast of Winnipeg, will see much warmer highs. Given the large change in temperatures across the front, if its position ends up a bit further north then Winnipeg could see a much warmer high.1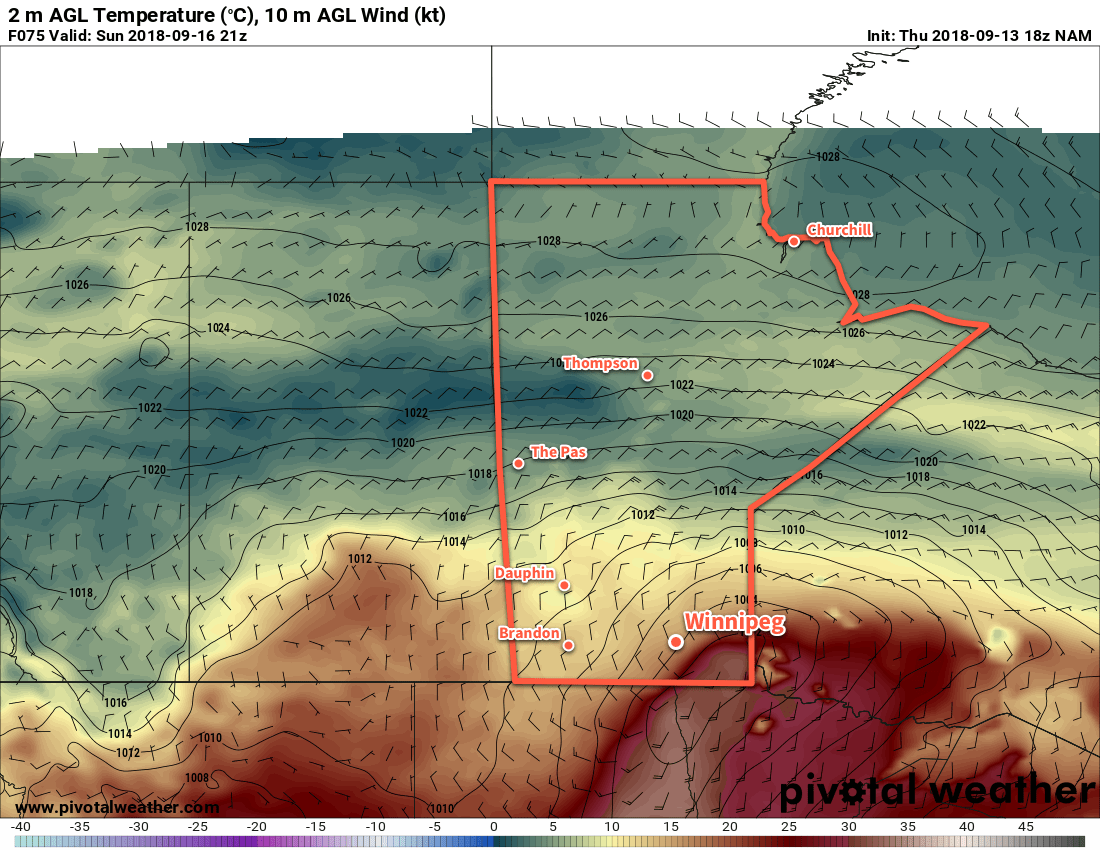 The cloud cover will remain as the precipitation moves off to the east on Sunday night. Temperatures will dip to a low near 9°C as cooler air pushes south behind the low.
Long Range Outlook
Monday will bring more cloud to Winnipeg with a slight chance of showers as a weak low pressure system moves through the region. Temperatures will be much cooler with a high in the low to mid-teens. The remainder of the week will bring mixed to cloudy skies and seasonal to slightly below-seasonal temperatures. Another batch of rain looks possible in the second half of the week. After a dry first two thirds of the year, it seems like Winnipeg may finally be beginning to catch up on its precipitation deficit!
Winnipeg's seasonal daytime high is currently 18°C while the seasonal overnight low is 6°C.
That said, it's not particularly common for warm air to push further north than expected at this time of year. ↩