A passing cold front later today will flush out the humid conditions in Winnipeg and leave behind a rather pleasant summer weekend.
It will be another humid start to the day in Winnipeg with dew points close to the 20 °C mark. That humidity will linger through much of the day with temperatures climbing into the upper 20s. Starting with the passage of a trough early in the morning, Winnipeg will see mixed to cloudy skies with a chance of showers or thunderstorms. Much of the activity will likely miss the city, but we can hope that a bit more rain can fall within its limits.
Showers and thunderstorms will develop along a cold front pushing through the region in the afternoon. The hot and humid weather ahead of the front will give any storms plenty of energy to work with. Severe thunderstorms will be possible with primary threats of damaging hail and wind gusts. With the humid conditions, these thunderstorms will also be capable of producing torrential downpours, but they should be moving quickly enough that accumulations would likely be in the 25–50 mm range.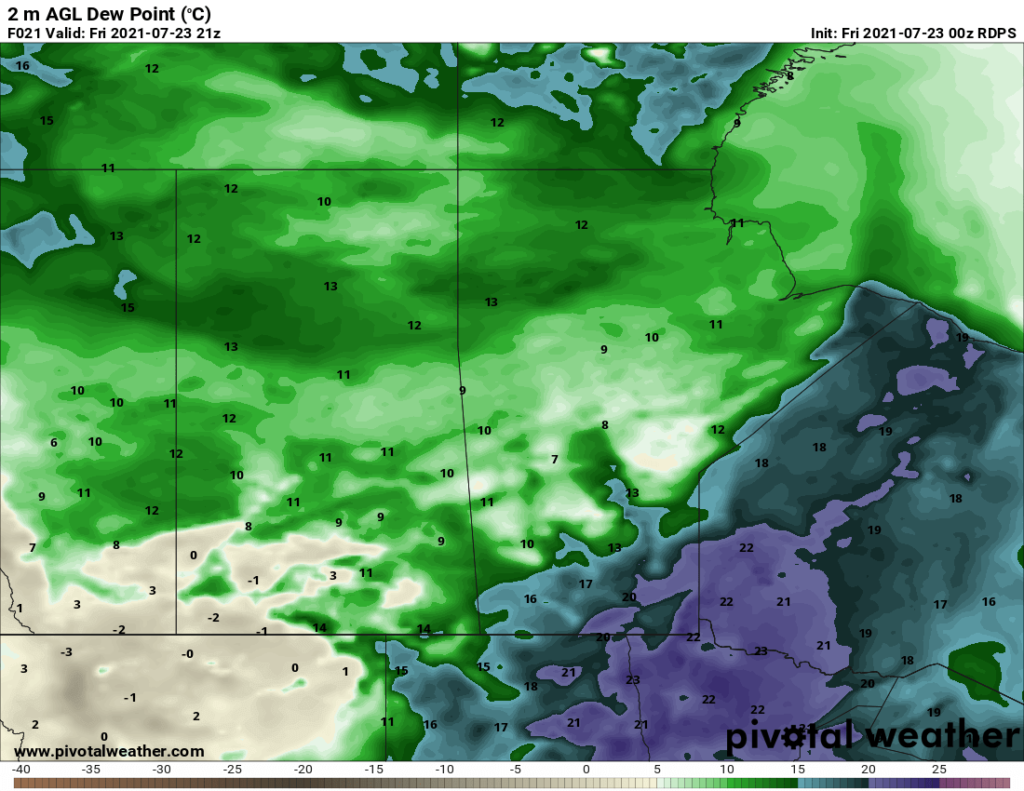 The biggest uncertainty is how the thunderstorm activity that developed overnight evolves through the morning hours as it moves towards the Red River Valley. However it goes, expect warm, humid, and mixed to cloudy skies until the cold front passes later this afternoon.
In the wake of the cold front, the biggest difference will be drier air moving in. Skies will clear out tonight with dew points dropping into the low teens by morning. Winnipeg should see a low near 17 °C.
Winnipeg will see standard summer fare this weekend. Highs will sit in the upper 20s both days with lows in the mid-teens. Winds will pick up out of the northwest on Saturday into the 30–40 km/h range. They'll ease for the night, then redevelop near 30 km/h on Sunday.
Skies should stay mainly sunny through the weekend.
Long Range Outlook
The next week is looking like a bit of a copy and paste job. Most days will see highs in the upper 20s and lows in the mid- to upper-teens. The forecast has little rain in it, but some unsettled weather is possible; multiple disturbances will move through the province next week..
Today's seasonal daytime high in Winnipeg is 26 °C while the seasonal overnight low is 13 °C.