Hot and increasingly humid weather is on the way for Winnipeg, bringing sweltering summer heat and unsettled conditions.
Summer will return in full force to Winnipeg today. An approaching low pressure system moving in from Saskatchewan has drawn significantly warmer air northwards overnight, and will continue to tap into a hot and increasingly humid air mass through the day. Temperatures will quickly climb into the mid-20s today, then head towards a high near 30°C. Dew point values – a measure of the humidity – will also climb into the 17-19°C range by the late afternoon. This is high enough that it will start to feel muggy outside and it will produce a humidex value in the mid-30s.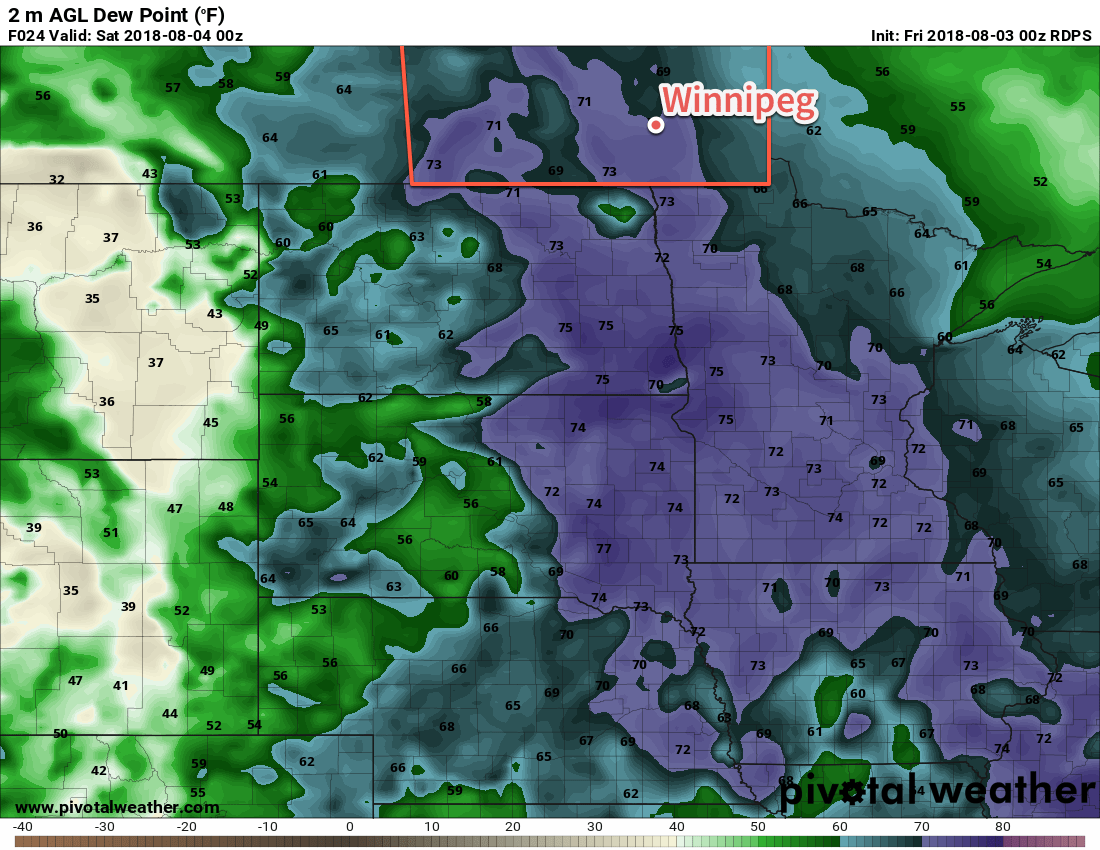 All this heat and humidity will, naturally, result in fairly unstable conditions from the Manitoba Interlake all the way south to the American border. MLCAPE values will climb into the 2000 to 2500 J/kg range by late afternoon, but a capping inversion of at least 60 J/kg should keep everything suppressed until late in the day. Shear is excellent in the Interlake with 0-6 km values in the 40 to 50 kt range with south-southeasterly winds at the surface veering to westerly aloft. Further south in the Red River Valley, shear values aren't quite as favourable with 0-6 km values in 30 to 35 kt range and the capping inversion is slightly stronger.
As the Saskatchewan low tracks into western Manitoba in the afternoon and onwards to the Interlake, it will likely support an area of thunderstorm activity. These thunderstorms will be strong to severe with primary threats of large hail and damaging winds, and – while not a marked threat – an isolated tornado is possible.
Further south in the Red River Valley, a trough of low pressure extending southwestwards from the low will move into the region late in the day. There's still a whole lot of uncertainty as to whether or not any thunderstorms will be able to develop along it. If thunderstorms manage to develop along the trough, it would likely be in the early evening, west of the Red River Valley, then progress eastwards over the next several hours. These storms would be strong to severe with the primary threats of large hail and damaging winds. Again, that's only if they're able to develop. Either way, with enough of the recipe in place today, it wouldn't be a bad idea just to keep an eye out in case Environment Canada issues any watches or warnings.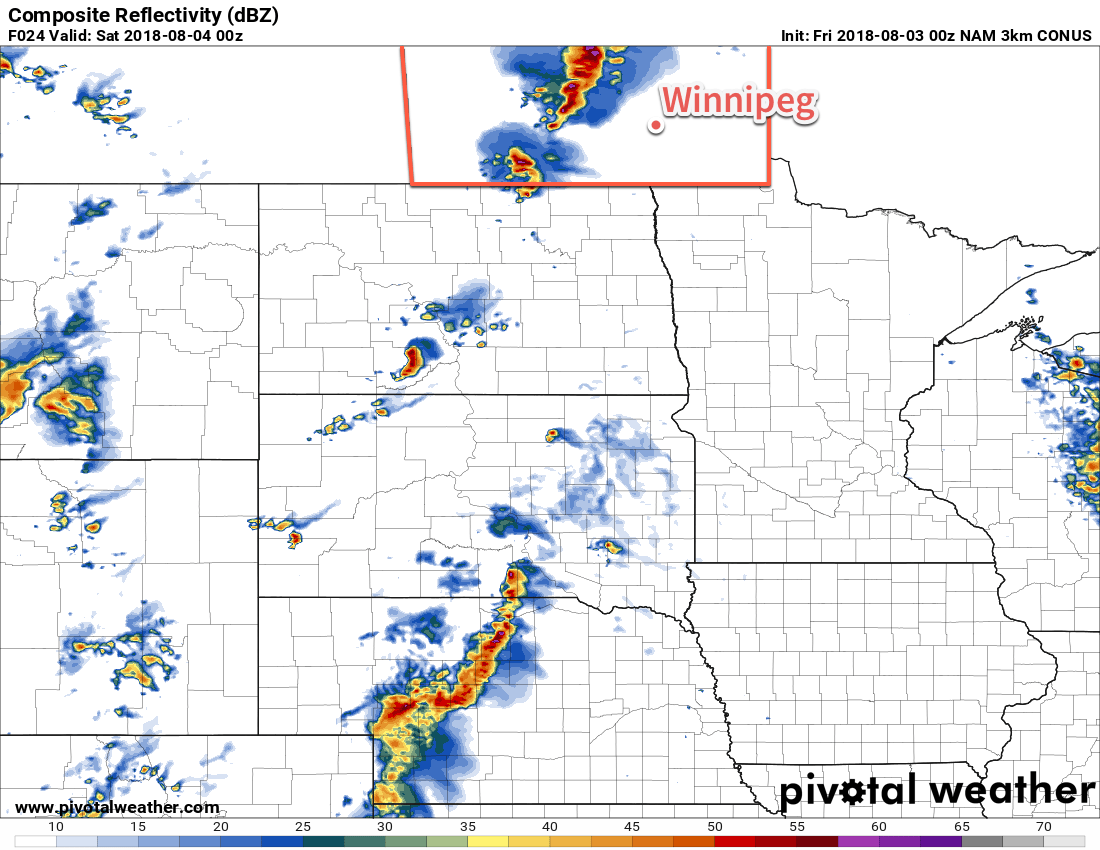 Everything should clear out by late evening, and Winnipeg will head to a low near 20°C. More cloud cover will move in early Saturday morning as a new upper-level disturbance begins lifting into the region from the United States.
As the upper-level disturbance moves into Manitoba on Saturday morning, it will likely bring an area of showers or thunderstorms with it. Timing is uncertain on this right now, but it will likely impact the region beginning sometime mid-morning until the early afternoon. Once it moves out, it will leave behind partly cloudy skies. High temperatures will depend significantly on how quickly it can move through the region. Right now it looks like the high temperature will reach around 26°C once the sun gets shining in the afternoon. If the system moves through faster it may get a bit warmer, or if it's slower than it might be ac couple degrees cooler. Skies will clear out for the evening as temperatures head to a low near 18°C.
A cold front passing through late Saturday night will bring more cloud back into the region for Sunday. Northwesterly winds near 30 km/h will lower humidity levels and bring a cooler daytime high in the low 20s to Winnipeg. Forecasts currently show the Red River Valley under mainly cloudy skies for much of the day with a chance of showers. The winds will ease in the evening alongside clearing skies. Winnipeg should see a low on Sunday night near 15°C.
Long Range Outlook
Seasonal to above-seasonal temperatures will return to start next week and persist through to the end of the week.
Winnipeg's seasonal daytime high is currently 26°C while the seasonal overnight low is 13°C.