Louis Riel Day was marked this year by a significant blizzard that brought much of the Red River Valley to a standstill. While snowfall was relatively light, with only 5–10cm reported in most localities (although a few pockets of 10–15cm did exist through the Southern portion of the Red River Valley), strong northerly winds that gusted as high as 70–80km/h produced blowing snow that gave whiteout conditions through most of the Valley.
Warm Front on Sunday, February 17
This system was marked by a warm frontal passage on Sunday near noon. Strong southerly winds brought local blowing snow to the region as an area of precipitation blossomed along the warm front. Here in Winnipeg, the precipitation fell as ice pellets first before switching to snow. Further south, a little deeper into the warm air, moderate band of freezing rain developed, coating Steinbach, as well as Highway 1 East, Highway 52 and Highway 59 in a layer of ice.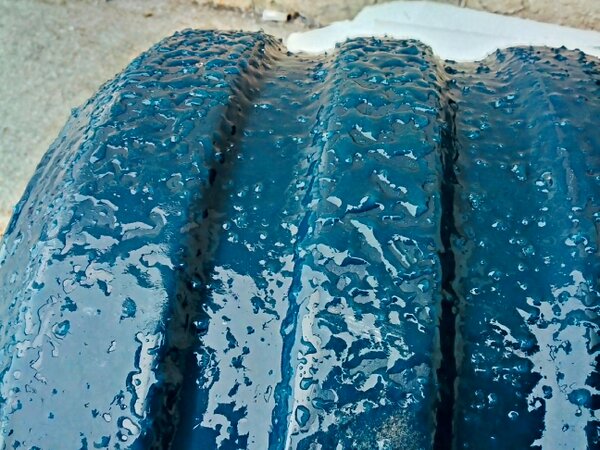 After this band went through, then winds slowly died off and we were able to enjoy a relatively nice afternoon. Near Steinbach, however, there were reports of numerous cars in the ditch due to "skating-rink"-like road conditions.
Cold Front and Blizzard, Sunday/Monday February 17/18
The cold front associated with this system passed through Winnipeg between 6–7PM CST; winds switched from southerly to calm to northerly and cloud ceilings rapidly dropped to 300–400 feet and a few hours of freezing drizzle happened in the low-level mixing immediately behind the cold front. By 10:30, winds began to pick up and the freezing drizzle switched over to snow. By midnight, visibilities had dropped to ½SM and would stay there or worse until roughly noon on Monday. To our south, conditions remained practically a white-out for an additional 6–7 hours, with visibilities not lifting above ¾SM until 7PM CST as sustained winds of 50–60km/h battered the area.
In total, around 3–6cm fell in Winnipeg, with areas on the south side of the city receiving nearly twice that of the central/northern portion. South of Winnipeg, snowfall amounts were appropriately higher:
Winnipeg: 3–6cm
Morden: 8cm
Morris: 10cm
Pinawa: 8cm
Steinbach: 11–13cm
As winds abated, colder air began working into the region. The temperatures have been on a downward trend all the way from Monday morning to the time of publishing this; temperatures are beginning to level off at –27°C.
Impacts
Twitter was a great source of information for what was happening during this event; between weather reports flooding in on the MBstorm hashtag and immediate communication about road conditions, it was relatively easy to get a grip on the significance of this system.
Some pictures came in early on Sunday as the band of freezing rain pushed through Steinbach: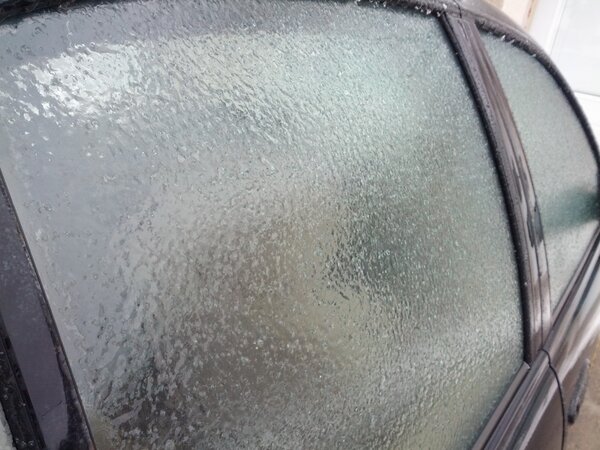 As the winds picked up, blowing snow quickly became the predominant impact over the Red River Valley: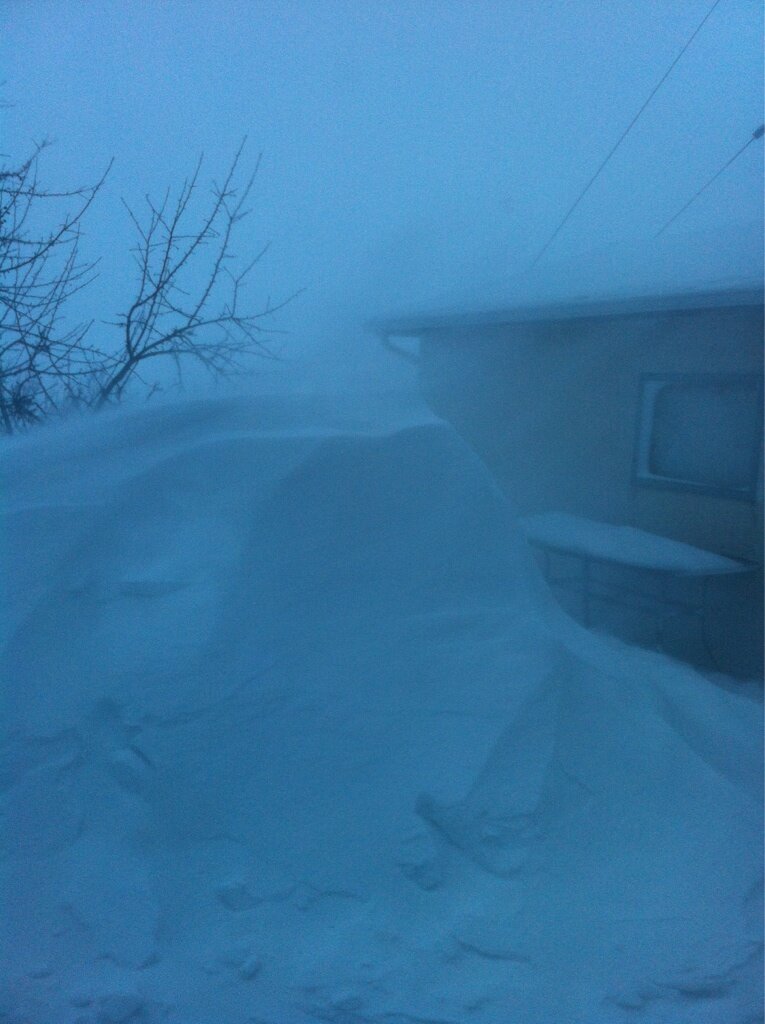 Some truly impressive images came out of Winnipeg Beach on Monday morning: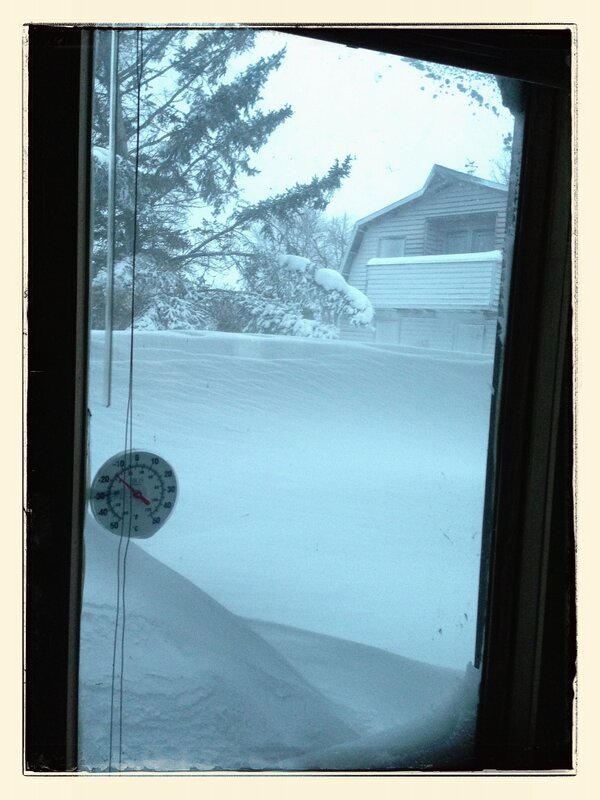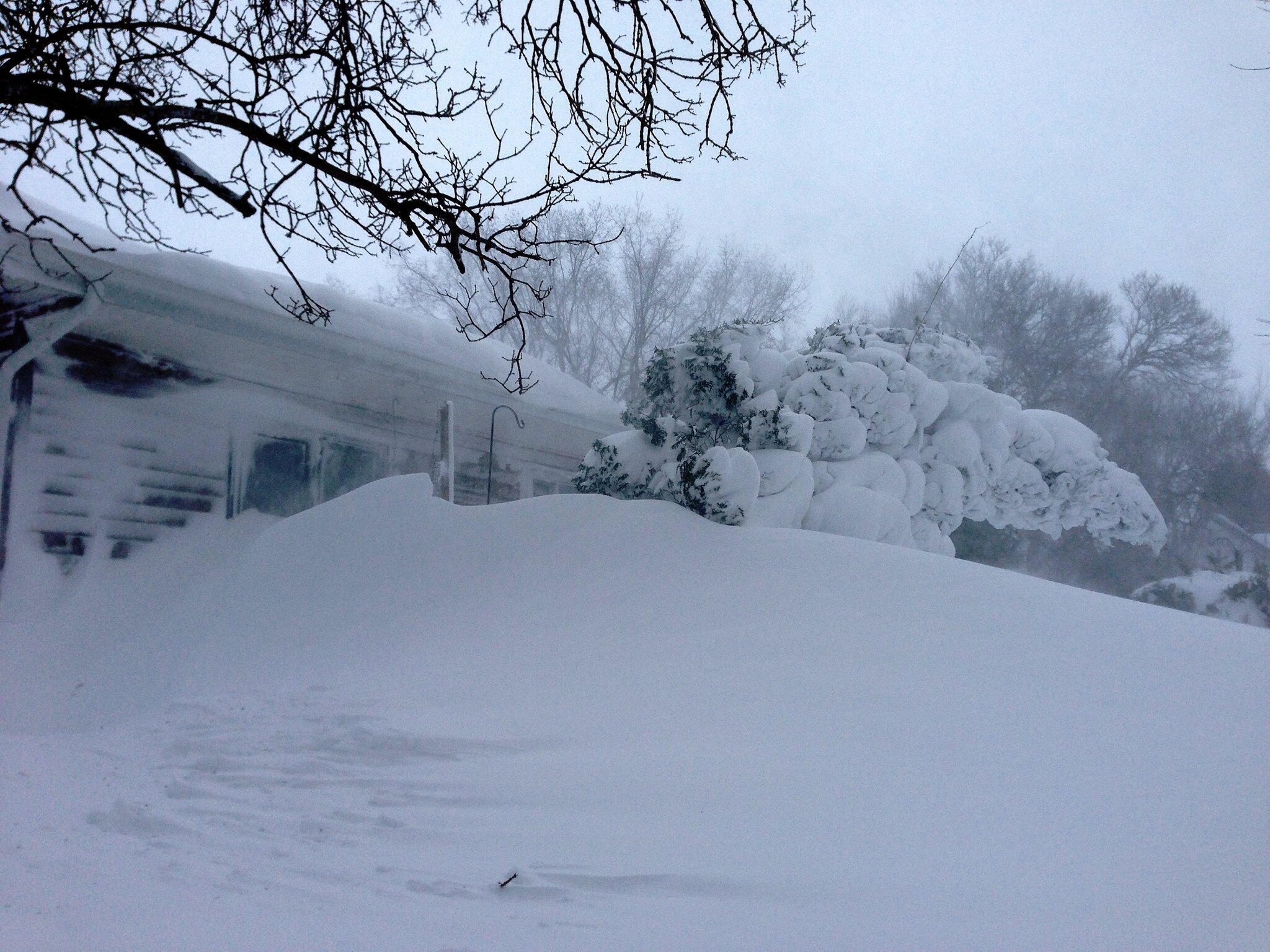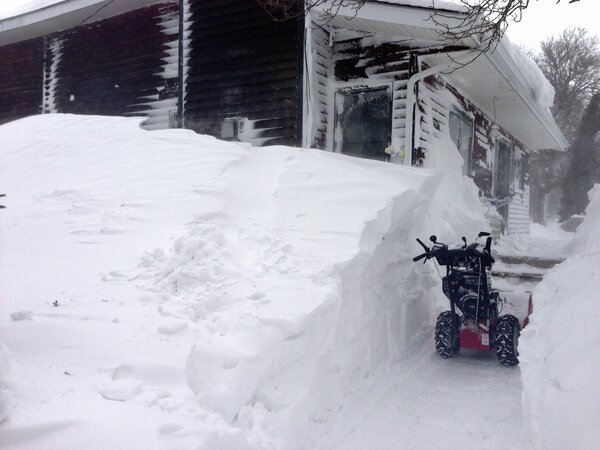 Conditions on highways were fairly brutal on Monday: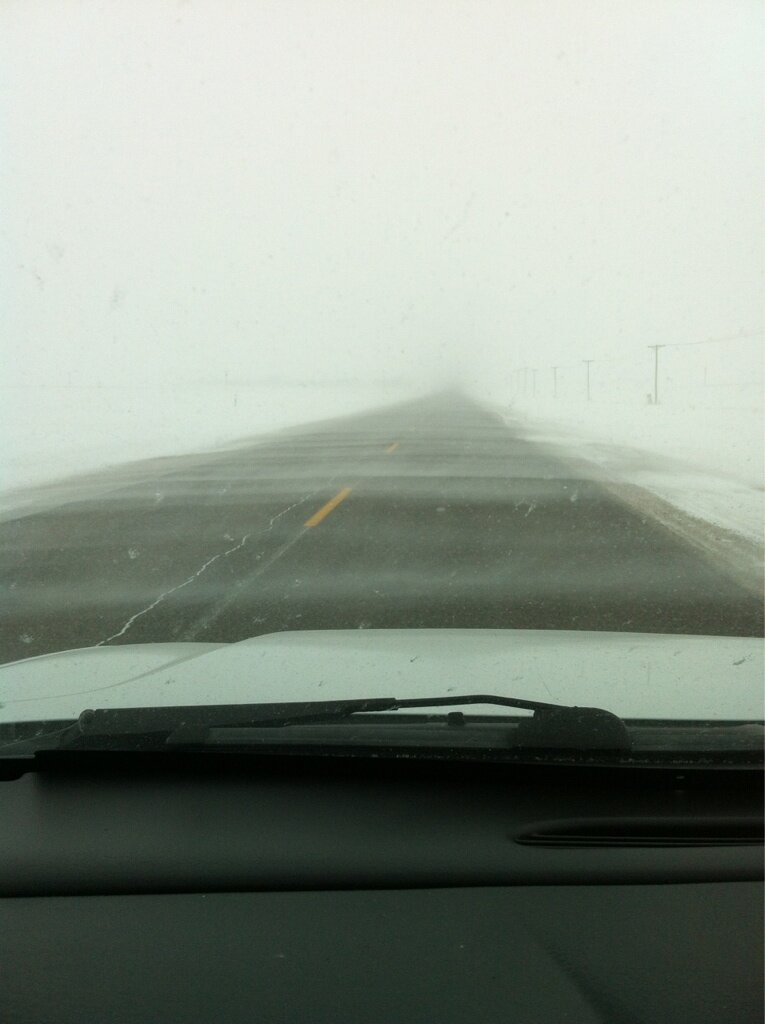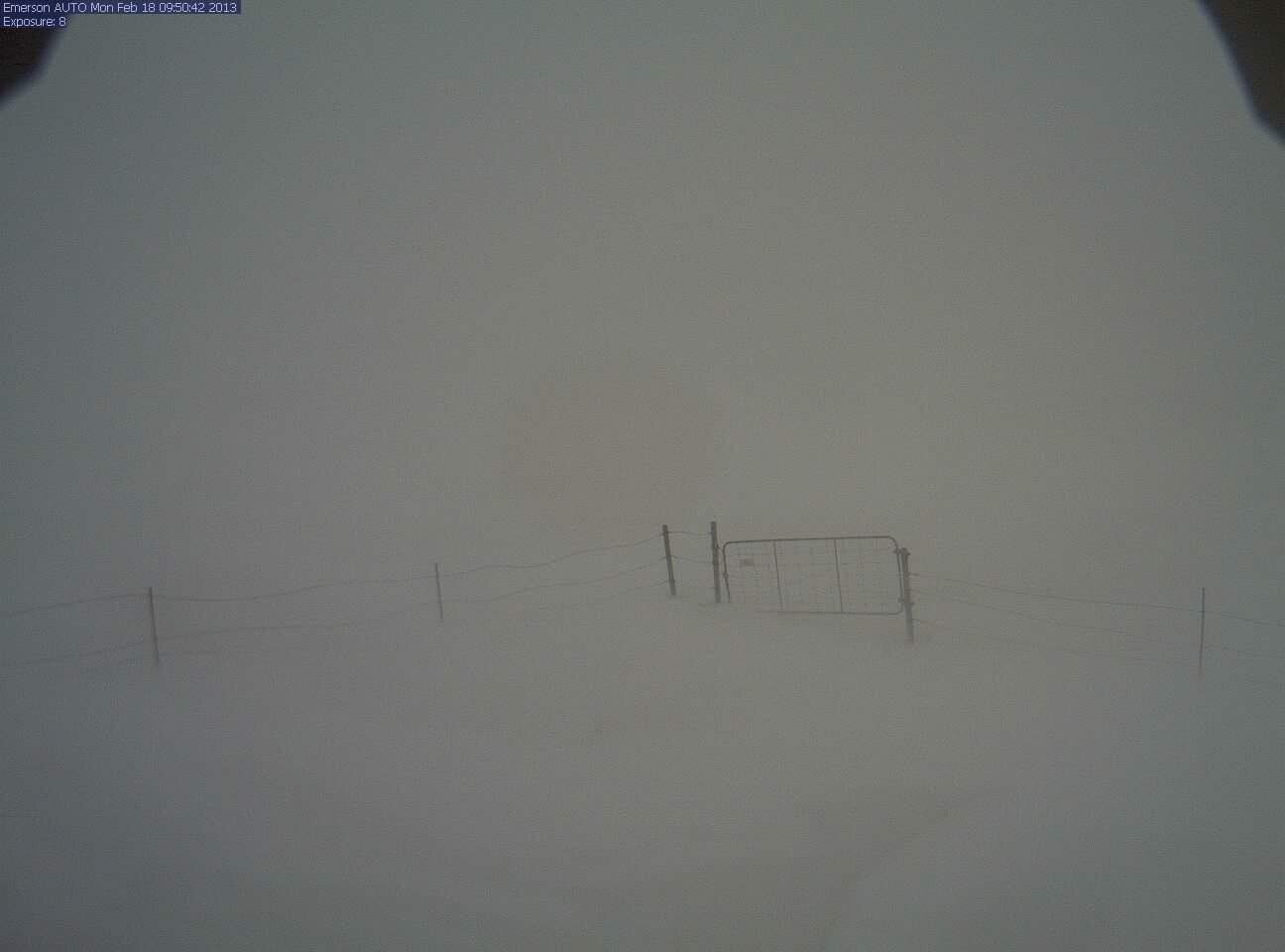 Even within cities in the southern Red River Valley, conditions got quite bad: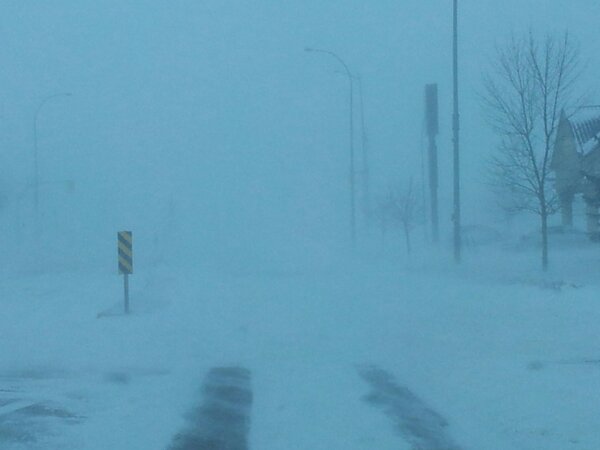 Many highways were closed for this event:
Highway 16 from Hwy. 50 to Hwy. 466
Highway 1 West from Portage to Winnipeg
Highway 75 from Winnipeg to the US Border; I–29 from the US Border to Grand Forks, ND
Highway 5 from Neepawa up to St. Rose.
Numerous traffic accidents occurred as well, keeping the RCMP quite busy:
A 10-car pileup occurred in St. Francois Xavier that involved several semi-trucks. No injuries.
3 semi-trailer trucks collided on Highway 1 west of PR 332.
Two semis smashed through road barricades in Headingly. A police cruiser was damaged by debris but nobody was hurt.
Perhaps most tragically, one man died in this storm. A 54-year old man was found dead near Landmark. He had left his car after driving into the ditch on road 45N. The road was slippery and visibility was near-zero at the time.
This was a very significant blizzard that had huge impacts on the Red River Valley. Fortunately, residents had plenty of time to prepare as Environment Canada issued special weather statements on Friday morning addressing the potential for a significant blizzard and carried them through to the issuing of warnings.
<
p>If you have any pictures you'd like to share, leave them in the comments below or send them to aweathermoment at shaw dot ca.