Germany witnessed just about every type of severe weather over the past two weeks – tornadoes, golf ball size hail and severe straight-line winds.
[map autofit="1″ disable_scrollwheel="1″] [pin]Freiburg[/pin] [pin]Stettenhoffen[/pin] [/map]
This past week the atmosphere was primed for a second round of severe weather in the southwest part of Germany as a stationary front was draped across the region. The front separated warm moist air from the Mediterranean and cool air to the north of it, providing a sufficient trigger for storms. Modest MLCAPE values and veering wind profiles were also in place which meant that all the ingredients were in place for supercells. On Wednesday the 13th ESTOFEX, which issues forecast categories of potential danger for severe thunderstorm days (similar to the Storm Prediction Center), issued a level two threat – one below the highest level.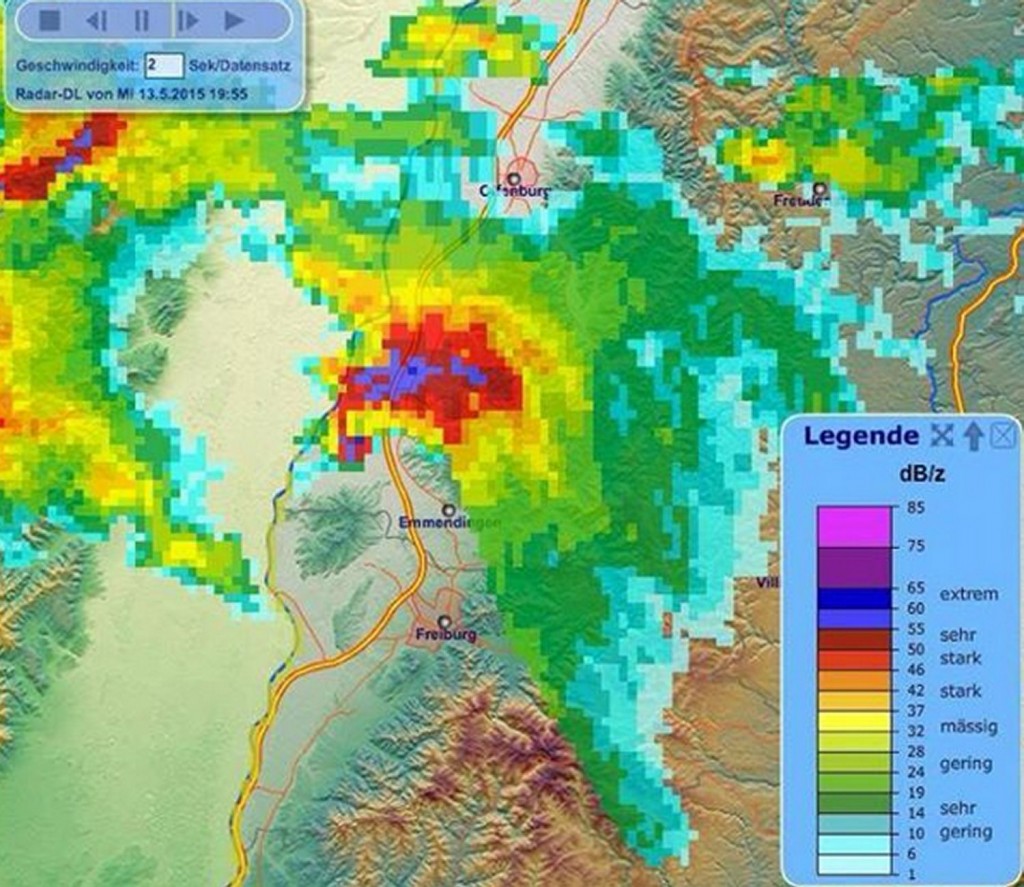 One impressive supercell formed just north of Freiburg, Germany which dropped 5cm diameter hailstones on the outskirts of the city – these reportedly injured a dozen residents. As it continued further east-northeast, the storm went on to produce what residents called a tornado, which damaged about 150 homes in Stettenhoffen and surrounding areas. The "tornado's" strength is still being investigated and meteorologists are also looking at the damage paths to see if it was in fact a tornado or simply very strong straight-line winds. Some residents were injured from debris but luckily no one perished from the nasty storm.
These storms come about a week after a severe weather outbreak hit Germany in the first week of May. This outbreak consisted of several tornadoes in northern Germany as well as a potent bow echo that raced across the region bringing gusts of over 120km/h.