This week will start off on the cool side as a brisk northerly flow builds in behind this weekend's Colorado Low. Temperatures on Monday will be downright chilly for mid-May.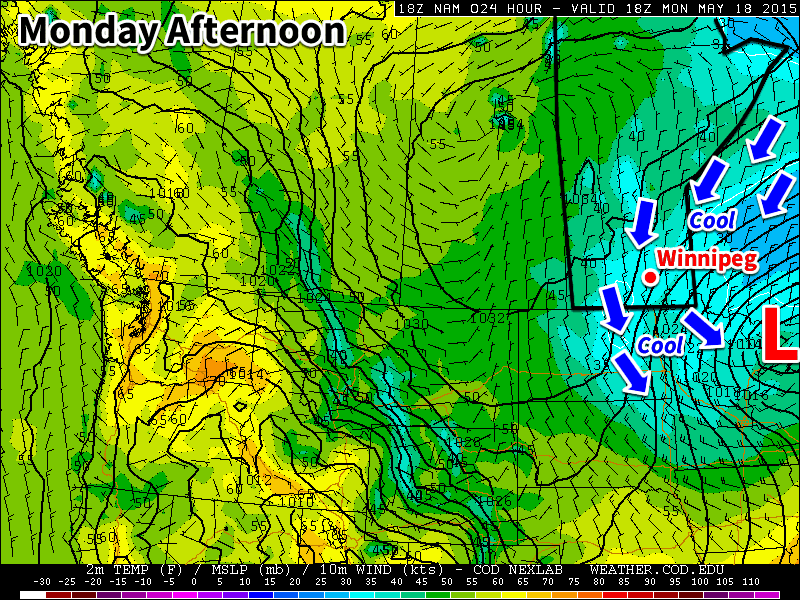 Monday
We'll see skies gradually clear today as the system that brought us rain (and snow) this weekend departs. It will remain very chilly though, as temperatures barely climb into positive values. Daytime highs will only make it into the low to mid single digits, which should hopefully be enough to melt a good amount of the snow that fell. Winds will be northerly at 40 km/h gusting to 60 km/h, but will taper off throughout the day as the system pushes further off to the east.
Tuesday
Tuesday will remain on the cool side, but should be a fairly pleasant day (at least relative to the weekend!). High pressure will build into the region behind the weekend's low pressure system, bringing much calmer conditions. High temperatures will climb into the teens under mainly sunny skies and light winds.
Wednesday
Wednesday will be quite nice as temperatures climb into the upper teens under mainly sunny skies. Winds will be relatively light and from the north-west, making for another pleasant day.
Long Range
The long range forecast shows conditions remaining slightly below normal through the end of the work-week. There are hints that we'll see warmer conditions build in by the weekend, but it's too early to say for sure. In general, models show us transitioning to a generally warmer pattern toward the end of the month, although there will still be some cooler days mixed in here and there.