As Brad forecasted on his Friday post, severe storms were expected on Saturday across southwest Manitoba as a result of an upper level ridge that rounded the southern Canadian Prairies began breaking down. Scott and I decided on Friday night to head out from Winnipeg for a chase around noon on Saturday in expectation of the severe storms.
July 9th
We decided, as our general target area, to head south of Brandon and refine the area as the early afternoon wore on because elevated convection was ongoing in the region. As we headed down highway 2, conditions looked promising for surface based storms as there wasn't much cloud cover near border regions.
Initially we kept an eye on bubbling cumulus near Melita as we blasted west, however as we approached the so thought "elevated storms" near Souris it was evident that the storm had become surface based. Clear skies and warm temperatures south of the storm allowed the storm to ingest surface parcels as it dived southeastward. As we initially got close to the storm, we saw that the storm had a ground scraping shelf cloud – some of the best storm structure observed in southern Manitoba this year was observed west of Ninette. We continued to follow the storm in a southeasterly fashion and rotating wall clouds formed on a few occasions near Minto and Dunrea. It was also evident that the storm was producing damaging hail as the core had a greenish tinge of color.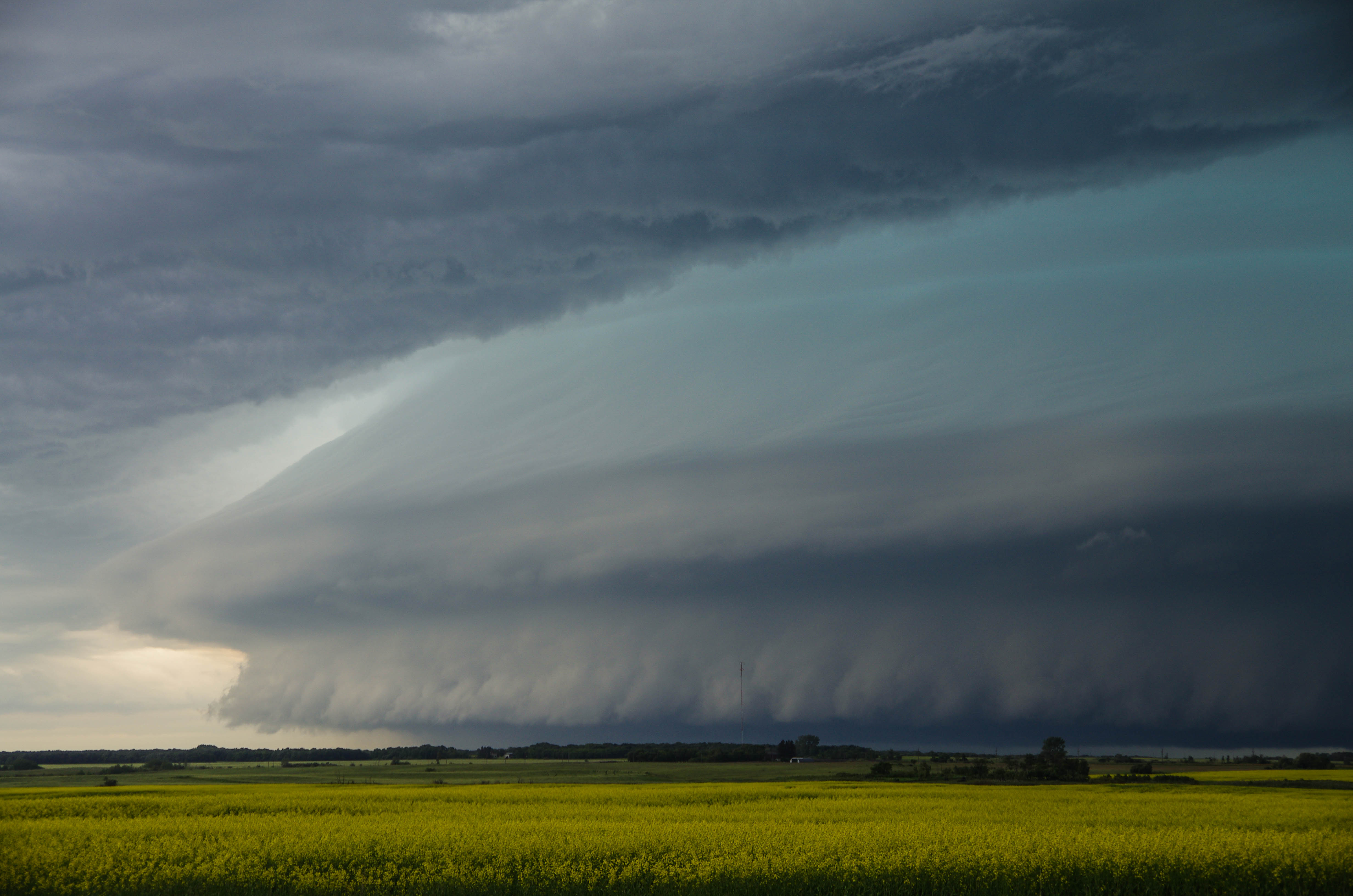 Ongoing storms south of the border near Devils Lake spat out rain-cooled air and the supercell storm eventually began dying off near Cartright. Regardless, we continued to follow it south of the border until it eventually gusted out by late afternoon. We then looked at the weather models and saw that the next day could once again produce strong storms, this time in western North Dakota so we headed to Minot for the night.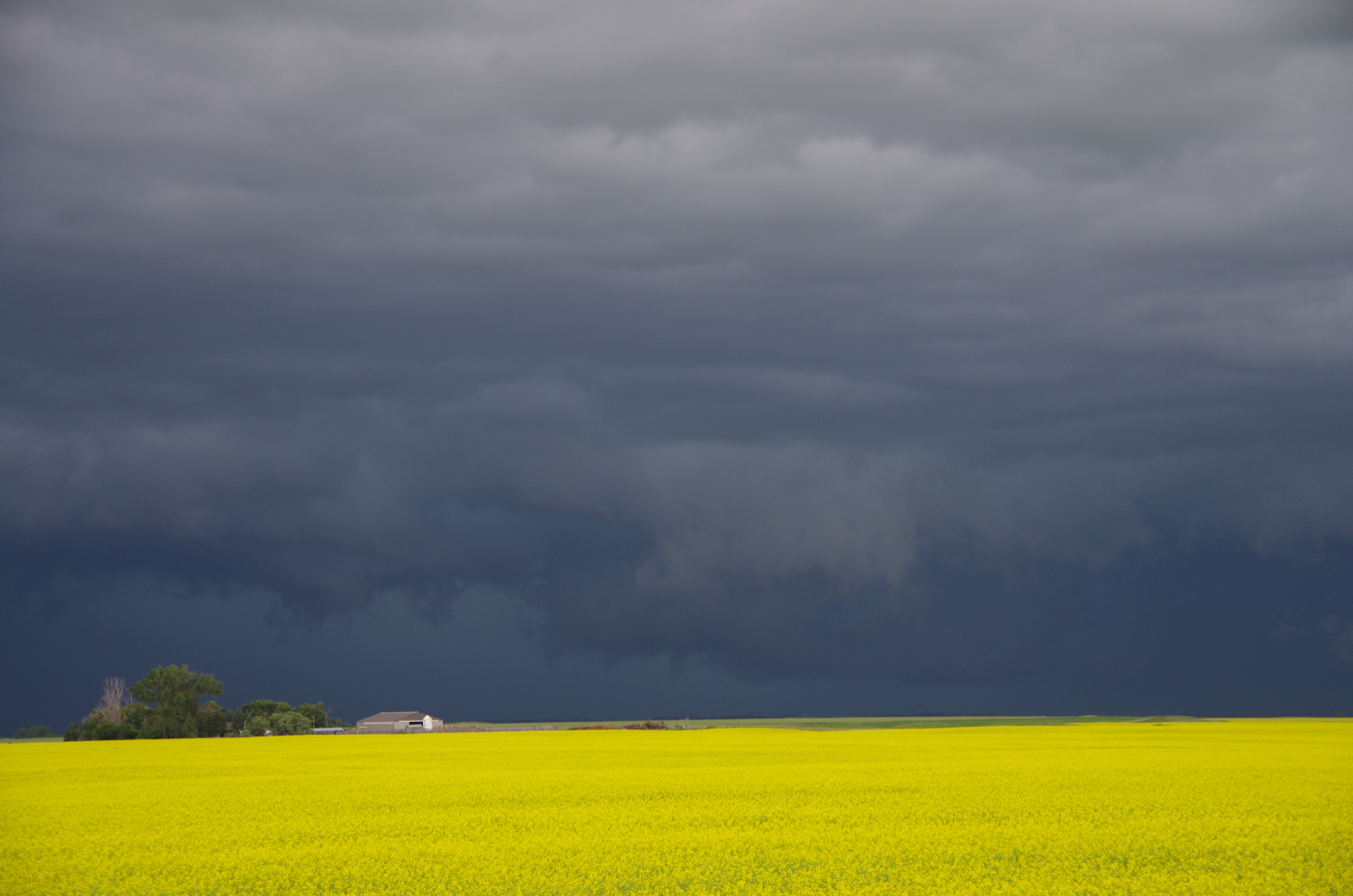 July 10th
On the morning of the 10th we did our analysis and looked at short term convective models only to find that there was much disagreement as to what would happen during the afternoon. Most models did convect strong storms in the Dickinson area so we headed in that direction, from Minot. Unfortunately we forgot to check for construction delays before leaving and picked a highway that had construction for over 30 km. After a scenic route through the badlands of western North Dakota, we approached our target area. Simultaneously, storms began to form to our southwest near Baker, Montana – great timing!
We passed through Killdeer, North Dakota and headed to Dickinson to orient ourselves south of the storm. By then the storm was a full-fledged supercell. Once again it was evident that the storm was chucking very large hail. Green skies were present and the radar depicted reflectivities of over 70 dBz, we had to make sure not to get caught in the core of the storm. We first took a peek at the storm just northwest of Dickinson – this is when the storm looked best. A rotating wall cloud was observed and the storm appeared to be close to producing a tornado. Only about a half-hour or so after the wall cloud was initially observed however, the rear flank downdraft (RFD) of the storm had a mighty surge, near Killdeer. The RFD undercut the updraft portion of the storm and formed a shelf cloud – it was then evident that the storm had little tornado threat so we abandoned it. It did however have a significant wind and hail threat – Killdeer took the brunt of the storm and significant damage was observed to cars and houses.
We then bailed south to a secondary cell that had formed in extreme southwest ND. Lift along the front was too strong for any significant tornado potential and storm became linear. A bow echo was taking shape. We were, however, treated to an exceptional light show on the way back to Bismarck and 90km/h winds with torrential rains as were experienced as we cored the bow echo.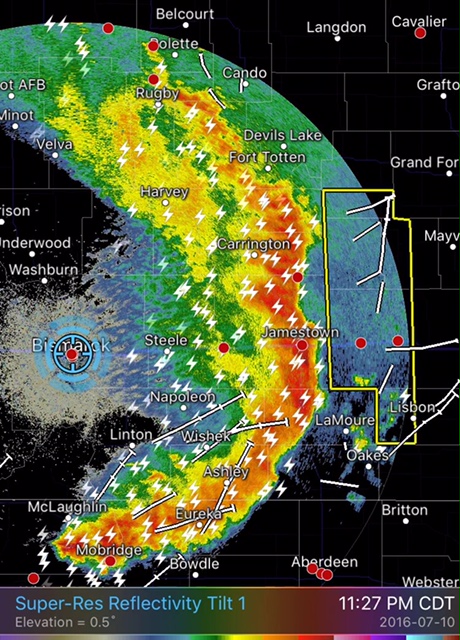 (Un)fortunately the tornado potential did not pan out for our two day chase trip, but overall some great storm structure and lightning was observed!