A very cool start today with temperatures in the low single digits will be the last of the near-freezing temperatures we'll see for a while thanks to a push of warmer air spreading eastwards across the Prairies that will bring summer-like warmth back to the region. The warmer weather will be a welcome sight to many after a week that has seen distinctly fall-like weather and gloomy cloud.
All in all, there isn't much to talk about on the weather front for the coming days. Today will start off quite cool and see the temperature gradually rise to around 19°C. There may be some fog patches around this morning, but they should burn off fairly quickly after the sun rises. Winds will be fairly light and other than some afternoon clouds bringing mixed skies, there won't be much going on in the Red River Valley. Temperatures drop to around 10°C under clearing skies tonight.
Tomorrow will see warmer weather begin to work into Southern Manitoba as a flow of warmer air pushes in from the west. Winds out of the south at around 20km/h will mark the arrival of the warmer weather, sending daytime highs to around the 23°C mark across the region under mainly sunny skies. Our overnight low will be considerably warmer tomorrow night at around 13°C.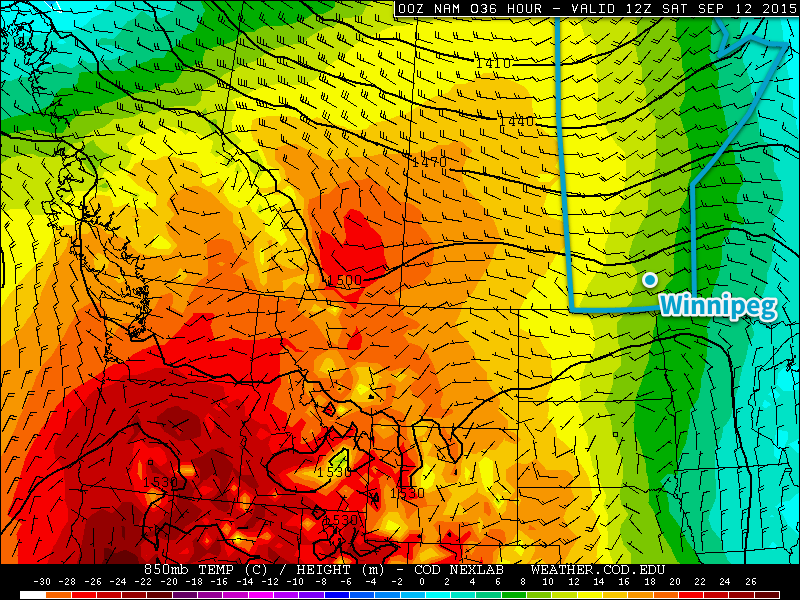 Sunday will the the warmest day of the next few with a high around 26°C under mainly sunny skies. The winds will be a bit more notable, strengthening out of the south to around 30km/h with some gustiness possible on top of that. Overall, though, it will be a very pleasant day. Expect an overnight low just a tad cooler than Saturday at around 11°C.
Cooler Start to Next Week
A weak cool front slumping southwards on Sunday night looks to stall over extreme southern Manitoba on Monday, bringing a bit more cloud cover and cooler daytime highs through the first half of the week. Precipitation looks fairly minimal for areas along and south of the Trans-Canada highway, but a more organized chance for precipitation appears to develop for the northern Parkland & Interlake into Central Manitoba as a low pressure system develops and lifts northeastwards mid-week. This should once again bring warmer weather back to the Red River Valley.