A beautiful end of week is on tap as temperature soar well above seasonal values with plenty of sunshine on tap. Things will take a slight turn for the end of the weekend as a cold front slumps through the Red River Valley and ushers in a windy return to temperatures that are…just slightly above seasonal values.
Today and tomorrow will be gorgeous days with daytime highs in the mid-to-upper 20's soaring more than 10°C above seasonal for this time of year. The wind will be fairly noticeable, however, increasing each day out of the south to around 30–40km/h, with some gustiness particularly on Saturday. Expect overnight lows in the low to mid-teens.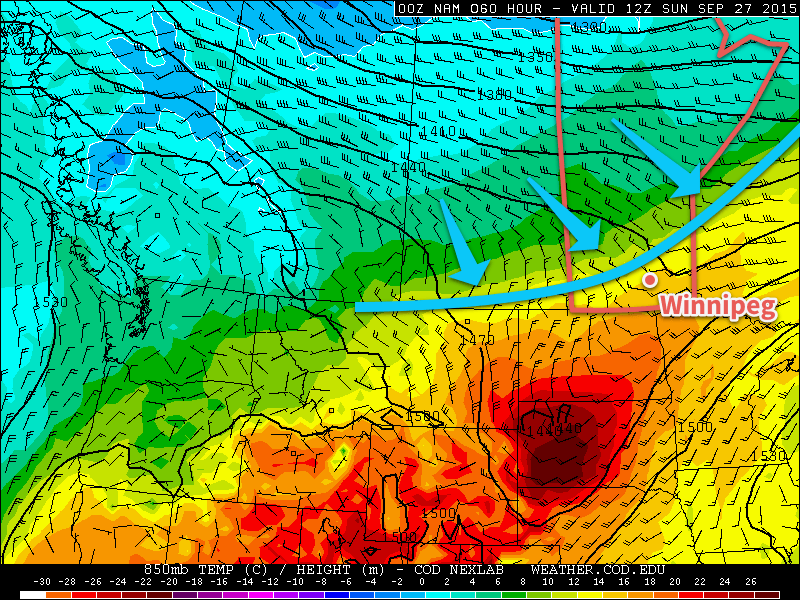 A cold front will slump through the Red River Valley on Saturday night, shifting the winds to the northwest late overnight and bringing a slight chance of showers to the region. Overall, the frontal passage looks to be fairly dry with little precipitation expected.
This will lead to a breezy Sunday with a high that, while still above seasonal, will be quite a bit cooler than the prior couple days, likely settling near the 20°C mark. While the morning cloud will clear out, some variable cloudiness will likely develop as things warm up a bit in the afternoon, leading to a bit of a mixed sky through the day. The low temperature will dip into the mid-single digits on Sunday night.
Before that happens, though, we'll have two beautiful late-September days to enjoy!