Most of southern Manitoba will be at risk tonight as the potential for the first frost of the fall looms.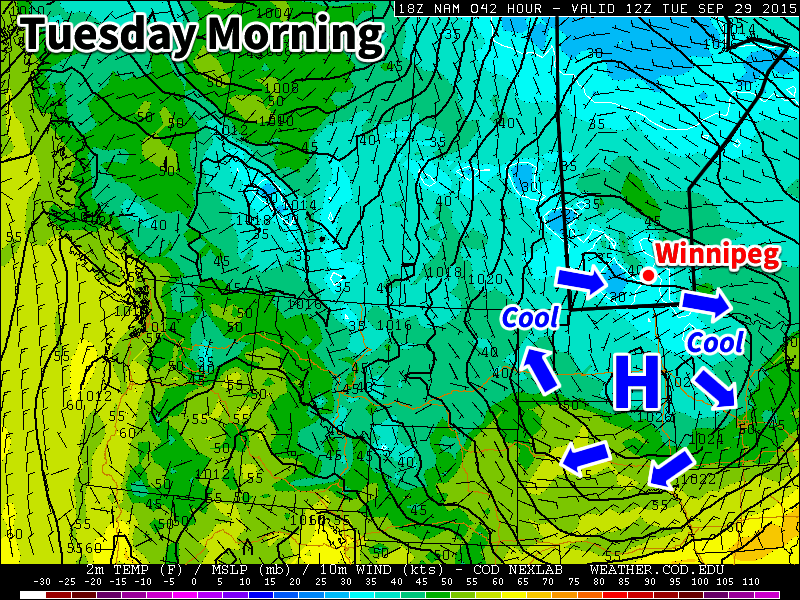 Monday
Today will feature mainly sunny, but cool conditions. A surface ridge of high pressure will bring about chillier weather in southern Manitoba, with daytime highs only in the low teens. The wind won't make it feel any warmer, with speeds of 30km/h out of the north-west.
Skies will remain mainly clear overnight into Tuesday, allowing temperatures to drop near the freezing mark. Low-lying areas are very likely to receive frost on Monday night. Elsewhere, frost will be more spotty, but the outer edges of Winnipeg will be at risk, with the downtown area likely staying above freezing.
Tuesday
After we warm up from near freezing temperatures on Tuesday morning, the rest of the day will be rather pleasant. Temperatures will climb into the mid teens under mainly sunny skies and light winds. Overall, it will be a fairly typical late September day.
Wednesday
Wednesday looks to be the warmest day in the first part of the week, with temperatures in the mid to upper teens. The wind will be gusty from the south or south-east though, making it less pleasant than it would otherwise be. Skies will range from a mixture of sun and cloud to mainly cloudy.