The cold weather evidenced by a temperature that dipped down to a very chilly –3.8°C at the Winnipeg Airport on Tuesday morning has quickly been replaced by more seasonal conditions which will persist through the remainder of the week. Sunshine will be a bit harder to find, though, with plenty of cloud and unsettled weather in place as low pressure system stalls out over Southern Manitoba.
Today will start off fairly pleasant with temperatures in the 8–10°C range and partly cloudy skies. The cloud will only increase as the day progresses, however, ahead of an approaching low pressure system. As the low gets closer, winds will strengthen out of the south to 30–40km/h, with some gustiness on top of that, while the temperature climbs towards our daytime high of 17°C.
Scattered showers will develop through the afternoon and become more widespread heading into the evening. There's a very outside chance of a thunderstorm, but the risk is quite isolated and something along the lines of isolated moderate to heavy showers activity is more likely. Rainfall amounts overnight will vary widely with anywhere from 2–10mm generally expected, however localized patches of more or less are possible. Winds will continue out of the south to southeast at 30–40km/h overnight with a low near 11°C.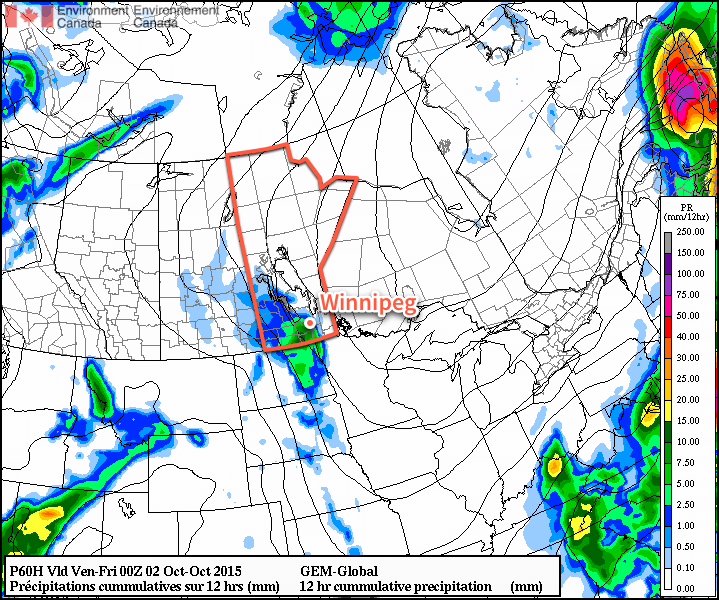 Thursday will see the showers gradually taper off through the day as temperatures climb to around 15°C with breezy south-easterlies continuing at 30–40km/h. Skies will remain fairly cloudy through the day and into the overnight hours. Some clearing will work its way into the Red River Valley from the east overnight as temperatures dip to around 7°C.
Friday will finally bring clearing skies and slightly warmer temperatures as the cloud pushes off to our west. Winds will remain fairly breezy at 30–40km/h for much of the day before tapering off towards evening hours. Temperatures will climb into the upper teens for daytime highs through the Red River Valley and dip down to a chilly 5°C or on Friday night.
Pleasant Weekend Ahead
All things considered, this weekend will be quite pleasant. Just a few clouds are expected to be around with daytime highs in the mid-teens & less windy conditions than we'll have rounding out the work week.