A weak Colorado Low will bring a swath of rain across Southern Manitoba today as it passes through the Northern Plains of the United States. The chance for rain will return on Saturday before a bit more stability moves into the region, resulting in a relatively pleasant late October weekend.
The main weather story today will be the Colorado Low passing to our south. Rain will begin fairly early this morning as it spreads up from the south through the Red River Valley and into the Interlake. The rain will persist through much of the day—although there may be a few lighter periods—and taper off in the evening.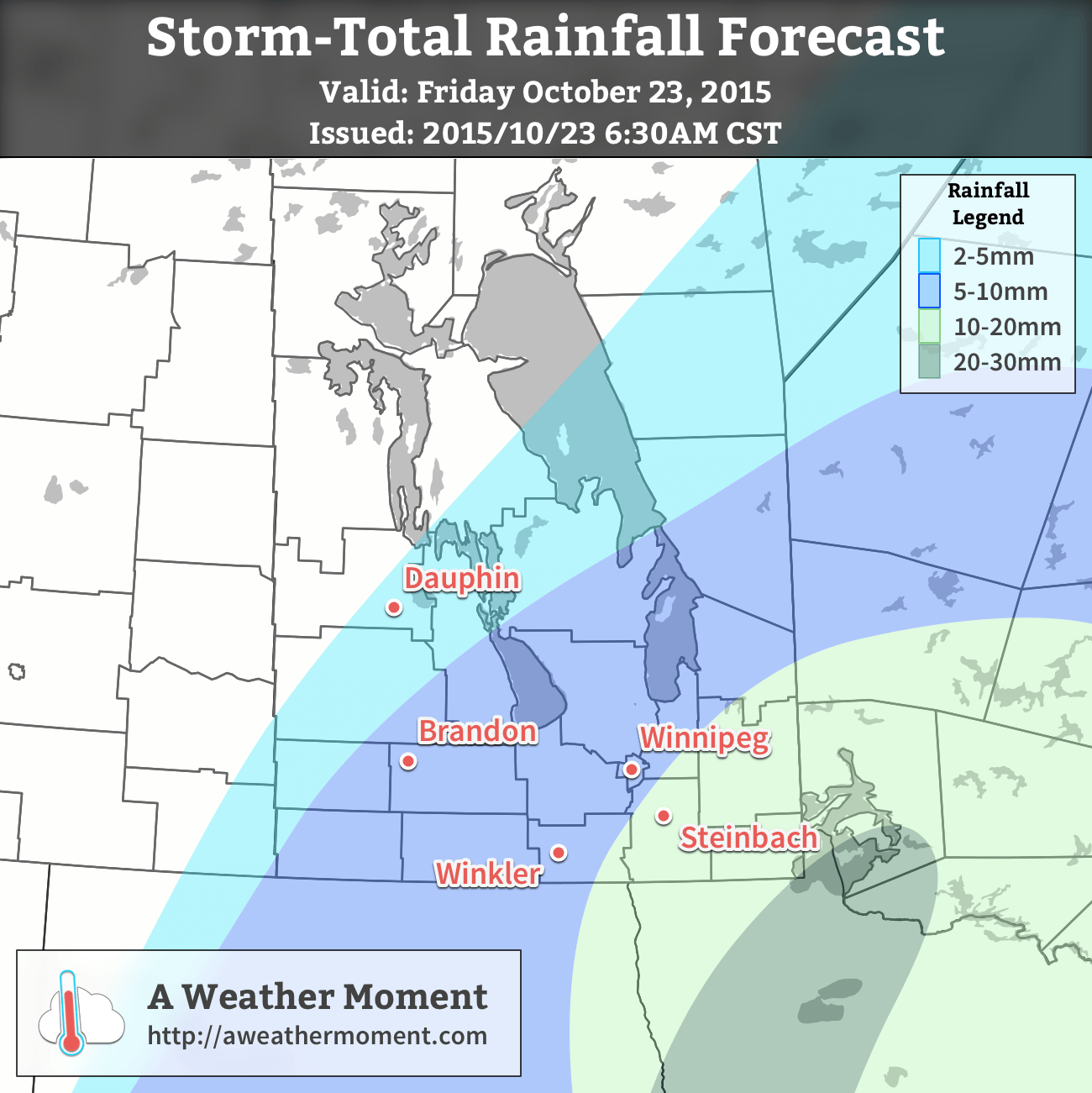 Much of Southern Manitoba will see between 5–15mm of rain, with generally lower accumulations west of the Red River Valley and increasing accumulations heading towards the southeast corner of the province. Here in Winnipeg, we'll likely see close to 10mm of rain. Aside from the rain, the winds will be fairly light through the Red River Valley with daytime highs climbing to around 9°C. Heading into the evening hours, the wind will likely pick up a bit out of the northwest to 20–30km/h.
As the rain tapers off overnight, we'll likely see the clouds scatter out and winds diminish. Temperatures will dip down to around 1°C.
Saturday will bring mixed skies and relatively light winds. Much of the day will be dry, but a secondary disturbance pushing in from the northwest will bring a batch of scattered showers through late in the afternoon or early evening and persisting into the overnight period. Temperatures will climb to around 13°C on Saturday and then drop down to around 2°C on Saturday night.
Sunday will be a pleasant day, despite being fairly cloudy. Winds should be relatively light and the daytime highs will be near 7°C. Clouds should clear out overnight, making for a cool low near –2 or –3°C.
Cooler Weather to Start Next Week
Much cooler weather will be in place to start next week with daytime highs likely in the 3–6°C range. Monday looks sunny but perhaps windy in the afternoon ahead of a forecast low pressure system that will bring a chance of rain to southern Manitoba on Tuesday. This system could potentially produce another moderate rainfall event, but it's too early to really speculate too much. After that, the remainder of the week looks fairly quiet with more seasonal temperatures returning for the second half of the week.