The weather will be relatively pleasant for late October over the next couple days with above-seasonal daytime highs expected and a fair amount of sunshine. Things will take turn on Friday for the end of the week as a Colorado Low sets its sights on Southern Manitoba and brings a decent shot of rain along with it.
Today will see the cloudy skies that start the day gradually break up and become mixed to partly cloudy. Winds will pick up through the morning and make for a fairly windy afternoon with gusty northwesterlies at 40–50km/h. Today's daytime high near 12°C will be around 4–5°C above the normal daytime highs for this time of year. Heading into the evening, the winds will taper off and skies will clear as a ridge of high pressure pushes into the province. Expect an overnight low near –2°C.
Thursday will be quite a pleasant day with relatively light winds at 20–30km/h out of the southeast and a high once again near 12–13°C. Clouds will move in overnight as we head to a low near 5–6°C.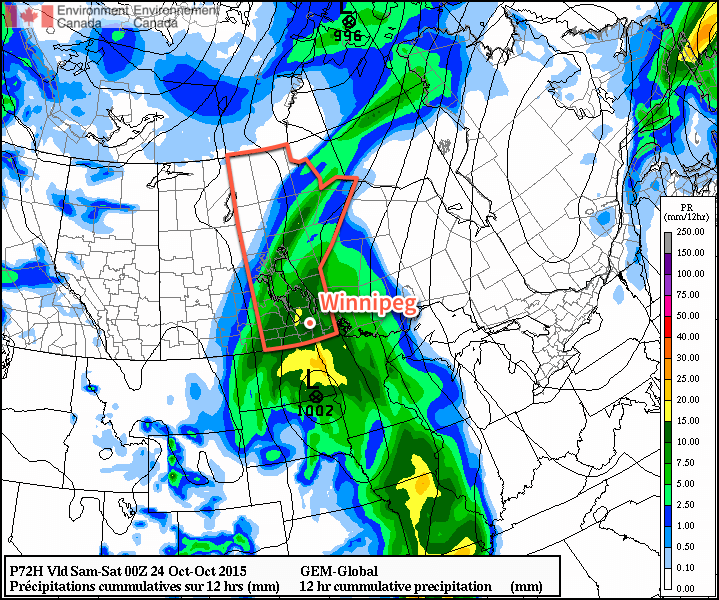 Friday will see the Colorado Low push into North Dakota and Minnesota, spreading an area of rain northwards into Southern Manitoba. There's a surprising amount of agreement in the track of the low, but how much rain it will produce seems to be a tough topic. The Canadian Global model, pictured above, shows around 10–15mm through the day on Friday, however I think it's a bit on the low side. My best forecast at this point is that 10–20mm of rain should be expected through the Red River Valley and southern Interlake on Saturday, however for areas in the RRV south of Winnipeg, particularly closer to the U.S. border, 15–25mm seems like a possibility depending on a number of factors.
Alongside the rain, our daytime high will climb to around 9°C. Winds won't be too much of an issue and will remain relatively light out of the southeast switching to northwest in the evening. In the evening we'll see the last of the rain taper off and head to a low near 4°C.
Cooler air looks to push in through the weekend behind the low, so enjoy the milder temperatures today and tomorrow!