Mild weather will continue through the remainder of the week with daytime highs generally 3-6°C above normal for the latter half of February. With limited snow and some sunshine expected, it's shaping up to be a fairly pleasant few days.
Cloudy skies will be in place over the Red River Valley today as a weak low pressure system slides across the region. Alongside the cloud will be some light flurry activity that's just enough to be noticeable, but hardly enough to actually leave much of a mark. Winds will be fairly light out of the north-northwest at just 10-15 km/h with temperatures climbing to a high of -2°C. Skies will clear overnight as a weak cold front slumps through Southern Manitoba; temperatures will dip down to around the -11°C mark for the overnight low.
Thursday will be a slightly cooler day as a weak ridge of high pressure moves through the province behind Wednesday's cold front. It will be a pleasant day, though, with a high temperature near -7°C, light winds and partly cloudy skies. Clouds will thicken up over the Red River Valley by Thursday night as a low pressure system approaches from the northwest.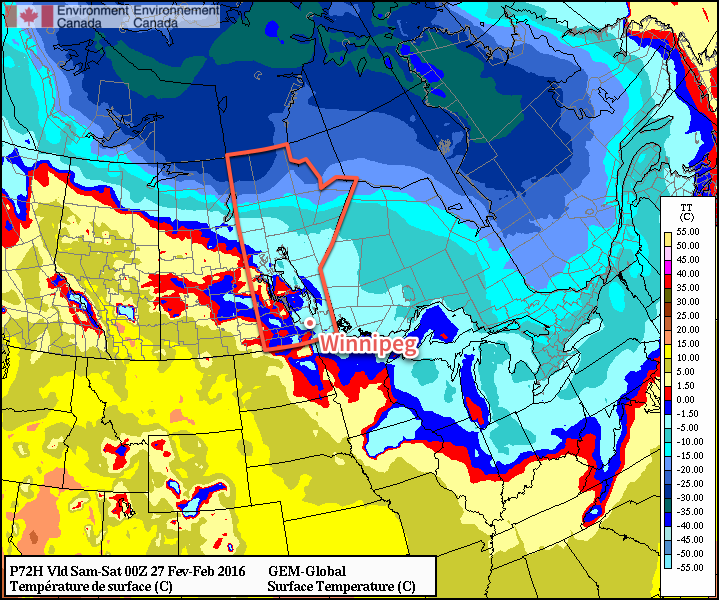 Friday's weather will be very mild as a low pressure system crossing central Manitoba spreads mild air eastwards over the southern half of the province. Westerly winds of 15-25 km/h will push temperatures up to the -2 to 0°C range here in the Red River Valley. Skies will be mainly cloudy with no precipitation expected through the day. A cold front will slump through the region on Friday evening, bringing some scattered flurries and cooler temperatures. Overnight winds will shift out of the north to 20-30 km/h and temperatures will dip to about -9°C by Saturday morning.
Long Range: Cooler & Unsettled
Heading into the weekend, there's positive agreement that we'll be heading for cooler temperatures as Arctic air filters southwards. A few flurries may stick around for Saturday morning before the skies clear out. How cold it gets will be largely determined by how a system expected to track through on Sunday develops; some models bring it through Manitoba, keeping temperatures closer to seasonal values and spreading some light snow across the province, while others keep it to the south, giving us clear, cool weather.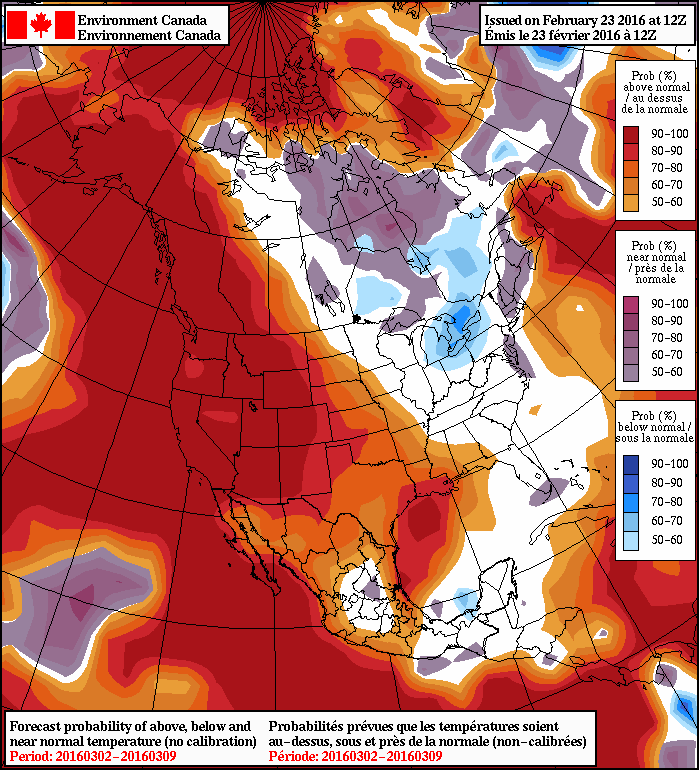 After that it looks like the weather will be relatively quiet with a gradual return towards seasonal temperatures. This is reflected in the NAEFS 8-14 day outlook which shows the above-seasonal temperatures collapsed westwards towards the more prominent west coast upper ridge. Manitoba's pattern is forecast to be generally northwest, but with multiple shortwaves moving through over the 6-12 day time-frame. This would translate to variable temperatures as we see warmer than normal temperatures as disturbances roll through and then cooler than normal temperatures behind these systems.
All in all, much like we've been seeing lately! We've hit the point now, though, where we can be happy with near-normal temperatures since normal daytime highs continue to gradually march towards 0°C!
Winnipeg's seasonal daytime high is currently -6°C while the seasonal overnight low is -16°C.